Mini-skirts no longer illegal in South Korea 迷你裙在南韓合法囉
South Korea's so-called fashion police, who patrolled the streets in the 1970s carrying rulers and measuring the length of women's skirts, will soon officially be taken out of the country's laws.
Showing too much skin in public places will no longer be classed as indecent exposure and will be deleted from the Minor Offenses Act, the National Police Agency has said.
The law has not been enforced for many years, and a police agency spokesman who was quoted by the Korea Times said it was one of several out-of-date rules which would be removed. During the 1970s women could be arrested or fined if their skirts were too short.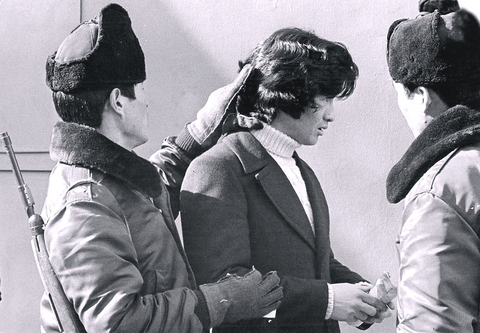 The Fashion Police at work in 1970s South Korea. 一九七O年代南韓流行警察執勤的情況。 (照片:法新社)
PHOTOS: AFP
The miniskirt rule dates back to the military dictatorship of the 1970s. During the same period the fashion police could also stop men on the street if they considered their hair to be too long. The fashion police could perform a haircut on the spot, or fine or even jail offenders.
South Korea became a democracy in 1987 and most of the authoritarian restrictions under the Minor Offenses Act have been scrapped since then.
New offenses are still added to the Minor Offenses Act. However these reflect current issues in South Korean society. The majority of the newly listed offenses under the act this year covered smoking in places where smoking is not allowed. (AFP)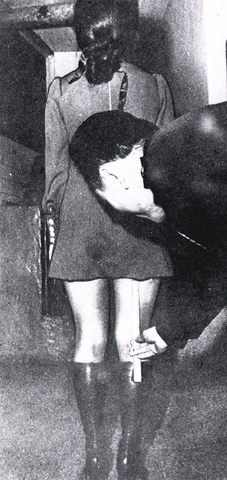 南韓法律中所謂的「流行警察」很快就會走入歷史。流行警察是在一九七○年代巡邏街頭、拿著尺丈量女性裙長的警察。
南韓國家警察廳表示,在公共場合露出太多肌膚不再被歸為不雅暴露,將會從「輕微違法」法條中刪除。
這個法規已多年未被執行,《韓國時報》引述警察廳一位發言人的話指出,這是應該廢除的好幾條不何時宜的法規之一。一九七○年代,女性穿著的裙子過短會遭逮捕,或被處以罰緩。
迷你裙條款可以追溯到一九七○年代的軍事獨裁。同一段時期,流行警察也可以在路上攔下頭髮過長的男子。流行警察可以當場剪髮,或讓違法者罰款或坐牢。
南韓在一九八七年成為民主國家,「輕微違法法案」大多數的獨裁限制都被廢除。
「輕微違法法案」仍有新增違法條款。不過這些新法都反映南韓社會現今的議題。今年新增的違法條款中,還包括在禁止吸菸場所吸菸的條款。 (法新社/翻譯:賴美君)
Publication Notes
Today's Words 今天單字
1. indecent exposure n. 不雅暴露 (bu4 ya3 pu4 lu4) 例: The man was found guilty of indecent exposure. (那名男子因不雅暴露獲罪。) 2. enforce v.t. 執行 (zhi2 xing2) 例:The police were told to enforce the new laws immediately. (警方受命立刻執行新法。) 3. out-of-date adj. 過期的 (guo4 qi2 de5) ,不何時宜的 (bu4 he2 shi2 yi2 de5) 例:This city guide is out-of-date. (這本城市導覽過期了。) 4. authoritarian adj. 獨裁的 (du2 cai2 de5) 例: North Korea is an authoritarian state. (北韓是一個獨裁國家。)
Comments will be moderated. Keep comments relevant to the article. Remarks containing abusive and obscene language, personal attacks of any kind or promotion will be removed and the user banned. Final decision will be at the discretion of the Taipei Times.