Globe trotting: Ecuador 世界走透透 - 厄瓜多
Ecuador lies in South America on the equator, and in fact it gets its name from the Spanish word for "equator." However, Ecuador straddles more than just two hemispheres. Take a look below to see how it also straddles different cultures, geographies and traditions.
厄瓜多坐落於南美洲赤道上,其國名事實上源自於西班牙文的「赤道」一字。然而,厄瓜多不只跨越了南北兩半球。讓我們來一窺厄瓜多是如何也跨越了不同文化、地理與傳統習俗。
A closer look 說古論今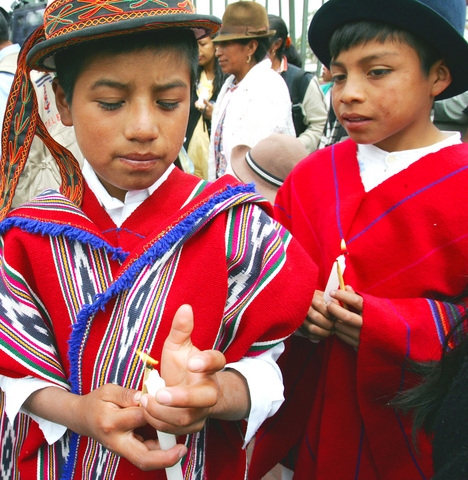 Children from indigenous communities participate in a protest in Quito. 厄瓜多首都基多的原住民孩童參加遊行抗議。 (照片:美聯社)
PHOTO: AP
Ecuador was controlled by Spain for much of its history. As a result, its culture today is heavily influenced by Spanish traditions. Even though much of its native population died during Spanish rule, many native peoples survive today and play a part in Ecuador's politics and culture. Ecuadorian society has also been influenced by slaves brought from Africa and their descendants.
Ecuador is one of the most biologically diverse countries in the world. Over 38 percent of the country is covered in forests, which are home to a wide variety of animals. While in Ecuador, you can see the snowy peaks of the Andys, the Amazon rain forests and the famous Galapagos Islands.
Each part of Ecuador has its own kind of food. As a result, there isn't a main Ecuadorian cuisine. However, Ecuador has made contributions to the culinary world. Many people in the mountains enjoy eating roasted guinea pig, and the word "jerky" in "beef jerky" comes from one of Ecuador's native languages.
Many of the walls in Ecuador's capital, Quito, are covered in graffiti. However, many people don't think of the graffiti as vandalism. Instead, they think of it as an art, and a part of Quito's urban culture. Much of the graffiti is poetry or political criticism. In fact, some politicians quote the graffiti that they see on the walls in their speeches.
歷史上厄瓜多曾受西班牙長期統治,所以其今日的文化深受西班牙傳統文化的影響。雖然當地許多原住民死於西班牙統治時期,現今仍有許多原住民存活,在厄瓜多政治與文化上扮演要角。厄瓜多社會也受到來自非洲的黑奴及其後裔的影響。
厄瓜多是世界上生物多樣性最多的國家之一。國土面積有38%以上是森林,裡頭居住的動物種類繁多。在厄瓜多可以看到覆雪的安地斯山頂、亞馬遜雨林與知名的加拉帕戈斯群島。
厄瓜多每一個地區都有自己獨特的飲食,所以無法定義主要的厄瓜多料理。不過,厄瓜多對料理界貢獻良多。山區民眾大多喜歡烤食天竺鼠,beef jerky(牛肉乾)一詞的「jerkey」這個字就是來自厄瓜多的原住民語之一。
厄瓜多首都基多的街頭許多牆都畫滿了塗鴉。不過,許多民眾可不認為塗鴉破壞市容。相反的,民眾認為這是一種藝術,是基多都會文化的一部分。這些塗鴉多半是詩或政治評論。事實上,有些政治人物還會在演講中引述所看到的街頭塗鴉。(翻譯:賴美君)
Who knew? 你知道嗎?
Abdala Bucaram was elected Ecuador's president in 1996, but only was in power for about six months. He did some really strange things while in office, and was forced to step down for being "mentally incapacitated." He nicknamed himself "El loco," which means "the crazy man" in Spanish, and he lived up to his title. Soon after becoming president, he recorded a CD called The Madman Who Loves and performed concerts with popular Ecuadorian bands to promote the CD. He also shaved his moustache on TV, called a former Ecuadorian president a donkey, and then apologized for insulting donkeys. He was also known to have wild parties at his presidential residence. His son once organized a party at the residence to celebrate making a lot of money through corruption.
阿布達拉.布卡蘭一九九六年被選為厄瓜多總統,不過只掌權六個月左右。他在總統府有不少怪異行徑,因「心神喪失」被迫下臺。他為自己取了「El loco」的綽號,也就是西班牙文「狂人」之意,實至名歸。布卡蘭獲選為總統不久後,灌錄一張名為《愛的狂人》的專輯,並與厄瓜多熱門樂團一起舉辦了幾場演唱會來促銷這張專輯。他還在電視上刮鬍子,稱厄瓜多某位前總統為驢子,再道歉說自己侮辱了驢子。他也因為在總統官邸舉辦瘋狂派對而聞名。布卡蘭的兒子甚至還在總統官邸舉行慶祝貪污致富的派對。
Publication Notes
About Ecuador
國家概況
Size: 283,560km2 Location: South America Border countries: Colombia, Peru Capital: Quito Population: 13,547,510 Languages: Spanish, Quechua Government: Republic Currency: Since the year 2000, Ecuador has used the US dollar. US$1 equals NT$32.37 面積:二十八萬三千五百六十平方公里 位置:南美洲 鄰國:哥倫比亞、祕魯 首都:基多 人口:一千三百五十四萬七千五百一十人 語言:西班牙文、格楚哇語 政府:共和政體 貨幣:自二○○○年起,厄瓜多採用美元。一美元約等於新台幣三十二點三七元
Comments will be moderated. Keep comments relevant to the article. Remarks containing abusive and obscene language, personal attacks of any kind or promotion will be removed and the user banned. Final decision will be at the discretion of the Taipei Times.