Plan to link US and Taiwanese schools unveiled
US SENATORS: The Mandarin-language plan reaffirms the US' vows to expand opportunities at home and abroad for learning, Ed Markey said
US senators yesterday introduced a resolution urging US universities to collaborate with Taiwan to create Mandarin-language education programs as an alternative to China's state-funded Confucius Institutes.
The move comes amid a sharp decline in Confucius Institutes, which are facing pressure from the US government due to allegations that they are involved in propaganda and espionage activities directed by Beijing.
The number of Confucius Institutes has fallen from more than 100 in 2017 to only seven this year due to pressure from Washington, a report published on the Axios news Web site said on Monday.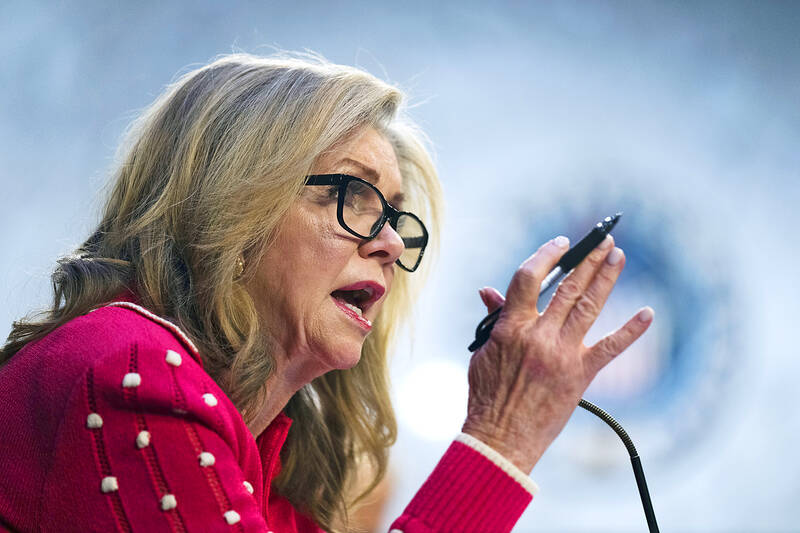 US Senator Marsha Blackburn speaks on Capitol Hill in Washington on April 19.
Photo: AP
The bill calls on US institutions of higher learning to support the US-Taiwan Education Initiative by creating Taiwanese-run language programs in favor of language programs run by the Chinese government, the report said.
"Communist China has had a strong presence at American colleges and universities," US Senator Marsha Blackburn, a Republican from Tennessee who cosponsored the bill, said in a news release on Tuesday.
"Our institutes of higher learning must be free from China's grasp while still teaching students about the culture, history and language, and Taiwan can help fill this critical void," Blackburn said.
"If we want to continue building a strong relationship with Taiwan, then we need to support foreign-language exchange between our two nations," US Senator Ed Markey, a Democrat from Nebraska who cosponsored the bill, said in the news release.
"This resolution reaffirms our nation's commitment to expanding educational opportunities for people at home and abroad to learn English or Mandarin," Markey said.
In 2020, the US Department of State ordered that Confucius Institutes must register as foreign missions of the Chinese government, while the US Congress in August barred universities that host the institutes from receiving defense-related research aid from the Pentagon.
That followed similar moves by the UK, which last week struck a deal with Taipei to provide Mandarin-language education in Taiwan to 200 British students per year.
The Ministry of Education said that a delegation it sent to the UK initiated discussions to broaden Taiwan's participation in the Turing Scheme, a British international language and professional education program.
Taiwan receives 200 British students for Mandarin-language education and vocational training per year, a number the ministry wants to double, Deputy Minister of Education Liu Mon-chi (劉孟奇) said in a statement on Wednesday last week.
The UK has become wary of the national security risks posed by Confucius Institutes in its territory and urgently needs to replace the language-training capacity that they provided, Liu added.
In May, British Prime Minister Rishi Sunak announced that British government funding for the 30 Confucius Institutes in the UK would be halted, but declined to shutter the institutes outright, backtracking on an earlier pledge to close down the Chinese programs.
Comments will be moderated. Keep comments relevant to the article. Remarks containing abusive and obscene language, personal attacks of any kind or promotion will be removed and the user banned. Final decision will be at the discretion of the Taipei Times.