Dissident Chen Siming asks not to be deported
Chinese dissident Chen Siming (陳思明) yesterday urged the government not to deport him back to China after he refused to board a plane at Taiwan Taoyuan International Airport during a stopover on a flight bound for China.
Chen, who has been arrested multiple times in China for publicly commemorating the Tiananmen Square Massacre, said he hoped that the US or Canada would grant him political asylum.
He has been on the run since escaping China two months ago, Radio Free Asia quoted him as saying in a report.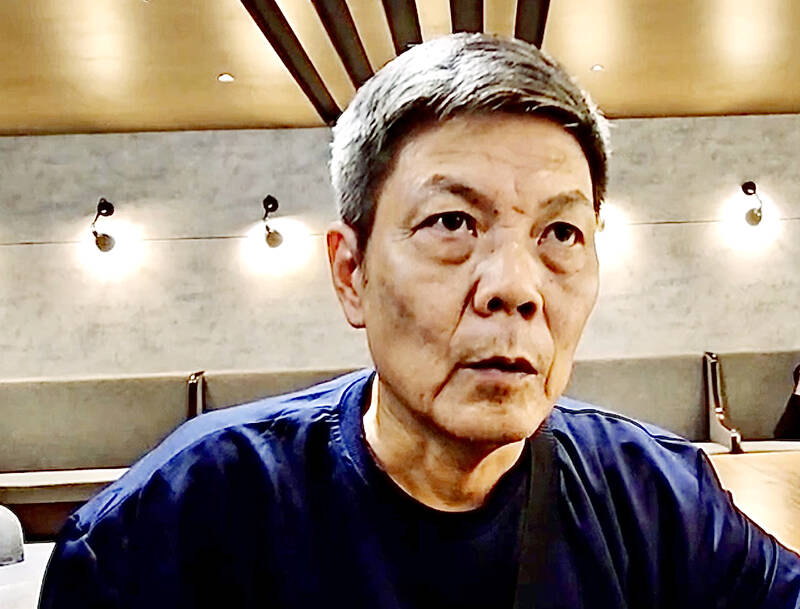 Chinese dissident Chen Siming is pictured at Taiwan Taoyuan International Airport yesterday.
Photo courtesy of a reader
The Mainland Affairs Council said it is working to resolve the matter with government agencies, but did not elaborate.
The dissident had been in Cambodia and Thailand before reports that Lu Siwei (盧思位), a Chinese human rights lawyer, had been extradited from Thailand, prompting him to flee, Radio Free Asia reported.
"Chinese public security's efforts to harmonize is becoming increasingly cruel and insane," Chen wrote on X yesterday in a post that has since been deleted.
"They have freely summoned and detained me without any care to the proper legal procedures, confiscated my cellphone and tried to have me tested for mental conditions," he said, adding that he was forced to leave his country due to intolerable conditions.
In a video attached to the post, Chen asked the US and Canada to grant him political asylum, and urged Taipei to not deport him.
A resident of Hunan Province, Chen marked the anniversary of the massacre by holding a sign in 2017, 2018, 2020 and 2021. He was arrested each time.
Chinese authorities have detained Chen ahead of the massacre's anniversary in the past few years, he said.
"I did not escape to benefit from the economic conditions in the US, but to avoid the absence of human rights, dignity and rule of law in China, which has shown no cause for hope," he said.
Chen said that he does not want to bring "trouble" to Taiwan.
Hopefully, Taipei could sympathize with his bid for temporary sanctuary in Taiwan, as he does not have a US visa and Beijing revoked his passport.
Chinese human rights advocate Wang Jianhong (王劍虹) in May said that Chen had written online that he was about to be detained by Chinese public security agents and had refused to delete the post, resulting in threats of a prison sentence.
New School for Democracy chairman Tseng Chien-yuan (曾建元) yesterday urged Taipei to help Chen as it has done in similar cases.
The government has helped people fleeing from persecution in China to obtain asylum in a third country, Tseng said, citing the cases of dissidents Yan Kefen (顏克芬) and Liu Xinglian (劉興聯) in 2019.
Chen should have the same rights as someone with refugee status certified by the UN, Tseng said.
Comments will be moderated. Keep comments relevant to the article. Remarks containing abusive and obscene language, personal attacks of any kind or promotion will be removed and the user banned. Final decision will be at the discretion of the Taipei Times.