Minister resigns after egg import program furor
IMPORTS: Fifty-four million imported eggs with a value of more than NT$200 million had to be destroyed, mostly because they expired in storage facilities
Minister of Agriculture Chen Chi-chung (陳吉仲) last night announced that he would resign from his post.
Local media on Sunday reported that Chen had resigned due to controversy over the ministry's egg import program. Later that same evening, the Executive Yuan said that Premier Chen Chien-jen (陳建仁) had asked the minister to stay on to resolve the issue.
Chen Chi-chung last night made public his decision to resign on Facebook, saying that this time he would not be dissuaded.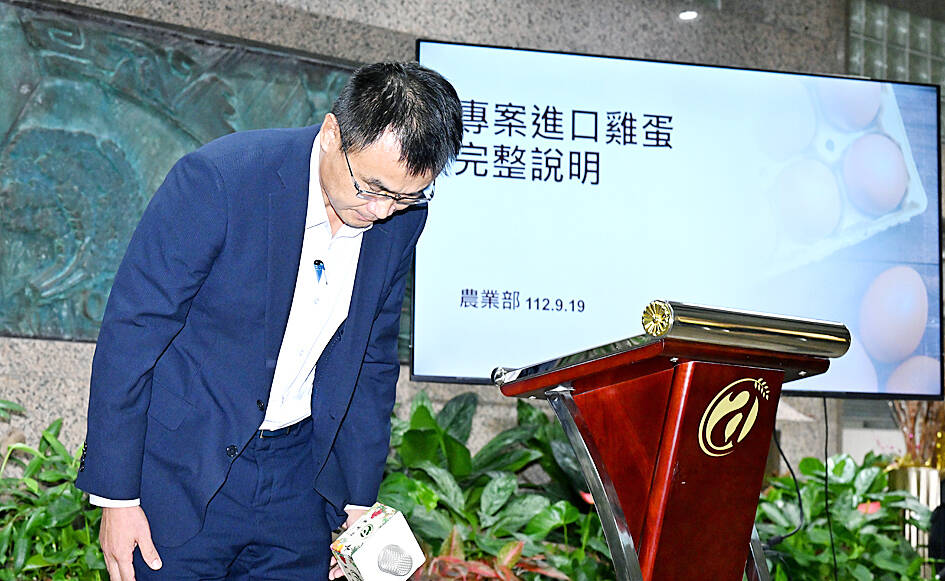 Minister of Agriculture Chen Chi-chung bows at a news conference in Taipei yesterday.
Photo: Liao Chen-huei, Taipei Times
Chen Chi-chung earlier yesterday apologized for the furor surrounding the egg import program, but added that misinformation had made the problems worse.
The government was right to initiate the program and the results, including egg prices stabilizing, justified the high costs, he said.
As part of the program, the ministry imported 145 million eggs from Brazil and six other nations from March to July to address a domestic shortage earlier this year.
However, 54 million eggs — or 37 percent of the imports, with a value of more than NT$200 million (US$6.25 million) — had to be destroyed, mostly because they expired in storage facilities after domestic production rebounded, the ministry said.
The government has also been criticized for being slow to provide information on the whereabouts of the imported eggs, thus failing to assuage fears among the public that the expired or substandard eggs might have been put on the market.
The ministry has said that no eggs were sold past their expiration date.
A batch of 20,000 imported eggs was recalled last week after incorrect expiration dates were printed on them.
Questions have also been asked about why Ultra Source, a company with capital of only NT$500,000, was contracted by the government to import 88 million eggs under the program.
Lin Tsung-hsien (林聰賢), president of the National Animal Industry Foundation which assisted the ministry in importing the eggs, also announced his resignation on Facebook last night.
Both resignations have been approved by the premier.
Comments will be moderated. Keep comments relevant to the article. Remarks containing abusive and obscene language, personal attacks of any kind or promotion will be removed and the user banned. Final decision will be at the discretion of the Taipei Times.