R&D spending hits record high
Taiwanese companies in 2021 accelerated research and development (R&D) investment to an all-time high of NT$820.6 billion (US$25.7 billion), driven mostly by expenditure by semiconductor companies, the Ministry of Economic Affairs said in a statement yesterday.
The spending was up 14.2 percent from NT$718.8 billion a year earlier, the fastest pace on record, the ministry said.
In the 10-year period from 2012, local companies have expanded R&D spending expand at an annual compound growth rate of 7 percent, it said.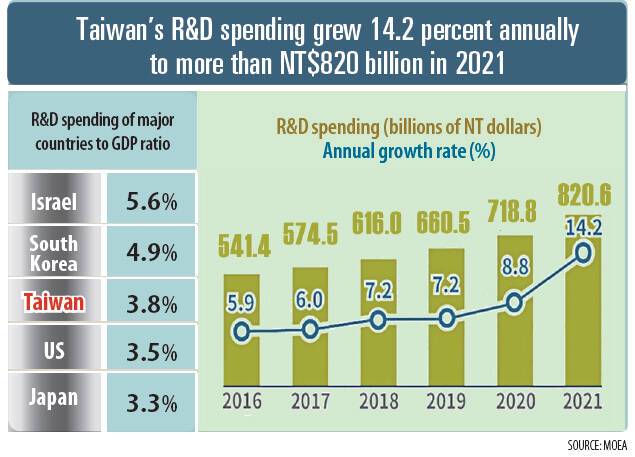 The spending was 3.8 percent of national GDP in 2021, up 0.2 percentage points from 2020 and the highest on record, it said.
That helped Taiwan defend its position as the third-largest R&D spender among the world's major economies in 2021, surpassing 3.5 percent in the US, Japan's 3.3 percent and Germany's 3.1 percent, the ministry said, citing Organisation for Economic Co-operation and Development (OECD) statistics.
Israel was No. 1, with R&D investment being 5.7 percent of its GDP, the OECD data showed.
South Korea was second in 2021, with R&D spending totaling 4.6 percent of GDP, the data showed.
Like most heavy R&D spenders, 92 percent of spending in Taiwan was in the manufacturing sector, the ministry said.
In 2021, local manufacturers invested NT$639.26 billion on R&D, up 17 percent from the previous year, the statement said.
Manufacturers of computers, other electronics and optical products, including semiconductors, in 2021 contributed about 78 percent to the nation's total R&D expenditure, it said.
Those firms increased spending by 19 percent annually to NT$540.39 billion in 2021, it said.
Taiwan Semiconductor Manufacturing Co (台積電), the world's largest chipmaker, boosted R&D spending by about 20 percent to US$4.46 billion from US$3.72 billion in 2020, primarily to develop next-generation chips, the company's annual reports showed.
Last year, the chipmaker increased spending on R&D efforts to US$5.47 billion, mostly to develop 3-nanometer technology, the company's annual report released this year said.
The local machine and equipment manufacturing sector replaced the chemical sector to become the second-biggest R&D spender in 2021, the ministry said.
R&D spending by machine and equipment manufacturers made up 2.4 percent of the total, it said, adding that the result was due to uptake of smart manufacturing.
The service sector contributed 7.3 percent to total R&D spending in 2021, it added.
Comments will be moderated. Keep comments relevant to the article. Remarks containing abusive and obscene language, personal attacks of any kind or promotion will be removed and the user banned. Final decision will be at the discretion of the Taipei Times.