Woman dies of brain-eating amoeba: CDC
A woman in northern Taiwan has died from a rare brain-eating amoeba, marking the nation's first death from Naegleria fowleri in 12 years, health authorities said on Wednesday.
Experts urged against public alarm, saying the amoeba is susceptible to chlorine and does not spread easily.
Traces of Naegleria fowleri were found in the woman who died of meningitis, Centers for Disease Control (CDC) Deputy Director-General Tseng Shu-huai (曾淑慧) told a news briefing in Taipei.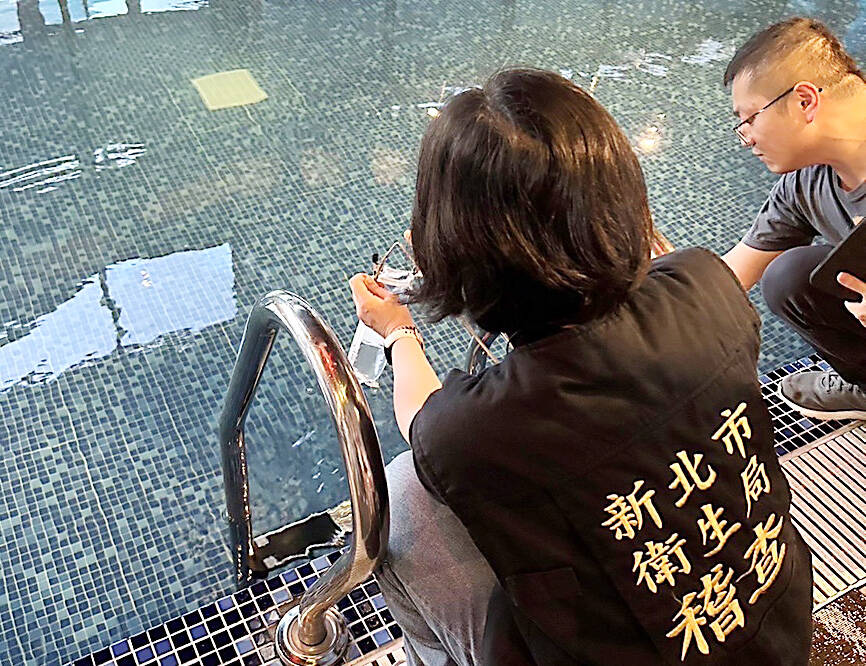 Health officials collect samples from an indoor swimming pool in New Taipei City in an undated photograph.
Photo courtesy of the New Taipei City Department of Health
Infection caused by the rare microbe is 99 percent fatal, she said, adding that only two cases have ever been confirmed in Taiwan.
An indoor water park in New Taipei City that the woman had visited is being tested for Naegleria fowleri, she said.
The process could take between one and three weeks, as scientists have limited experience with the amoeba.
Samples taken from the park are being condensed for polymerase chain reaction tests and positive results would then be genetically sequenced, she said.
The pathogen dwells in fresh water, prefers high temperatures, can survive in heat of up to 46°C and briefly survive in temperatures higher than that, the CDC said.
This means the germ can be found in rivers, lakes, warm water discharged from factories, insufficiently chlorinated swimming pools and soil, it said.
People engaging in activities in or near bodies of water can be infected by inhaling droplets containing the amoeba, which then spread from the olfactory nerves to the brain, the CDC said.
The microbes cannot be spread by drinking contaminated water or via human contact, it said.
The incubation period for these germs varies from one to seven days, with symptoms including headache, fever, nausea, vomiting, neck stiffness, muscle spasms, altered psychological states, delusions and loss of consciousness, the CDC said.
People should try to avoid getting water in their nostrils when visiting hot springs or engaging in watersports, and should avoid immersing their heads or disturbing mud in the bottom of lakes or rivers, it said.
People who display symptoms of meningitis after playing in water should seek medical help immediately and disclose their contact history, the CDC said.
Hwang Kao-pin (黃高彬), deputy head of the infectious disease department at China Medical University in Taichung, yesterday told a news conference that the threat from Naegleria fowleri is limited.
Chlorine added to tap water and swimming pools neutralizes the amoeba, which is highly unlikely to be found in groundwater, he said, adding that surface water bodies are the main source of danger.
The microorganism poses a relatively higher risk to hot spring-goers due to their ability to withstand temperatures of up to 50°C, Huang said.
Brain infections caused by the amoeba are nearly impossible to cure, as it does not respond to antibiotics and diagnosis often comes too late, he said, adding that only one type of antifungal is known to have an effect.
Additional reporting by CNA
Comments will be moderated. Keep comments relevant to the article. Remarks containing abusive and obscene language, personal attacks of any kind or promotion will be removed and the user banned. Final decision will be at the discretion of the Taipei Times.