Navy launches Taiwan-made landing platform dock
Navy Commander Admiral Tang Hua (唐華) yesterday morning presided over the commissioning of a new domestically developed landing platform dock, the Yushan.
The Yushan, which would be used to transport amphibious vehicles and other landing craft, is replacing the Hsu Hai dock landing ship, which entered service in 1999.
Unlike during past commissioning ceremonies, yesterday's was closed to the public and was only covered by the Military News Agency, which issued a news release afterward.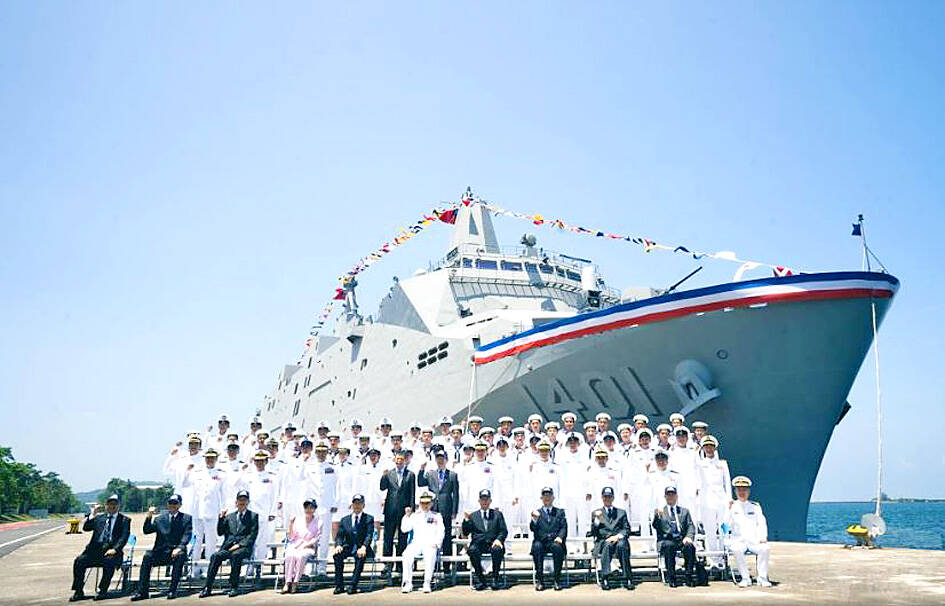 Navy Commander Admiral Tang Hua, center, front row, poses with other guests and personnel at the commissioning ceremony for the Taiwan-made landing platform dock Yushan at the Zuoying naval base in Kaoshiung yesterday.
Photo: screen grab from Military News Agency's Web site
Tang handed over the national flag and the ship's seal to its first captain at the ceremony at Kaohsiung's Zuoying (左營) naval base.
He said the Yushan was a "new type of amphibious combat ship" that was designed specifically to meet the navy's evolving operational needs.
During construction, the Yushan went under the code name "Hongyun Project" (鴻運計畫), which referred to the safety and smoothness of the operation that engineers prioritized during the design process, Tang said.
The name Yushan was chosen as it is the name of the highest peak in Taiwan, and represents the "determination of the navy to always stand on the front line in defending the country and its territorial waters," he said.
Officers from the Marine Corps also attended the ceremony, symbolizing the important role the ship would play in the operations of the navy and the Marine Corps, he said.
"The two branches of the military will jointly assume the responsibility of defending the Taiwan Strait, and together will form a maritime defense force," he said. "The officers aboard the Yushan are to cooperate closely with the Marine Corps."
The ship is 153m long and 23m wide, and has a full-load displacement of 10,600 tonnes and a top speed of more than 20 knots (37kph).
It has a loading dock at its stern, from which it can load amphibious armed personnel carriers and troops, and can also be equipped with autocannons and anti-aircraft missile systems.
Comments will be moderated. Keep comments relevant to the article. Remarks containing abusive and obscene language, personal attacks of any kind or promotion will be removed and the user banned. Final decision will be at the discretion of the Taipei Times.