Family residency rules to be relaxed
IMMIGRATION REFORM: The legislative amendments aim to protect the rights of families to reunify, and to attract skilled professionals to stay and work in Taiwan
Foreigners who are highly skilled professionals, top-prize winners in professional disciplines, investment immigration applicants or have made special contributions to Taiwan can soon apply for permanent residency on behalf of their spouses and minor or disabled children after the legislature approved amendments to the Immigration Act (入出國及移民法).
The amendments, which were proposed by the Ministry of the Interior and approved by the Executive Yuan on Jan. 12, aim to attract foreign talent to Taiwan and encourage them to stay.
They would take effect once they are signed by President Tsai Ing-wen (蔡英文).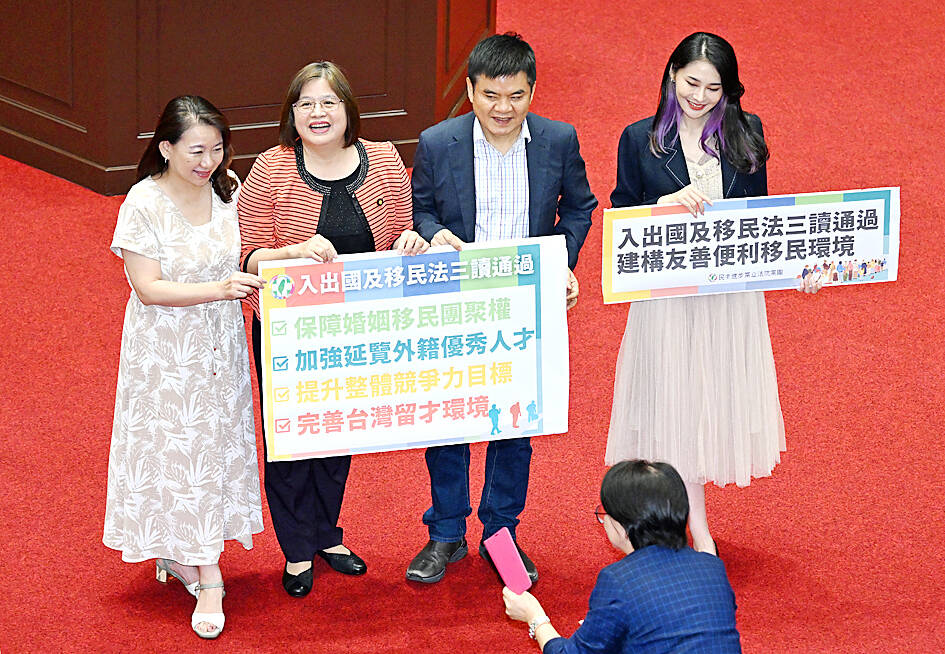 Democratic Progressive Party legislators pose for a group photograph at the Legislative Yuan in Taipei after passing the third reading of amendments to the Immigration Act yesterday.
Photo: Liao Chen-huei, Taipei Times
The amendments involved changing 63 articles, making it the biggest reform of immigration law in 24 years, Minister of the Interior Lin Yu-chang (林右昌) said.
The National Immigration Agency (NIA) in a statement identified four main policy changes.
First, the rights of families to reunify would be protected, taking into account the best interests of minor children, it said.
Foreigners whose Taiwanese spouses have died or who have divorced from legal residents of Taiwan would be able to apply for residency if they need to raise their underage children, the NIA said.
Second, regulations have been eased for foreigners to reside in Taiwan to attract more skilled professionals from overseas, it said.
Currently, foreigners who have secured permanent residency status are required to live in Taiwan for more than 183 days per year or lose their status.
However, the amendments would allow them to keep their status if they spent an average of 183 days in the country over the past five years, the NIA said.
White-collar workers would benefit from the policy change, as they often need to travel overseas for business and cannot remain in Taiwan for extended periods, the agency added.
The deadline for filing Alien Resident Certificate applications for the spouses or children of foreigners would be extended from 15 days upon entry to 30 days, the NIA said.
Third, fines for foreigners who overstay their visas and engage in illegal activities in Taiwan would be increased from between NT$2,000 and NT$10,000 (US$65 and US$326) to between NT$10,000 and NT$50,000, it said, adding that offenders would be barred from entering Taiwan for seven years.
To deter criminal activity by expatriates, people who shelter or hide foreigners who overstay their visas would be fined NT$60,000 to NT$300,000, while those who introduce foreigners to jobs or other activities that do not match their purpose of stay would be fined NT$200,000 to NT$1 million, the amendment says.
Finally, the amendments allow foreigners to be represented by immigration attorneys in hearings for forced evictions from the country and in their interviews with immigration officials.
The NIA can ban or restrict such requests if the presence of an attorney threatens national security and disrupts legal procedures, it said.
Comments will be moderated. Keep comments relevant to the article. Remarks containing abusive and obscene language, personal attacks of any kind or promotion will be removed and the user banned. Final decision will be at the discretion of the Taipei Times.