Police on alert after suspected yakuza arrive
Police on Sunday said they are on alert after the China Unification Promotion Party (CUPP) invited an alleged top leader of a Japanese criminal organization to visit Taiwan.
The party and a branch of the Hongmen society reportedly invited Joji Uezu from the Kyokuryu-kai, the only yakuza group in Okinawa designated by Japanese police, to visit Taiwan along with six other people.
Members of Taiwan's Bamboo Union (竹聯幫) have reportedly participated in events hosted by the Kyokuryu-kai as early as 2015.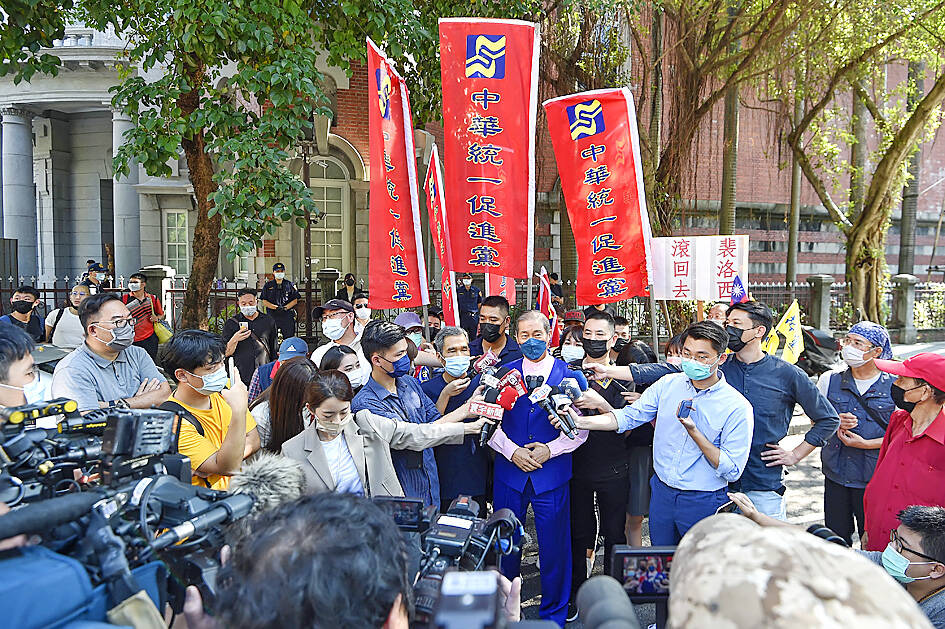 China Unification Promotion Party founder Chang An-le speaks to reporters during a protest staged by the group in front of the Legislative Yuan in Taipei on Aug. 3 last year.
Photo: Chen Chih-chu, Taipei Times
The Okinawa Times in 2018 reported that Chang Wei (張瑋), son of former Bamboo Union leader and CUPP founder Chang An-le (張安樂), led a group to attend a meeting with high-level figures in the Kyokuryu-kai, drawing concern from Japanese law enforcement, sources said.
Uezu also met Chang An-le in Taiwan that same year and shared photographs of their meeting on Facebook.
The group reportedly arrived in Taiwan on Sunday and plans to visit the Dasi Mausoleum in Taoyuan where former president Chiang Ching-kuo (蔣經國) is interred.
They are also scheduled to dine with Chang An-le in Taoyuan's Bade District (八德) and visit the Chiang Kai-shek Memorial Hall and Legislative Yuan in Taipei before flying back tomorrow, reports said.
Police said they are to keep an eye on their activities while they are in Taiwan.
Reports have said that the CUPP and other pro-unification groups have been holding more gatherings lately as campaigning begins for January next year's presidential and legislative elections.
The visiting group plans to attend at least two large banquets while in Taiwan, police said, adding that they are not sure of the intentions behind the gatherings.
Comments will be moderated. Keep comments relevant to the article. Remarks containing abusive and obscene language, personal attacks of any kind or promotion will be removed and the user banned. Final decision will be at the discretion of the Taipei Times.