The US must do more to support Taiwan: Bolton
TAKE A STAND: China must be made aware that Taiwan will fight, while the US and allied nations must help with preparations, the ex-US security adviser said
The US must warn China of the severe consequences of taking military action against Taiwan, former US national security adviser John Bolton said in Taipei yesterday.
Bolton made the remarks while giving the keynote address at the World Taiwanese Congress' annual meeting.
He added that the US must work closer with Taiwan and allied countries in Asia on national security to counter Chinese aggression, and ensure that Taiwan remains a free and democratic country.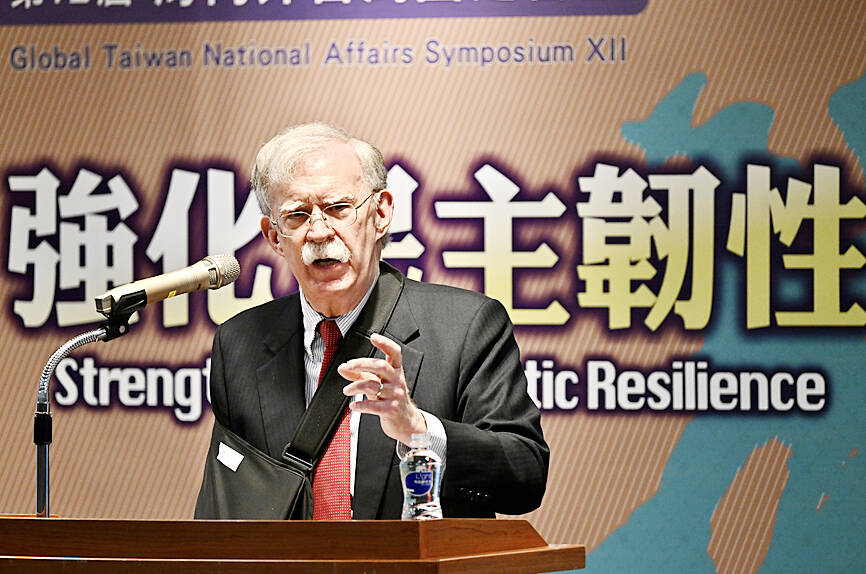 Former US national security advisor John Bolton gives a speech titled "Maintaining Long Term Peace and Security in Taiwan" at the Global Taiwan National Affairs Symposium XII in Taipei yesterday.
Photo: George Tsorng, Taipei Times
"People thought Ukraine could not fight, they say it's just part of Russia historically, whereas in fact, Ukrainians have fought with skill, morale and effectiveness," said Bolton, who also served as US ambassador to the UN.
It would be the same for Taiwan, he said.
"Will Taiwan fight for its independence?" he asked, as people in the audience shouted: "Yes, we will."
"That is the right answer," Bolton said, smiling as people applauded in the conference room.
"That's what China has to understand, that the people here believe in governing themselves, and they are not going to give it up, and it's important that is communicated to the US. So when commentators said that Taiwanese are using Americans' support, but they are not really prepared to defend themselves ... that is wrong. If it came to military action, then Taiwan would fight," he said.
Bolton criticized politicians and commentators in the US and around the world who he said claim Taiwan is being provocative.
China is the aggressor, always threatening Taiwan and other countries in the region, he said.
"Strength is not provocative; weakness is provocative," Bolton said.
Weakness is what needs to be avoided in Taiwan, he said, urging the US to help Taiwan to bolster its military capabilities.
"We need to do more to convince [Chinese President] Xi Jinping [習近平], that he cannot prevail" and that an attack on Taiwan would have heavy consequences for China, Bolton said.
The US should recognize Taiwan, he added.
When Taiwan was expelled from the UN in 1971, former US president George H.W. Bush was the US ambassador to the UN and he supported dual recognition, so that Taiwan could keep its seat in the UN, but the idea was rejected by Taiwan and China at the time, Bolton said.
"But now dual recognition makes sense from the US perspective, though it could be displeasing to Bejing, but that's the point [we must make], to show that relations between the US and Taiwan are fixed, and will not go away," he said.
Even now in the absence of full recognition, richer strategic dialogues between Taiwanese and US officials are needed, not just between diplomats, but also those in the military and intelligence fields, so that the two national security teams can coordinate, Bolton said.
Other allied countries must also be involved in contingency planning, to assess what China might do and how to respond, he said.
"If an attack takes place, then it's too late," he said.
If Taiwan pressed for more national security discussions, it would have a greater chance of deterring Chinese aggression or defending itself, he said.
Comments will be moderated. Keep comments relevant to the article. Remarks containing abusive and obscene language, personal attacks of any kind or promotion will be removed and the user banned. Final decision will be at the discretion of the Taipei Times.