US must be ready to 'fight': commander
'PROVOCATIVE': Admiral John Aquilino refused to put a date on a possible invasion, but said that the Pentagon must move more quickly to reduce the odds of a conflict
US Indo-Pacific Commander Admiral John Aquilino on Tuesday said Washington must be ready to "fight and win" if it fails to deter China from taking military action against Taiwan.
Speaking during a US House of Representatives Armed Services Committee hearing, Aquilino declined to put a date on a possible Chinese invasion of Taiwan, saying that "for me, it doesn't matter what the timeline is."
"I'm responsible [for finding a way] to prevent this conflict today and — if deterrence were to fail — to be able to fight and win," Aquilino said.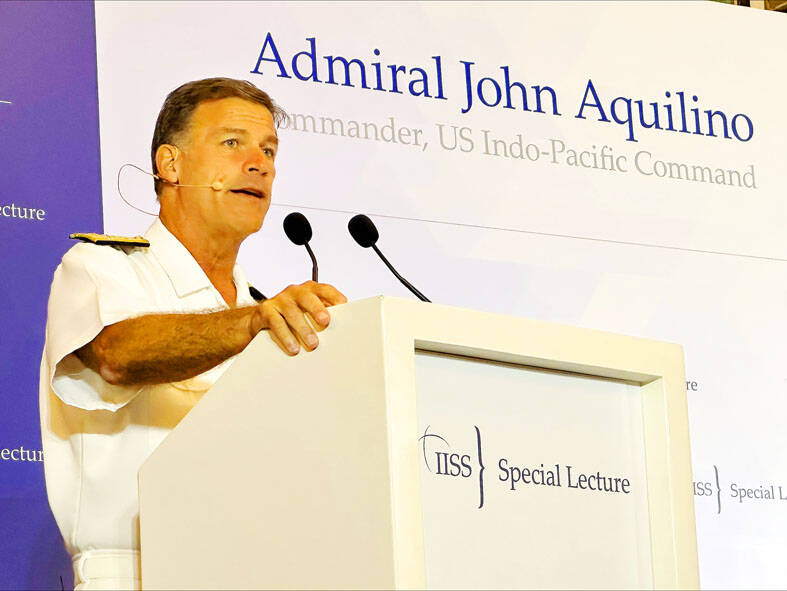 US Indo-Pacific Commander Admiral John Aquilino delivers a speech at a think tank in Singapore released by the International Institute for Strategic Studies on March 16.
Photo: AP
Aquilino's assessment that other top military commanders were "guessing" regarding the date contrasted with his predecessor, Admiral Philip Davidson, who suggested in 2021 that China could invade Taiwan within the next six to 10 years.
"There's a ton of variables on what might motivate [Chinese] President Xi Jinping (習近平) to take that action," Aquilino said. "It's our job to convince him every day [that] it would be a bad choice."
Aquilino added that estimates of a possible Chinese invasion of Taiwan were based on an order directing the Chinese military to develop the requisite military capability by 2027.
Asked if he believed the threat of a Chinese invasion had grown over the past few years, Aquilino said: "The trends for the threat are in a wrong direction... There's no doubt about that."
Aquilino said that the Pentagon and the US defense industry needed to move more quickly to reduce the odds of a conflict.
However, US military forces in the region are fully prepared for any scenario, Aquilino added.
In his opening comments, US Representative Mike Rogers, the committee chairman, expressed concern about Xi's ambitions in the region.
Over the past decade, Beijing has tripled its military budget and is aggressively pursuing military modernization and expansion, Rogers said.
The military buildup is concerning, "but what's most alarming is the increasingly provocative actions President Xi has taken in recent years," he added, referencing military exercises around Taiwan and intimidation of US lawmakers for supporting Taiwanese democracy, among other examples.
"This is not how responsible nations act," he said. "We have no choice but to take Xi's threats seriously and we have to be resolute in our response."
The US needs to work with its regional partners, as well as accelerate the provision of weapons and training to Taiwan so that it can defend its democracy, he said.
"But most importantly, we need to take action now," he added. "China is not going to give us 10 or 20 years to prepare for conflict. We simply cannot procrastinate further."
US Principal Deputy Assistant Secretary of Defense for Indo-Pacific Security Affairs Jedidiah Royal in his opening remarks emphasized the US Department of Defense's position that China is its "pacing challenge."
The department is "doing more than ever to strengthen deterrence and to ensure we can prevail in conflict if necessary," he said.
Deterrence in the region is strong, because the US remains the most capable fighting force in the world and is working with other regional powers — including Japan, South Korea, the Philippines, India, Australia, the UK and Taiwan — to bolster capabilities, he added.
Additional reporting by Kayleigh Madjar
Comments will be moderated. Keep comments relevant to the article. Remarks containing abusive and obscene language, personal attacks of any kind or promotion will be removed and the user banned. Final decision will be at the discretion of the Taipei Times.