Biden, Trudeau call for peace in Strait
COUNTERPOINT: The meeting between the US and Canadian leaders came shortly after Xi and Putin met in Moscow, with Biden saying they were committed to protecting NATO
US President Joe Biden and Canadian Prime Minister Justin Trudeau on Friday issued a joint statement reiterating the importance of maintaining peace and stability in the Taiwan Strait, as they encouraged Beijing and Taipei to resolve issues peacefully.
"We emphasize that our basic positions on Taiwan remain unchanged, and reiterate the importance of maintaining peace and stability across the Taiwan Strait as an indispensable element of security and prosperity in the international community," the leaders said in a joint statement issued during Biden's visit to Ottawa.
"We encourage the peaceful resolution of cross-strait issues," it added.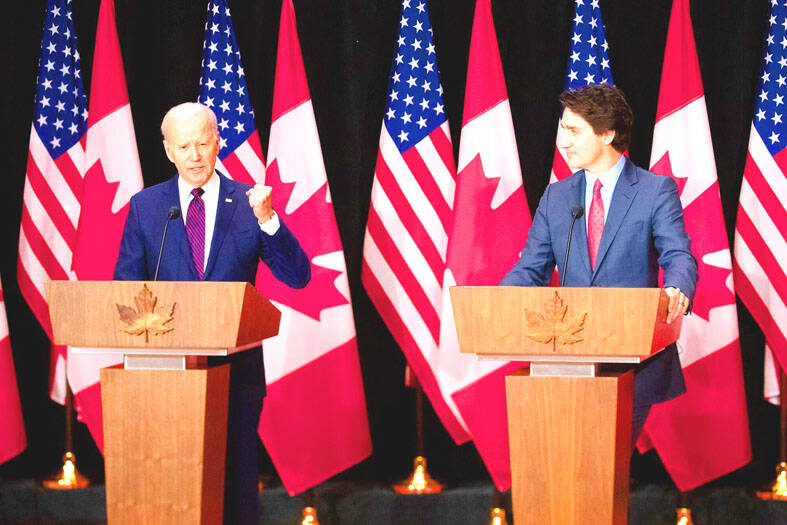 US President Joe Biden speaks during a news conference with Canadian Prime Minister Justin Trudeau on Parliament Hill in Ottawa on Friday.
Photo: Bloomberg
Biden and Trudeau also presented a united front against authoritarian regimes days after the leaders of China and Russia held a summit in Moscow.
The statement said that Ottawa and Washington "acknowledge the serious long-term challenge to the international order posed by the People's Republic of China, including disruptive actions such as economic coercion, nonmarket policies and practices, and human rights abuses."
"While we will cooperate with China in areas of mutual interest, such as on climate change, we remain committed to ensuring our ability to compete effectively with China on a level playing field," it said. "Canada and the United States will also continue to cooperate on countering foreign interference in our societies in a manner that reflects our shared democratic values."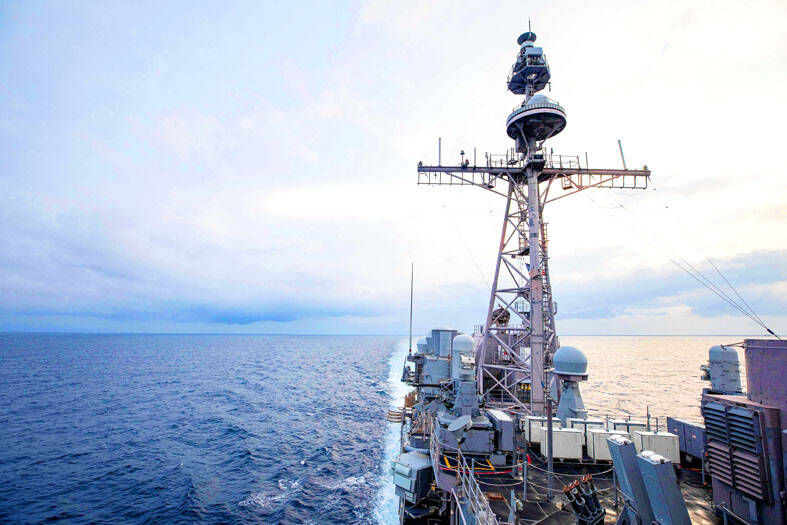 The US Navy's Ticonderoga-class guided-missile cruiser USS Chancellorsville transits the Taiwan Strait on Aug. 28 last year.
Photo: AFP / Justin Stack / US Navy
The leaders also "welcomed the first US-Canada Indo-Pacific Strategic Dialogue on March 10 and will cooperate to promote a free, open, prosperous, secure and resilient Indo-Pacific," it added.
Images of Biden and Trudeau standing side by side in Ottawa announcing agreements including on semiconductors and migration represented a counterpoint to the scene in Moscow days earlier. There, Chinese President Xi Jinping (習近平) and Russian President Vladimir Putin professed friendship and pledged closer ties as Russia struggles to make gains in what the West considers an unjust invasion of Ukraine.
At a joint news conference with Trudeau, Biden questioned the level of China's and Russia's cooperation, adding that China has not provided weapons to Russia for use against Ukraine.
Biden said the US had expanded alliances including with NATO, the G7, South Korea and the "Quad" nations of the US, Australia, India and Japan.
"We have significantly expanded our alliances," Biden said. "Tell me how in fact you see a circumstance where China has made a significant commitment to Russia. What commitment can they make?"
Addressing Canada's parliament, Biden said that as NATO members, the two countries would "defend every inch of NATO territory."
Trudeau told the news conference that Ukraine was a top issue.
"Today we reaffirmed our steadfast support for the Ukrainian people as they defend themselves against Putin's brutal and barbaric invasion," Trudeau said.
At the news conference, Trudeau announced the two leaders had signed an agreement with IBM to develop semiconductor capacity and ease reliance on foreign makers after supply-chain problems bedeviled the countries.
The US Defense Production Act is to provide US$250 million, Biden said.
Canada has an abundance of the critical minerals used to produce batteries and electric vehicles, but China currently dominates the global market.
Trudeau is preparing a budget to be published on Tuesday aimed at scaling up critical mineral and clean tech production.
Biden announced US$50 million to incentivize US and Canadian companies to invest in packaging semiconductors and said that Canada would provide up to C$250 million (US$181.11 million) for semiconductor projects in the near term, the joint statement said.
The countries also agreed on an energy transformation task force focusing on clean power and vowed to cooperate on a "North American critical minerals supply chain," it said.
Comments will be moderated. Keep comments relevant to the article. Remarks containing abusive and obscene language, personal attacks of any kind or promotion will be removed and the user banned. Final decision will be at the discretion of the Taipei Times.