TSMC founder warns of chip price hikes caused by the US' on-shoring efforts
PARTIAL SUPPORT: Morris Chang said he agrees with the US' goal to slow advances of China's chip sector, but US policies that might boost chip prices perplex him
Washington's efforts to on-shore semiconductor production might lead to surges in chip prices and supply bottlenecks, Taiwan Semiconductor Manufacturing Co (TSMC, 台積電) founder Morris Chang (張忠謀) said yesterday.
The 91-year-old industry veteran said he supports parts of Washington's effort to slow China's progress on advanced chip manufacturing.
China is still six years behind Taiwan in making advanced chips, despite years-long efforts to catch up, Chang told a Commonwealth Magazine forum that he coheadlined with Tufts University assistant professor Chris Miller, an expert on the US-China rivalry's effects on chip manufacturing.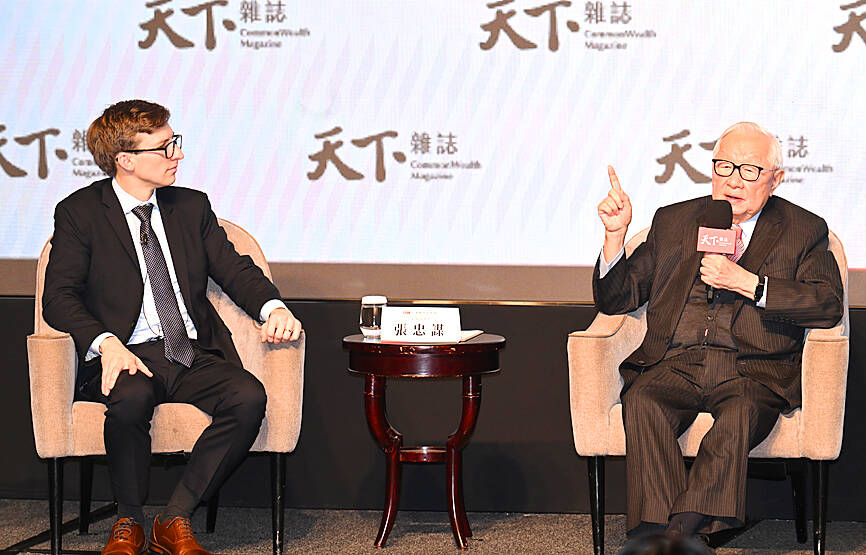 Taiwan Semiconductor Manufacturing Co founder Morris Chang, right, speaks as Tufts University associate professor Chris Miller looks on at an event in Taipei yesterday.
Photo: Tien Yu-hua, Taipei Times
However, Chang said that other parts of the effort, particularly Washington's on-shoring and friend-shoring policies, perplexed him.
The US already holds a lion share of 39 percent in the semiconductor sector, including chip manufacturing equipment, chip design and intellectual property, he said.
Washington has excluded Taiwan from its friend-shore list, Chang said, citing US Secretary of Commerce Gina Raimondo as saying that Taiwan is a dangerous place and the US cannot rely on it for chip supply.
"It is, I think, Taiwan's dilemma," Chang said.
However, Raimondo has not made any remarks on the issue since TSMC unveiled plans to set up fabs in the US, with investment totaling US$40 billion, he said.
Chang said he is not sure what the US wishes to achieve through its on-shoring and friend-shoring policies.
"On-shoring is in the name of security and resiliency," Chang said, adding that even though the defense industry only needs an insignificant amount of chips, the US wants to build large domestic capacity.
The US already has 11 percent share of the world semiconductor manufacturing, he said.
"If you give up the competitive advantages of Taiwan and move to the US ... the costs are going up," Chang said.
Chang previously estimated that chip manufacturing costs in the US would be 50 percent higher than in Taiwan.
"I found out that was an underestimate. Perhaps, a far worse underestimate than I was underestimated," Chang said, referring to Miller's book Chip War: The Fight for the World's Most Critical Technology, in which the professor writes that Chang is the most underestimated businessperson of the past few decades.
Chipmaking costs in the US could be twice those in Taiwan, Chang said.
"That is going to have some impact on the further expanding ubiquity of the chips. That is one thing I can see. When the costs go up, the ubiquity of chips will either stop, or slow down considerably," he said, calling chips the most "disinflationary item" of the past six decades.
Taiwan's competitive advantages in chipmaking are based on its work culture, Chang said, citing his experience working for Texas Instruments Inc in the US from 1958 to 1983.
If a chipmaking tool at a Taiwanese fab breaks at 1am, it is replaced by 2am, he said.
In the US, the same issue would not be solved until the next day, he added.
Comments will be moderated. Keep comments relevant to the article. Remarks containing abusive and obscene language, personal attacks of any kind or promotion will be removed and the user banned. Final decision will be at the discretion of the Taipei Times.