Agencies urged to counter Chinese radio broadcasts
'UNITED FRONT': China broadcasts in Taiwan on unused radio frequencies and persuades local radio programs to broadcast pro-China content for it, officials said
Agencies are to meet within a month to discuss how to stop Chinese radio broadcasts espousing "united front" content in Taiwan, Mainland Affairs Council (MAC) Minister Chiu Tai-san (邱太三) said yesterday.
Democratic Progressive Party Legislator Lai Pin-yu (賴品妤) raised concern about the issue during a meeting of the legislature's Internal Administration Committee.
While driving through Hsinchu and Miaoli counties, a member of the public reported hearing only Chinese radio programs, she said.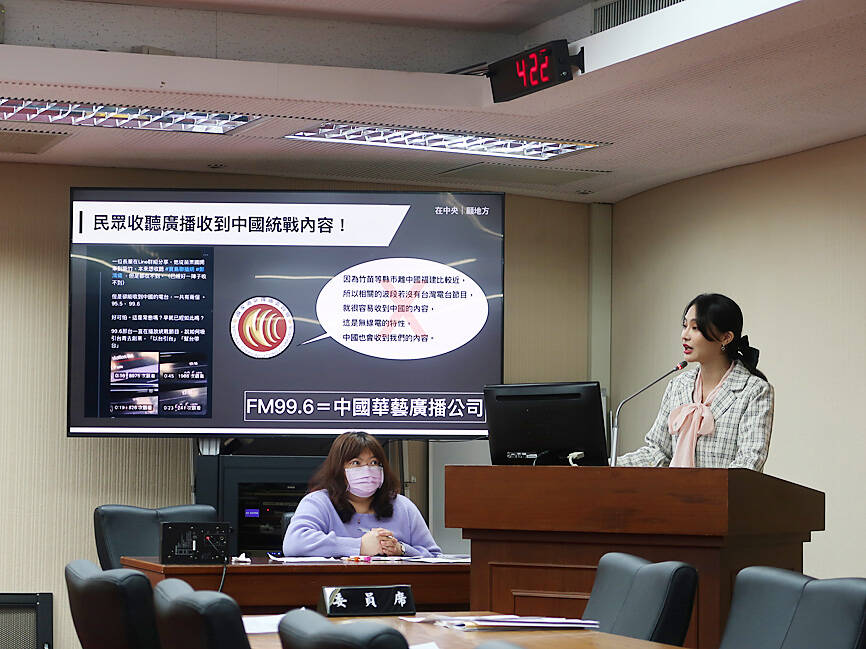 Legislator Lai Pin-yu, right, addresses a hearing of the legislature's Internal Administration Committee in Taipei yesterday.
Photo: Chen Yu-fu, Taipei Times
All the content was related to China's "united front" tactics, encouraging young Taiwanese to go to China for work, where they would be "treated like family," she said.
Lai said she contacted the National Communications Commission (NCC) about the case, which said that the counties sometimes pick up broadcasts from China's Fujian Province due to their proximity, and vice versa.
Calling the response "lies on top of lies," Lai said the NCC gave a selective answer and was evading its duties.
China Huayi Broadcasting Corp (中國華藝廣播), which is run by the Chinese Central Military Commission's Political Work Department, broadcasts on station 99.6, whose roster includes the well-known "united front" program Voice of Strait (海峽之聲), she said.
Based on data compiled by her office, Lai said the content can be heard on AM and FM, and across Taiwan.
The following stations and programs can be heard on AM: Cross-Strait Radio (台海之聲), Voice of Strait news and Hoklo-language shows, China Southeast Broadcasting Corp (中國東南廣播), Voice of Shenzhou (神州之聲), Voice of China (中華之聲) and China National Radio (中央人民廣播電台), Lai said.
On FM, Voice of Strait programs and Cross-Strait Radio can also be heard, in addition to China Huayi Broadcasting, Fujian Economy Radio (福建經濟廣播電台), Voice of Minnan (閩南之聲) and Fujian People's Radio (福建人民廣播電台), she said.
Taiwanese stations broadcast on frequencies that end in an odd number, but the Chinese stations broadcast on even numbers to fit into the spaces, she said, adding that it is not a matter of signal strength as the NCC claimed.
Responding to the report, Chiu said that the MAC is aware of the problem, which is twofold.
One strategy used by China is to send high-power transmissions to reach Taiwan, he said.
The other is to get Taiwanese stations to broadcast or create pro-China content, he said.
Taiwanese stations that make such programs would be in contravention of cross-strait laws, and would be handled by the Ministry of Culture and supervised by the NCC, Chiu said.
For the first circumstance, there have been discussions about whether to launch an extreme response, as outlying Kinmen and Lienchiang (Matsu) counties have been completely overrun in the past, he said.
Lai said the authorities' reaction was overly passive and intended only to make people feel better without doing anything to address the problem, such as the MAC saying that Taiwan broadcasts its own content back.
When Cross-Strait Radio premiered in 2021, the MAC said that deliberations were needed, but matters of national security cannot wait, she said.
The government should respond faster, starting with the MAC convening a meeting within a month to propose amendments to cross-strait law, Lai said, to which Chiu agreed.
The NCC must also take stock of the proximity of broadcast frequencies and find technical solutions to stop China from broadcasting in the gaps, she said.
In addition, the culture ministry should review its licensing requirements for Chinese broadcasts, she added.
Comments will be moderated. Keep comments relevant to the article. Remarks containing abusive and obscene language, personal attacks of any kind or promotion will be removed and the user banned. Final decision will be at the discretion of the Taipei Times.