Taiwanese center target of Chinese cyberattack
French police have confirmed that China's overseas police stations launched cyberattacks against a Taiwanese Mandarin Learning Center in France, the Overseas Community Affairs Council (OCAC) said yesterday.
L'Encrier Chinois, a Chinese-language school that opened in 2005 in Paris, in April last year reported that its Web site and Facebook page were attacked by hackers, OCAC Minister Hsu Chia-ching (徐佳青) told the legislature.
The school in September 2021 became France's second Taiwanese Mandarin Learning Center, and was targeted by three cyberattacks last year, principal Lin Shu-lin (林淑琳) has said.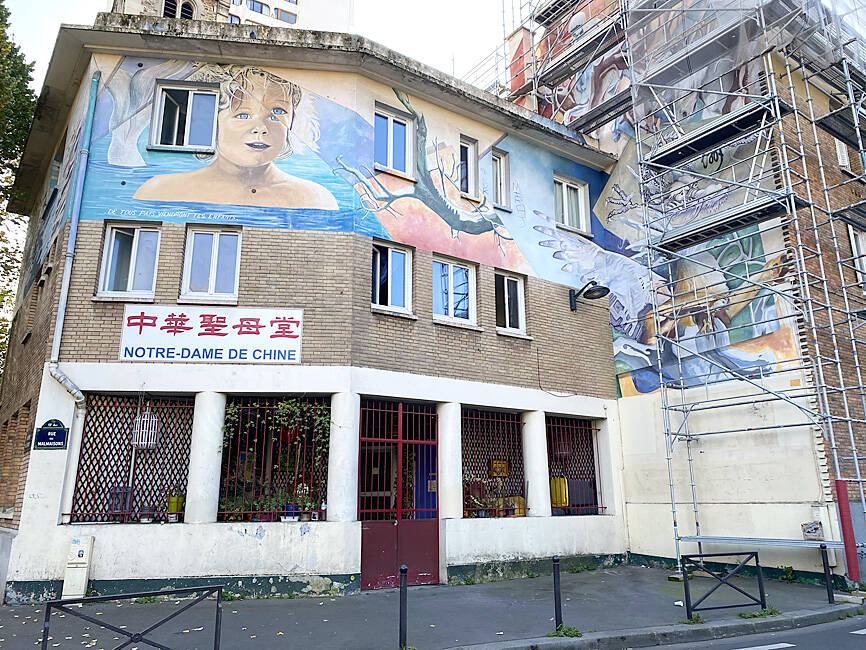 Eglise Notre-Dame de Chine, pictured in Paris on Nov. 15 last year, has been reported by French media Intelligence Online as a Chinese "phantom police station."
Photo: CNA
The council asked the school to report the case to the French police, which launched an investigation and found that the attacks originated from China's overseas police stations, Hsu said.
The council asked the Taipei Representative Office in France to help the center improve its information security, while the council's Information Management Office provided suggestions, she said.
Canada, several European countries, as well as some Central and South American countries, reported similar attacks related to Chinese police stations, Hsu said.
Taiwan centers for Mandarin learning in other countries have reported no such attacks, she said.
Foreign investigations have found that some Chinese overseas police stations are operating under the pretense of overseas community affairs organizations, independent Legislator Freddy Lim (林昶佐) said.
The council should find out whether Taiwanese organizations have been in touch with Chinese police stations, and warn them about the risks of infiltration, he added.
The council regularly exchanges information on Chinese surveillance activities with the National Security Bureau and the Mainland Affairs Council, and warns overseas Taiwanese organizations about risks, Hsu said.
Ministry of Foreign Affairs spokesman Jeff Liu (劉永健) told a regular news briefing in Taipei that Chinese "united front" operations conducted by Beijing's overseas police stations have had little influence on Taiwan's overseas communities, adding that overseas Taiwanese are vigilant against such operations.
Chinese overseas police stations have become a matter of concern around the world, and many countries, such as the US and Japan, have launched investigations into them.
China has denied setting up unauthorized police stations, which it reportedly uses to pressure citizens to return home to face criminal charges, saying that the facilities handle affairs concerning overseas Chinese.
Comments will be moderated. Keep comments relevant to the article. Remarks containing abusive and obscene language, personal attacks of any kind or promotion will be removed and the user banned. Final decision will be at the discretion of the Taipei Times.