US aircraft makes rare transit of Strait
UKRAINE LESSON: CIA Director William Burns said that Xi Jinping has instructed his military to 'be ready by 2027' to invade Taiwan, though he might be harboring doubts
A US naval aircraft yesterday made a rare transit through the Taiwan Strait, a flight the US Navy said showed Washington's "commitment to a free and open Indo-Pacific" region.
The US Navy P-8A Poseidon transited the Taiwan Strait in international airspace, according to a statement released by the 7th Fleet of the US Pacific Command.
"By operating within the Taiwan Strait in accordance with international law, the United States upholds the navigational rights and freedoms of all nations," the statement said. "The aircraft's transit of the Taiwan Strait demonstrates the United States' commitment to a free and open Indo-Pacific."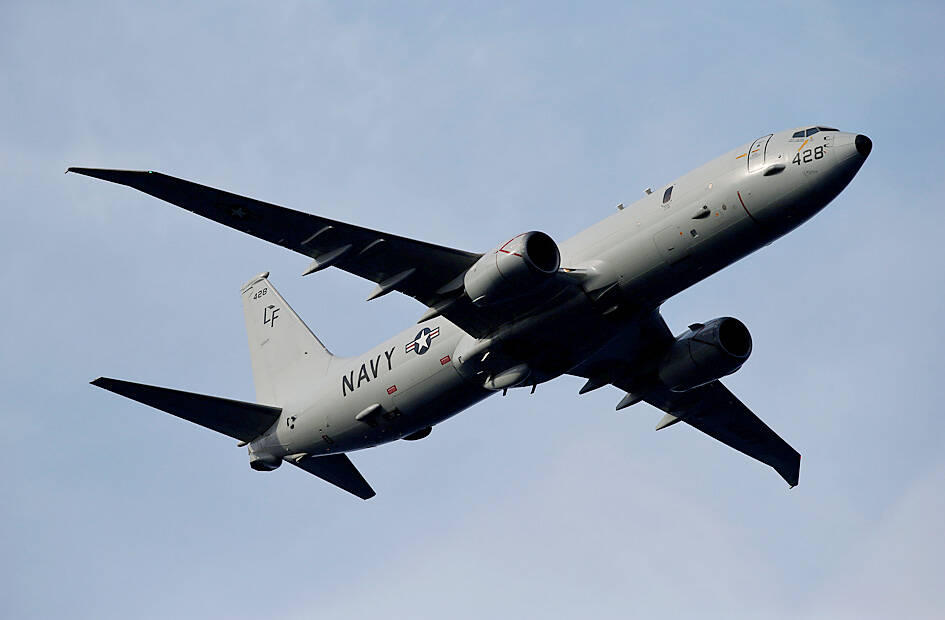 A US Navy P-8A Poseidon maritime patrol aircraft takes part in the Malta International Airshow at SmartCity Malta outside Kalkara, Malta, on Sept. 23, 2017.
Photo: Reuters
In Taipei, the Ministry of National Defense also confirmed the aircraft's passage, saying in a statement that the military was on top of the situation as a US military aircraft flew northward in the Taiwan Strait yesterday and that it did not see anything out of the ordinary.
US warships have been making routine, almost monthly, passages through the waterway separating Taiwan and China over the past three years as tensions across the Taiwan Strait have escalated, but it is rare for a US warplane to do so.
The last time a US warplane, also a US Navy P-8A Poseidon, flew over the waterway was on June 24 last year, a day after China sent 29 planes into Taiwan's air defense identification zone — at that point the third-highest daily number since the start of last year.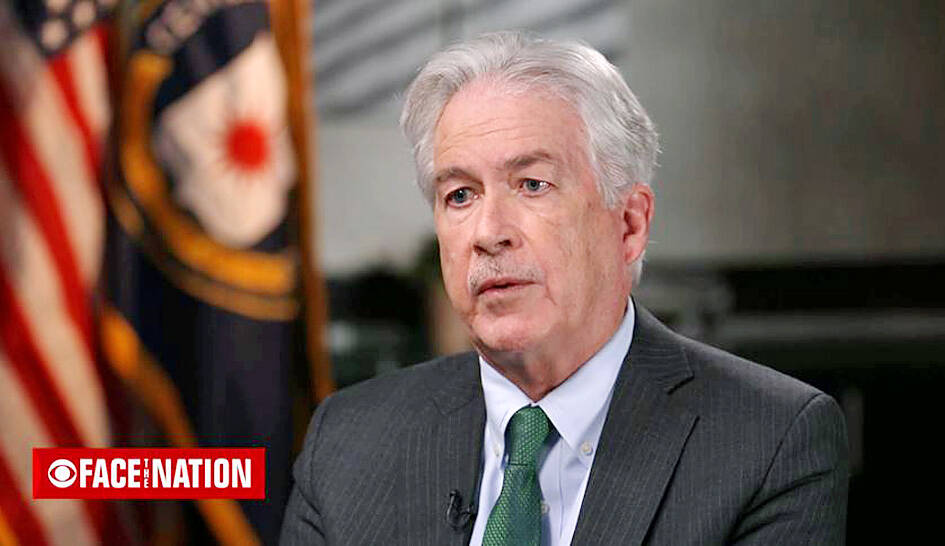 CIA Director William Burns speaks in an interview with CBS News aired on Sunday.
Photo: screen grab from CBS News
The Boeing P-8 Poseidon is a US maritime patrol and reconnaissance aircraft developed and derived from the civilian Boeing 737-800.
The P-8 Poseidon operates in anti-submarine warfare, anti-surface warfare and intelligence, surveillance and reconnaissance roles.
China yesterday accused the US of "endangering" peace and stability in the Taiwan Strait.
The Eastern Theater Command of the People's Liberation Army (PLA) said its forces closely monitored the aircraft.
"The US side's actions deliberately interfered with and disrupted the regional situation and endangered peace and stability in the Taiwan Strait. We firmly oppose this," it said in a statement.
Meanwhile, CIA Director William Burns said that US intelligence shows that Chinese President Xi Jinping (習近平) has instructed his nation's military to "be ready by 2027" to invade Taiwan, though he might be harboring doubts about his ability to do so given Russia's experience in its invasion of Ukraine.
Burns, in a television interview that aired on Sunday, said that the US must take "very seriously" Xi's desire to ultimately control Taiwan, even if military conflict is not inevitable.
"We do know, as has been made public, that President Xi has instructed the PLA, the Chinese military leadership, to be ready by 2027 to invade Taiwan, but that doesn't mean that he's decided to invade in 2027 or any other year as well," Burns told CBS' Face the Nation.
"I think our judgement at least is that President Xi and his military leadership have doubts today about whether they could accomplish that invasion," he said.
Burns said the support from the US and European allies for Ukraine following Russian President Vladimir Putin's invasion of that nation could be acting as a potential deterrent to Chinese officials, but said the risks of a possible attack on Taiwan would only grow.
"I think, as they've looked at Putin's experience in Ukraine, that's probably reinforced some of those doubts," Burns said. "So, all I would say is that I think the risks of, you know, a potential use of force probably grow the further into this decade you get and beyond it, into the following decade as well. So that's something, obviously, that we watch very, very carefully."
Additional reporting by Reuters
Comments will be moderated. Keep comments relevant to the article. Remarks containing abusive and obscene language, personal attacks of any kind or promotion will be removed and the user banned. Final decision will be at the discretion of the Taipei Times.