Nation to launch first low Earth orbit satellite in 2025
Taiwan plans to launch its first low Earth orbit communications satellite as soon as the middle of 2025, the National Science and Technology Council said yesterday.
The Taiwan Space Agency last year completed its initial systems review of the B5G project and expects to complete a review of a design model by the end of this year, the council said, adding that it would do a space-environment test next year.
"Taiwan already has the technical ability and experience required to manufacture small satellites, and, in the future, will be able to enter the international market," the council said.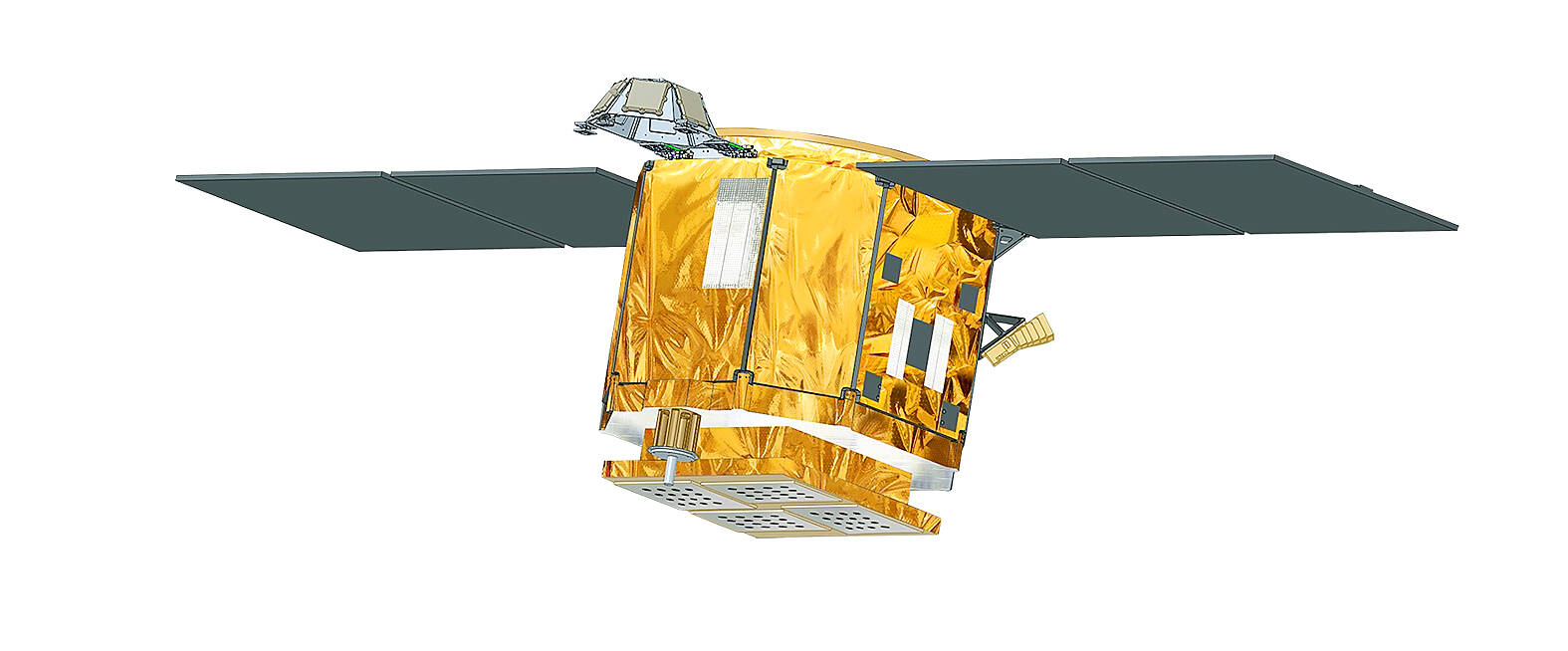 A model of a low Earth orbit communications satellite is pictured in an undated photograph.
Photo provided by the Taiwan Space Agency
Throughout Russia's war of aggression against Ukraine, satellites have greatly benefited Ukrainian forces, which has generated global interest in satellite research, the council said.
The agency began work on the B5G project in 2020 and plans to build two satellites at a total cost of NT$4 billion (US$131.23 million) to be launched in 2025 and 2026, it said.
The agency would also assist private companies with the launch of four satellites aimed at enhancing the nation's mobile-communications industry, it said.
After defining the B5G's system requirements in 2021, the council last year completed a preliminary system design review and this year is to focus on its key design communications payload, said agency researcher Tsai Tung-hung (蔡東宏), who leads the B5G project.
Satellite data transmission would follow the 800 megahertz standard and the system would have a maximum power demand of 1,600 watts, the council said.
The satellite's "experimental payload 1" is planned to be 1m3 and weigh 360kg to 400kg, it said.
"The system inherits the research and development components of the Formosat series of satellites, and 80 percent of the system is being developed in-house," it said.
The team was also working with the Industrial Technology Research Institute on the development of IC chips used by the communication payloads, and with National Cheng Kung University on the development of the reaction wheels used for the satellite's three-axis attitude control, it said.
Many Taiwanese manufacturers are already part of the European and US satellite-supply chains, including Tong Hsing Electronic Industries Inc (同欣電), Universal Microwave Technology Inc (昇達科) and Gongin Precision Industrial Co (公準精密), it said, adding that Taiwan could easily establish a supply chain for its domestic space industry.
The Ministry of Economic Affairs was also offering subsidies to spur the development of the nation's space industry, it said.
Comments will be moderated. Keep comments relevant to the article. Remarks containing abusive and obscene language, personal attacks of any kind or promotion will be removed and the user banned. Final decision will be at the discretion of the Taipei Times.