Generators from Taiwan arrive in Ukraine: MOFA
BEIJING NOT PLEASED: China has protested the donation from Taiwan, but it has not provided any major assistance to Kyiv, a Ukrainian politician said
Two 750-kilowatt power generators from Taiwan arrived in Ukraine on Saturday, as Kiev is struggling to maintain electricity supply nationwide after its energy infrastructure was severely damaged amid continuous Russian missile strikes.
The Ministry of Foreign Affairs (MOFA) last month donated US$1 million to Kyiv to help it deal with power outages after Russian airstrikes on Ukrainian infrastructure.
The first batch of two high-capacity generators bought with the funds arrived in Kyiv earlier this month.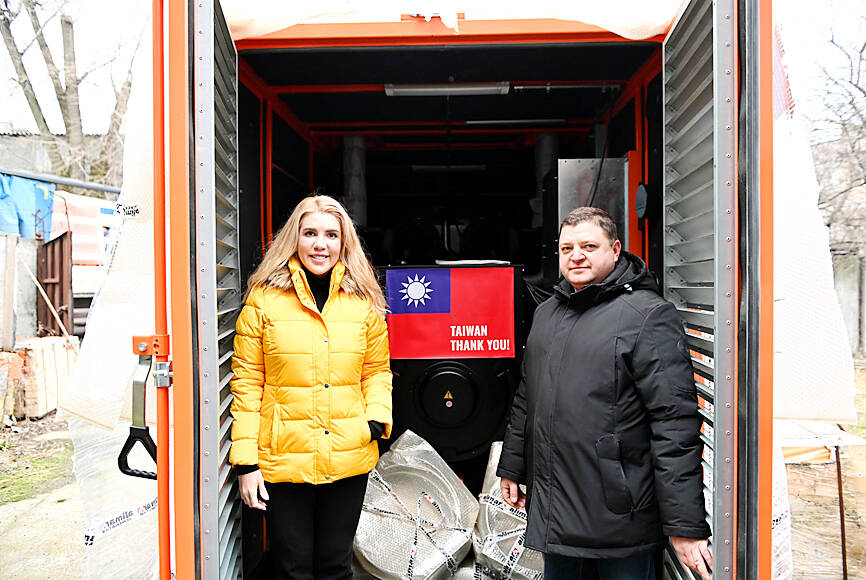 Ukraine's Holos Party leader Kira Rudik, left, poses with two high-capacity generators from Taiwan in Ukraine on Saturday.
Photo courtesy of Kira Rudik's office
As part of the project, about 20 generators are expected to be transferred to power critical infrastructure facilities in the capital.
"Temperatures in Kyiv have been between minus-5oC to minus-10oC in the past few days. The generators are so big that it took two cranes to unload them. However, people were so happy that they applauded as they watched the power generators unloaded. The generators should be put to use this week," Ukraine's Holos Party leader Kira Rudik told the Central News Agency by telephone on Monday.
Following the arrival of the first set of power generators, the Chinese embassy in Ukraine warned Kyiv that it should not have accepted such a donation in the first place, Rudik said.
However, the war with Russia has changed the relations between Kyiv and Beijing, she said.
"China has neither intervened in the war between Ukraine and Russia nor has it been partial to any country, but we know that it is helping Moscow bypass sanctions imposed by the US and other countries," Rudik said. "Beijing did not provide any major assistance to Ukraine either."
Kyiv is in a fragile position as it tries to avoid further partnerships between Beijing and Moscow by not provoking China, she said.
Rudik added that while she understands and respects the rationale of the Ukrainian government, she is convinced that "placating ... China has been proven to be unfeasible."
Rudik said she and her team are using social media and interviews on television to tell government officials and Ukrainians how Taiwan has been supporting the country through concrete actions since Russia invaded in February last year.
She said she would also express the same position when she speaks at the Ukrainian parliament next month.
"Talking about Taiwan at the government level is an important, but complicated move, but I have to do it to make sure that every Ukrainian knows that people in Taiwan are friends to Ukraine," she said.
MOFA on Jan. 4 announced that it has budgeted an additional US$2 million to help Ukraine acquire power generators and heating facilities.
"We can survive without electricity, but we cannot survive without water and heat. Power generators provided by Taiwan will greatly inspire the morale of Ukrainians and let them know they are not fighting this war alone," Rudik said.
She added that she is planning to visit Taiwan again in the spring to explore ways of establishing Taiwanese "representation" in Ukraine, despite the lack of official diplomatic relations.
Rudik said she was reminded that Ukraine needed to befriend the "right ally" during a meeting with then-US House of Representatives speaker Nancy Pelosi in the fall last year.
"It was a strong message to me that we need the efforts of all who support us," she said.
Comments will be moderated. Keep comments relevant to the article. Remarks containing abusive and obscene language, personal attacks of any kind or promotion will be removed and the user banned. Final decision will be at the discretion of the Taipei Times.