Taiwan still IC leader as exports rise
'IRREPLACEABLE': Barclays PLC said efforts by others, such as the US, to bolster chip production would not immediately have an effect on diminishing Taiwan's importance
Taiwan's exports of integrated circuit (IC) chips last year rose for a seventh consecutive year, further solidifying the nation's leadership status in a global semiconductor industry that has been roiled by US-China tensions and diversifying supply chains.
Exports of IC chips — which are pivotal components of electronic appliances, computers and smartphones — rose 18.4 percent year-on-year, the Ministry of Finance said.
It was also the third consecutive year of double-digit percentage growth.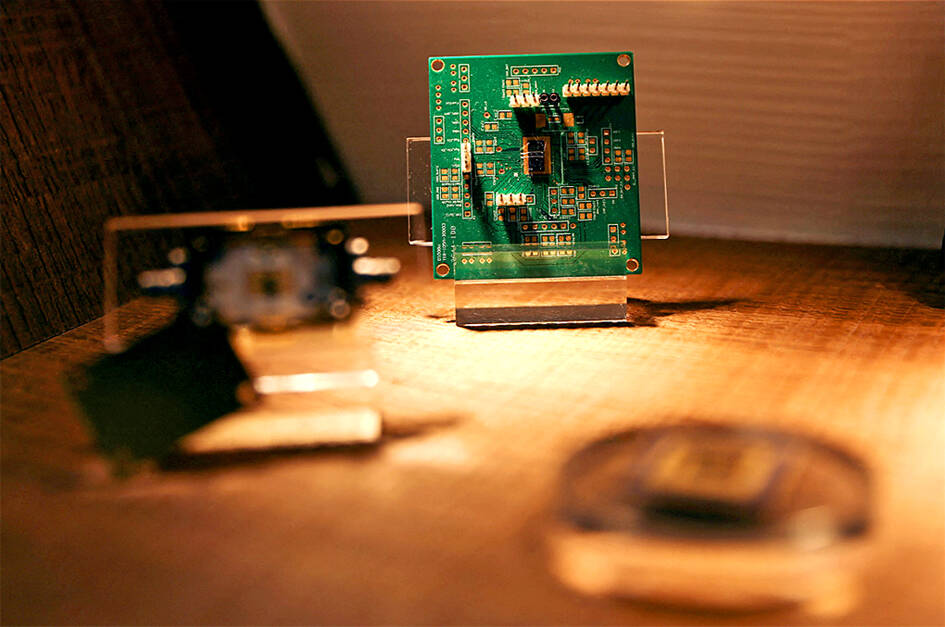 Electronic components are pictured at the Taiwan Semiconductor Research Institute at the Hsinchu Science Park on Sept. 16 last year.
Photo: Ann Wang, Reuters
"We believe Taiwan is irreplaceable in the near-term in the semiconductor industry," Barclays PLC economist Bum Ki Son said in an e-mail to Bloomberg News.
Barclays said efforts by others, such as the US, to bolster chip production would not immediately have an effect on diminishing Taiwan's importance.
Taiwan's significance in the industry rests on the output of giants such as Taiwan Semiconductor Manufacturing Co (TSMC, 台積電), which has more than half of the market share in global semiconductor manufacturing, Son said — especially in the manufacturing of the world's most cutting-edge chips.
Global sales of semiconductors have driven exports for Taiwan during a time when global trade has been under immense pressure from a worldwide drop-off in demand.
Also keeping Taiwan important to places such as the US are TSMC's investment decisions, such as its landmark facility in Arizona, its first advanced chip plant in the US.
Son said the future of diversification in the industry would depend on where semiconductor fabrication plants are constructed.
Son cited potential plans for TSMC to build plants in Singapore and Japan, a recent Intel Corp investment in Vietnam, and India plans by Foxconn Technology Group (富士康科技集團) and Vedanta Resources Ltd as moves that might have lasting implications for the industry.
The outlook in the medium and long term is thus more "fluid, especially as US-China trade conflicts as well as COVID continue to underscore the vulnerability of concentrated supply chains," Son said.
On top of the obvious risks of a direct conflict between superpowers, there is an economic dimension to the standoff. As home to the world's largest chip maker, TSMC, Taiwan is critical to all kinds of global supply chains. Even an escalation short of war, such as a Chinese blockade, could set off a colossal domino effect.
A Chinese move against Taiwan, and the likely Western response, "is a contingency that everyone is planning for," Institute of International Finance chief executive Tim Adams said.
"Every single firm is gaming out what those sanctions would look like, and who would be an ally to the US," he said.
Comments will be moderated. Keep comments relevant to the article. Remarks containing abusive and obscene language, personal attacks of any kind or promotion will be removed and the user banned. Final decision will be at the discretion of the Taipei Times.