Bill to curb deepfake pornography clears legislature
The legislature yesterday passed draft amendments to curb the use of sexual images and video that would make the production and spread of fake or manipulated images and video for profit a crime punishable by up to seven years in prison.
The draft amendments to the Criminal Code include an additional article dedicated to a new form of crime using artificial intelligence — deepfakes — which involve inserting the likeness of a person into an existing image or video.
The draft amendments were proposed after the arrest in 2021 of a Taiwanese YouTuber for making and selling "deepfake" pornographic videos of dozens of prominent women, including politicians.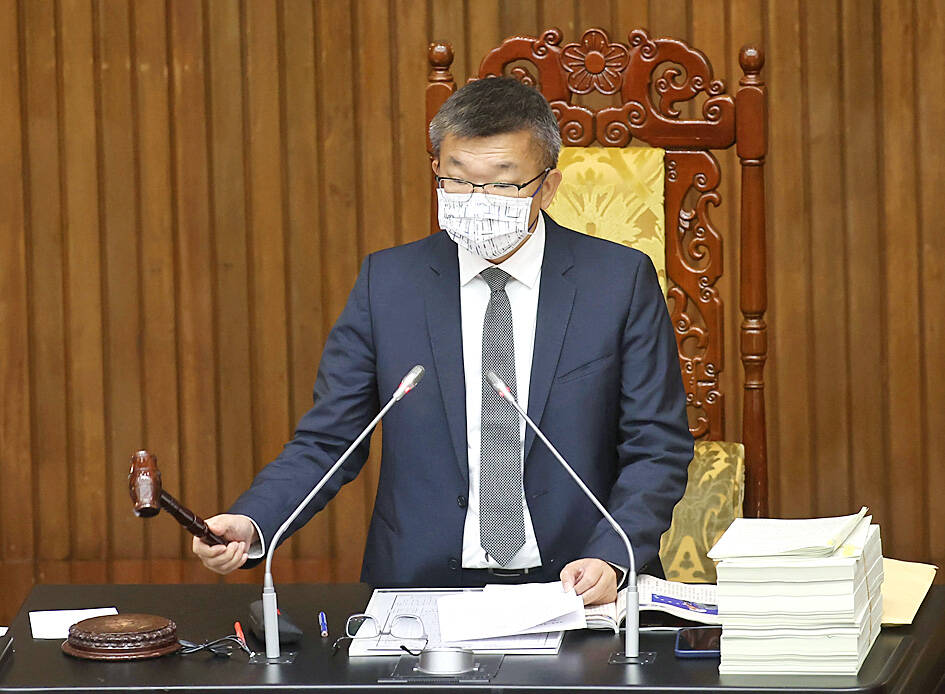 Deputy Legislative Speaker Tsai Chi-chang bangs his gavel in the Legislative Yuan in Taipei yesterday to mark the passage of amendments to the Criminal Code.
Photo: CNA
The approved legislation includes a provision stipulating that producing sexual material involving images or video footage of another individual without that person's consent is subject to a maximum sentence of three years in prison, while the unauthorized distribution of such material could result in a prison term of six months to five years.
Anyone found guilty of distributing such content for profit faces an additional sentence of up to one half of the prescribed sentence, the amendment states.
The bill also includes a provision that anyone convicted of producing sexual images or video of another individual through the use of threats or violence faces up to five years in prison and one to seven years if distribution is involved.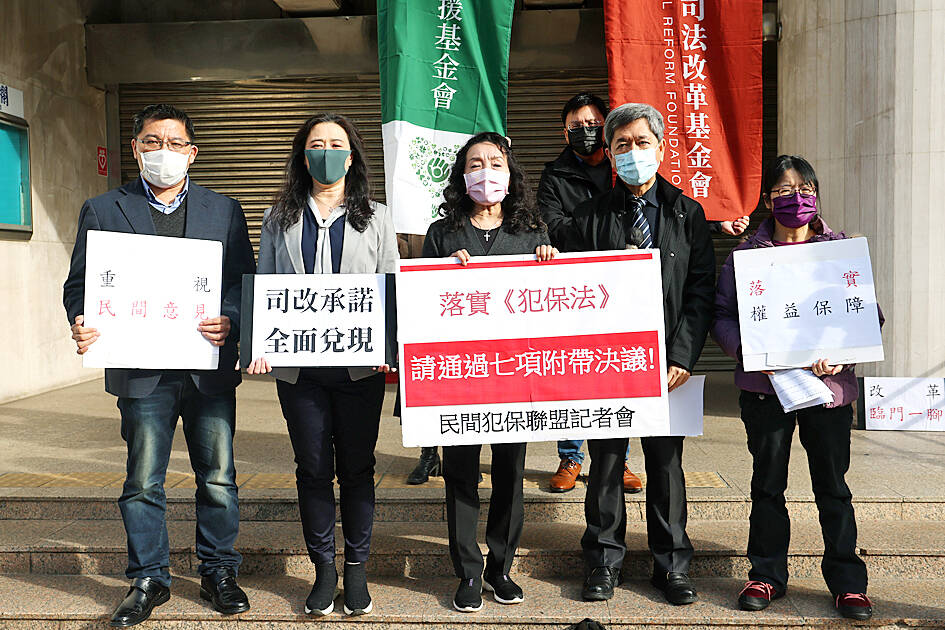 At a demonstration in Taipei yesterday members of the Judicial Reform Foundation and other rights advocates hold signs calling for amendments to protect victims' rights.
Photo: CNA
Without the consent of the party involved, those who reproduce, distribute, broadcast, deliver, display or use other methods to display sexual images of others would be subject to a maximum sentence of five years in prison and a fine of up to NT$500,000 (US$16,289).
The draft also stipulates that those who produce or disseminate deepfakes face a sentence of up to five years in jail and, if the offense is profit-related, up to seven years.
Kaohsiung City Councilor Huang Jie (黃捷) said the passing of the law is the "best New Year's gift" to victims of sexual exploitation, and thanked lawmakers for making it happen.
The law could be improved with regard to curbing "digital sexual violence," including by creating mechanisms to immediately remove illegal images and video from Internet platforms, she added.
Lawmakers also passed a third reading of amendments to the Crime Victim Protection Act (犯罪被害人權益保障法).
The amendments expand the protections offered to victims of new forms of crime, including revenge porn and secretly filmed sexual content.
The changes authorize judicial authorities to impose restraining orders against suspects for up to two years during the trial period.
Compensation for next of kin in manslaughter or murder cases would be set at NT$1.8 million, while victims of crimes resulting in severe injuries would receive NT$800,000 to NT$1.6 million, and victims of sexual assault would receive NT$100,000 to NT$400,000.
New Power Party Legislator Claire Wang (王婉諭) said that "this amendment has … expanded the social safety net for victims of crime, including more programs to better protect the victims."
"However, government agencies must allocate consistent, long-term funding. If not, these are merely administrative orders, without actual legal enforcement," she said, adding that the current funding is insufficient.
Groups protested outside the Legislative Yuan, including representatives from the Association for Victims Support, the Judicial Reform Foundation, the Taipei Women's Rescue Foundation and the Taiwan Children's Rights Association.
Taiwan Children's Rights Association founder Wang Wei-chun (王薇君) said that the changes do not go far enough.
"I especially cannot accept that lawmakers imposed a cap on the compensation for [murder] at NT$1.8 million. This is not sufficient for many families experiencing economic hardship," she said.
Additional reporting by Jason Pan
Comments will be moderated. Keep comments relevant to the article. Remarks containing abusive and obscene language, personal attacks of any kind or promotion will be removed and the user banned. Final decision will be at the discretion of the Taipei Times.