Rasmussen backs self-determination
'DEMOCRATIC FAMILY': The ex-NATO head said that Taiwan is a solid democracy and he looked forward to discussing how to bolster its relationship with Europe
Former NATO secretary-general Anders Fogh Rasmussen yesterday said that his visit to Taiwan was a show of "strong support" for the nation's self-determination, freedom and democracy.
Speaking during a meeting with President Tsai Ing-wen (蔡英文) at the Presidential Office in Taipei, Rasmussen said he was "in Taiwan to show my strong support for your rights to decide the future of Taiwan yourselves."
"I am here to show my strong support for your rights to exist in freedom and peace," he added.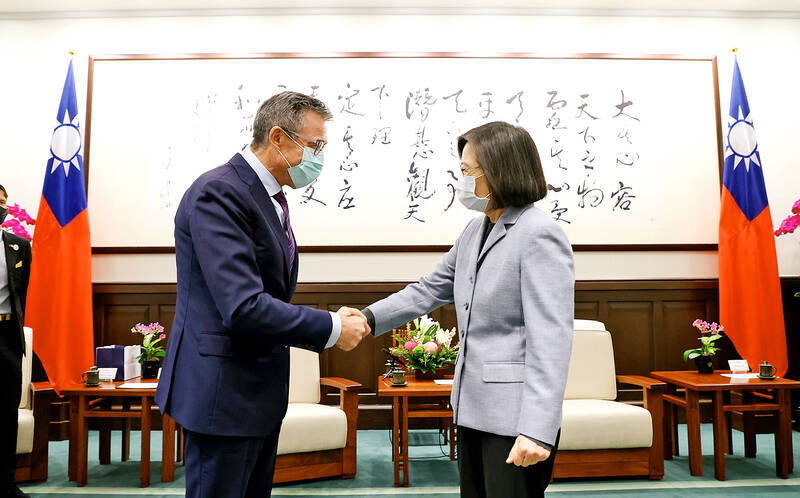 President Tsai Ing-wen, right, greets former NATO secretary-general Anders Fogh Rasmussen at the Presidential Office in Taipei yesterday.
Photo: CNA
Rasmussen was speaking in his capacity as the founder of the Alliance of Democracies Foundation, a Denmark-based organization seeking to advance democracy and free markets worldwide.
The foundation, which invited Tsai to address its annual democracy summit for three consecutive years from 2020, was sanctioned by Beijing in 2021.
The former Danish prime minister, who was secretary-general of NATO from 2009 to 2014, arrived in Taiwan on Tuesday for a three-day trip that is to conclude today.
The world's democracies represent 60 percent of the global economy and if they work together, they could be "a formidable force that will create respect in Beijing and other capitals of autocratic nations," he said. "We need to strengthen our fight against — or our attempts to counter — the advancing autocracies."
"Taiwan is a solid democracy belonging to the family of the world's democracies," he said, adding that he looked forward to discussing with Tsai how to "further strengthen the bonds between Taiwan and Europe."
Tsai said that Taiwan would continue to boost its national defense in response to the challenges posed by authoritarian expansionism, while seeking to increase cooperation with democratic allies to contribute to peace and stability in the Indo-Pacific region.
The government's plans to extend compulsory military service to one year from four months and roll out reforms to intensify military training were part of efforts to bolster the nation's defense capability, she said.
Since Rasmussen last visited Taiwan in 1994, the nation has transformed into a vibrant democracy with a prosperous economy and resilient civil society, Tsai said.
Her administration is happy to see Rasmussen bear witness to the long strides the nation has made, and the deep faith Taiwanese have in freedom and democratic values, she said.
Taiwan is one of many successful democracies with an authoritarian past and therefore appreciates its hard-won freedoms as something that should not be taken for granted, she added.
Additional reporting by Chen Yun
Comments will be moderated. Keep comments relevant to the article. Remarks containing abusive and obscene language, personal attacks of any kind or promotion will be removed and the user banned. Final decision will be at the discretion of the Taipei Times.