Japan could 'recognize Taiwan as country' one day
PREPARATIONS: Japan has been monitoring China's moves in the South China Sea and is increasing defense around the Ryukyu Islands, a former Japanese defense official said
Japan is likely to recognize Taiwan as a country should the nation continue to be governed freely and democratically, former Japanese vice minister of defense Yasuhide Nakayama said in Taipei yesterday.
Nakayama visited Taiwan for the first time to promote the Chinese-language version of his book Statesman Yasuhide Nakayama.
Two Japanese House Representatives from the Constitutional Democratic Party recently said that Taiwan had escalated tensions with China, and urged Japanese Prime Minister Fumio Kishida to state that he does not support Taiwanese independence.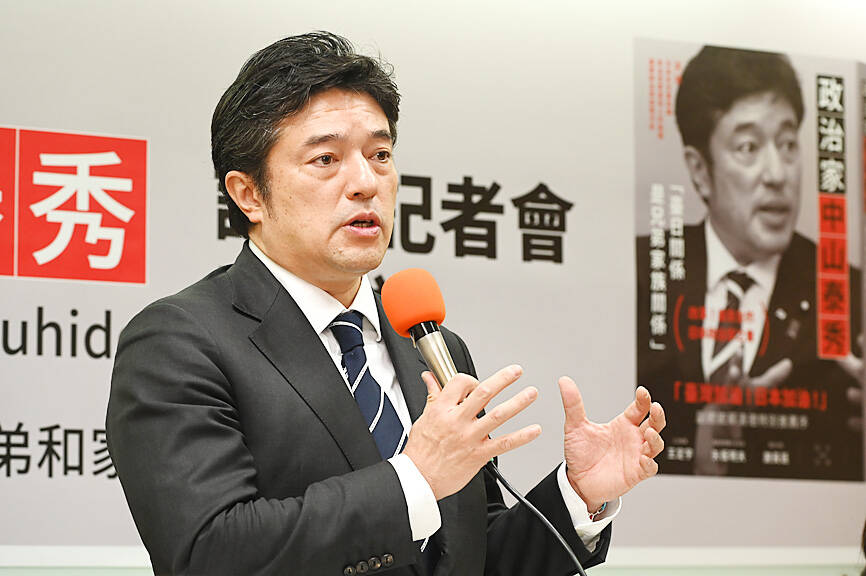 Former Japanese vice minister of defense Yasuhide Nakayama speaks in Taipei yesterday.
Photo: Tien Yu-hua, Taipei Times
"Their statements do not represent the ruling party or the Japanese government. Nor do they have any bearing on government policy," Nakayama said at a news conference.
However, "Japan is a free and democratic country, and any political party is free to state its position," he added.
"Taiwan has all the basic elements of a nation — territory, people and a clearly defined population. I believe that it is highly possible that Taiwan will be recognized by Japan as a country if it maintains a free and democratic system," Nakayama said.
Okinawa Prefecture Governor Denny Tamaki last month told Chinese daily the Global Times that he did not agree with former Japanese prime minister Shinzo Abe's statement that "a Taiwanese emergency is a Japanese emergency."
Okinawans would "not allow" the prefecture "to be targeted by military strikes," Tamaki added.
Asked to respond to the comments, Nakayama said that formulating national defense policy is the jurisdiction of the Japanese government, and statements by local officials do not affect national policy.
Tokyo reportedly is planning to expand military units on Okinawa in anticipation of possible conflicts with China over Taiwan.
Nakayama said the Japanese government has been concerned about China's ambitions in the South China Sea and the Ryukyu Islands, and that Japan has been increasing its defense budget since the Abe administration, including reinforcing the Ryukyu Islands' military infrastructure.
It is important that the US, Japan and other democratic allies protect Taiwan and make sure that it is not orphaned by the international community, he said.
In his opening remarks at the news conference, Nakayama cited China and Russia as the two biggest military threats facing Japan.
When China held military exercises in August following the visit to Taiwan by US House of Representative Speaker Nancy Pelosi, five ballistic missiles were reportedly fired into waters that are part of Japan's exclusive economic zone.
"It was not a coincidence. The Chinese People's Liberation Army did it on purpose to threaten Japan. This is evidence of why 'a Taiwanese emergency is Japanese emergency,'" Nakayama said.
"Unlike World War II, nearly 80 years ago, when war was mainly fought on land, at sea and in the air, the battlefields have now expanded to space, cyberspace and electromagnetic technology" that targets radar and communications systems, he said.
Taiwan needs to strengthen its resilience in these new battlefields, and increase partnerships with the US and Japan against possible Chinese attacks, he said.
Ukrainians would not be winning the war against Russia without satellite services provided by Elon Musk, he added.
Comments will be moderated. Keep comments relevant to the article. Remarks containing abusive and obscene language, personal attacks of any kind or promotion will be removed and the user banned. Final decision will be at the discretion of the Taipei Times.