Taipei to reopen representative office in Ivory Coast
GOOD PROSPECTS: The foreign ministry said Ivory Coast is rich in resources and is a springboard for business ventures throughout West Africa
Taiwan has struck a deal with Ivory Coast to reopen its representative office there, after the mission became inactive in 2017, the Ministry of Foreign Affairs said yesterday, confirming foreign media reports.
The Ivory Coast-based news site La Diplomatique d'Abidjan broke the story on Friday in a report saying that the two countries' officials had reached an agreement for Taiwan's mission to be opened in Abidjan, the economic capital of the West African country.
The mission's reactivation would be a boon to Ivory Coast's economy, the report said.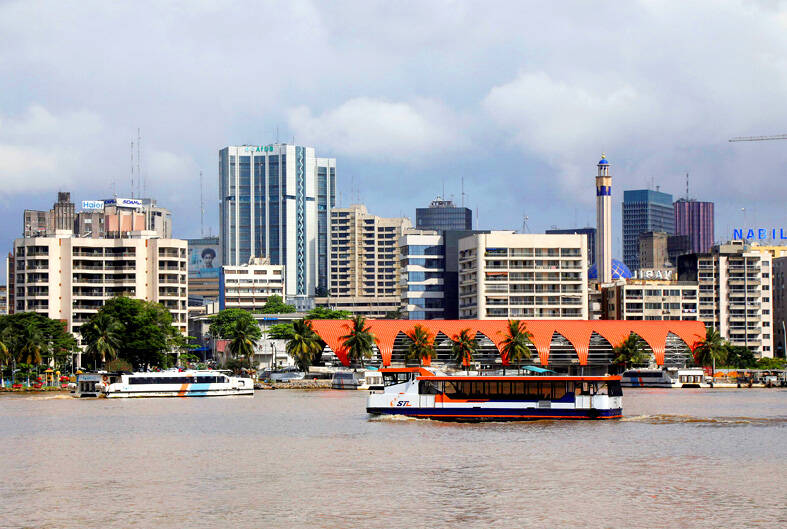 Boats from several transportation companies sail on the Ebrie Lagoon in Abidjan, Ivory Coast, on Oct. 15 last year.
Photo: Reuters
The ministry said that the two countries had earlier in the day signed an agreement in which the Taiwan mission would immediately resume operations to facilitate bilateral trade and personnel exchanges.
With an area of 320,000 km2, Ivory Coast has a population of nearly 26 million people.
Its economy is also the fastest-growing in Africa, with GDP growth of 7.4 percent in 2017 and 6.9 percent in 2018, the ministry said, citing World Bank data.
It is rich in natural resources, including cocoa, coffee, oil and gold, making the country a springboard for Taiwanese business ventures throughout the region, the ministry said.
Taiwan and Ivory Coast have complementary economies, and significant economic benefits could be had if the two countries collaborate in manufacturing, agriculture, auto parts production, construction and logistics, it said.
The trade talks resulting in the Taiwanese mission's return began when a delegation from Taiwan arrived in the West African country three days ago, La Diplomatique d'Abidjan reported.
The delegation included Taiwanese officials and 10 business leaders who held a series of talks with Ivorian entrepreneurs on possible cooperation in the areas of infrastructure, pharmaceuticals, and goods and services, the report said.
Taiwan is interested in bolstering economic ties with Ivory Coast in all kinds of industries, the outlet cited Sun Chieh-fu (孫杰夫), deputy director of the New Taipei City-based Chinese International Economic Cooperation Association, as saying.
Ivorian businesses are heartened by the reopening of the Taiwan representative office and look forward to collaborating in the areas of tourism, telecommunications, manufacturing, finances and human resources, Chamber of Commerce and Industry of the Ivory Coast chairman Famaman Toure said.
Comments will be moderated. Keep comments relevant to the article. Remarks containing abusive and obscene language, personal attacks of any kind or promotion will be removed and the user banned. Final decision will be at the discretion of the Taipei Times.