Taoyuan police rescue 32 victims of torture ring
EMPLOYMENT FRAUD: The victims said they were lured to buildings run by the fraudsters, who forced them to make phone calls as part of their operation
Police have rescued 32 people who were kidnapped and forcibly detained by a criminal ring in Taoyuan, while subsequent searches found the bodies of three people who were killed after being tortured.
Police said that eight suspected members of the ring were arrested during the raid on Thursday, and evidence and telephone records indicated that they belonged to the same criminal ring that was raided in New Taipei City's Tamsui District (淡水) on Tuesday.
Police rescued 26 people and captured eight suspects in that raid.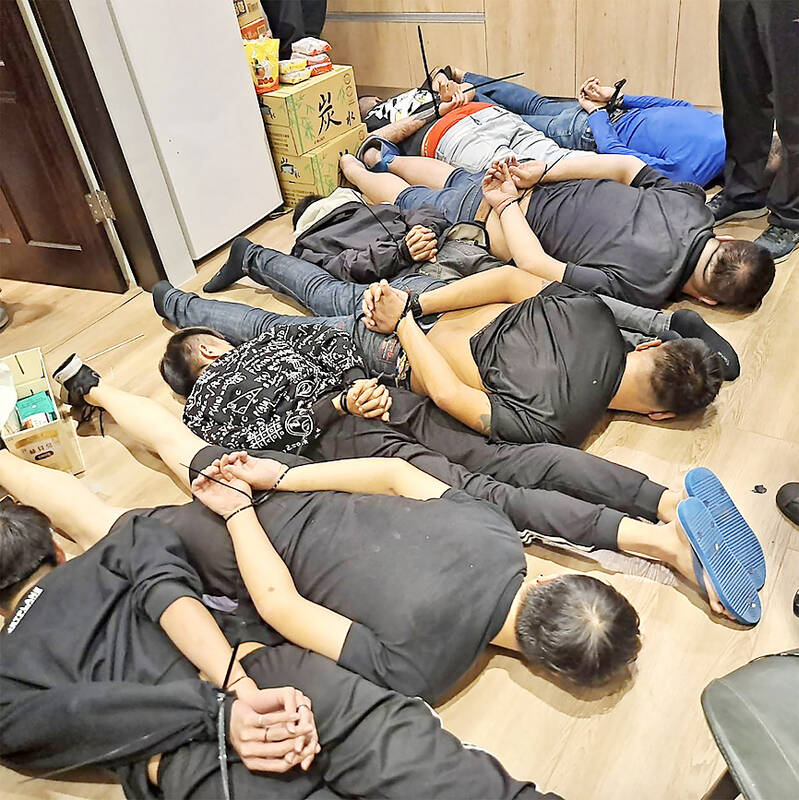 Suspects in a case involving fraud and kidnapping are restrained by police at the location of a raid in Taoyuan yesterday.
Photo: CNA
The torture practices, the three corpses and the use of handcuffs and other torture devices have prompted police and local media to describe it as a "Cambodia-style kidnapping and fraud operation."
During the raid in Taoyuan's Jhongli District (中壢), police seized handcuffs, plastic wrist binders, electroshock weapons, metal rods and other devices believed to have been used to torture the victims, all of whom had bruises and injuries from being beaten, while some had also been burned with cigarettes, the New Taipei City Police Department Criminal Investigation Corps told a news conference yesterday.
Police said they recovered the bodies of three victims — two men and a woman — in a mountainous area of Taoyuan's Kueishan District (龜山) and in Nantou County.
According to testimony and witness accounts, one victim allegedly was beaten and suffered serious injuries resulting in death, another reportedly could not bear the torture and tried to escape, and was killed when jumping out of a window. The third allegedly died of an overdose, after gang members fed them narcotics to incapacitate them and prevent them from fleeing.
Police said they were investigating if the criminal ring had any connections to known organized crime syndicates.
The 32 victims rescued were emaciated with signs of malnutrition after they were only permitted to eat one meal of instant noodles per day, police said, adding that the victims were taken to hospitals for emergency treatment.
Evidence indicated that the Taoyuan ring was instructed by Lu Cheng-yi (呂政儀), who was arrested in the Tamsui raid on Tuesday, police said.
Lu and the others arrested are facing charges of murder, fraud, assault causing injury, illegal confinement and related offenses, police said.
Victims said they applied for high-paying jobs and were invited to the buildings in Tamsui and Taoyuan, but were kidnapped and forced to hand over their IDs and personal belongings, including bank account books.
They were then ordered to make telephone calls as part of a fraud operation, they said.
Comments will be moderated. Keep comments relevant to the article. Remarks containing abusive and obscene language, personal attacks of any kind or promotion will be removed and the user banned. Final decision will be at the discretion of the Taipei Times.