Global wealth report ranks Taiwan No. 1 in Asia
Taiwan ranked first in Asia and fifth globally in terms of net financial assets per capita, the Allianz Global Wealth Report 2022 said.
With net financial assets per capita of 138,220 euros (US$134,364) by the end of last year, the report classified Taiwan as one of 30 advanced economies out of 57 surveyed, according to the report released by Germany-based Allianz SE on Wednesday.
"In terms of net financial assets, Asia [excluding] Japan has seen important developments in the past two decades, moving from 1,070 euros per capita back in 2000 to 8,710 euros (end-2021)," the report said.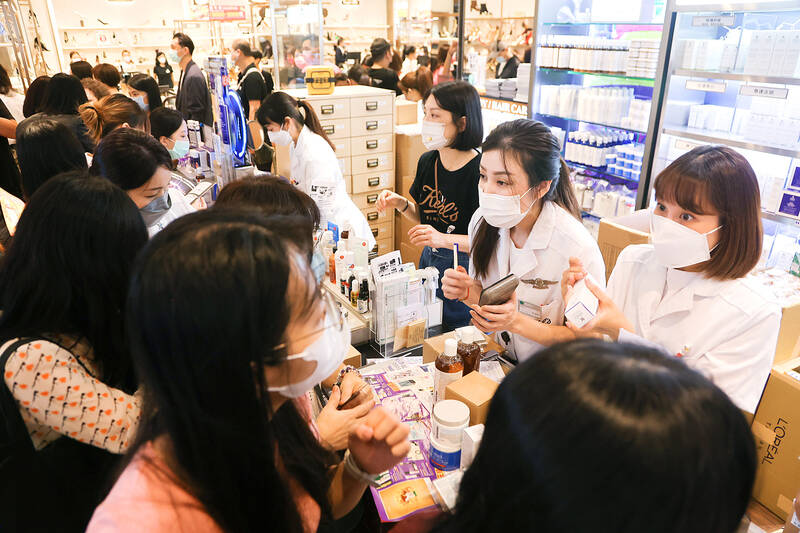 People shop at a cosmetics counter in the Shin Kong Mitsukoshi Department Store in Taipei's Zhongshan District on Oct. 6, the first day of the store's annual anniversary sale.
Photo: CNA
While Singapore has increased its net wealth per capita by two-fold in the past decade to 134,150 euros, Taiwan surpassed the city-state to become the richest Asian country in terms of net financial assets per capita, the report said
The US, Switzerland, Denmark and Sweden were the only countries that had higher financial assets per capita than Taiwan, at 259,780 euros, 237,110 euros, 183,610 euros and 146,510 euros respectively.
In terms of gross financial assets per capita, Taiwan ranked ninth in the world with 164,610 euros, after Switzerland, the US, Denmark, Sweden, the Netherlands, Canada, Singapore and Australia.
In the report, Allianz mentioned the ballooning debt ratio in some Asian countries due to booms in the auto and housing industries.
In South Korea, household debt as a percentage of GDP stood at 109.1 percent last year, followed by 90 percent for Thailand and Taiwan.
"For the whole region, the ratio reached 60.6 percent in 2021, making it the only one where liabilities are considerably higher today than a decade ago," the report said.
Allianz said the global economy prospered last year, with "bullish stock markets powered by monetary policy," adding that that global financial assets grew by double digits for the third year in a row, reaching 233 trillion euros (an increase of 10.4 percent).
However, it forecast that global financial assets are set to decline this year due to Russia's war in Ukraine, as "inflation is rampant, energy and food are scarce and monetary tightening is squeezing economies and markets."
Comments will be moderated. Keep comments relevant to the article. Remarks containing abusive and obscene language, personal attacks of any kind or promotion will be removed and the user banned. Final decision will be at the discretion of the Taipei Times.