Taiwan GDP per capita to outpace South Korea and Japan
Taiwan is likely to post the highest GDP per capita in East Asia, beating South Korea and Japan this year, South Korean monthly magazine BusinessKorea said in a report yesterday, citing the latest IMF estimate.
Taiwan's GDP per capita is expected to increase to US$35,510 this year from US$33,140 last year, the report said.
That would put the nation's GDP per capita above South Korea's expected US$33,590 for the first time since 2003 and above Japan's US$34,360 for the first time ever, it said.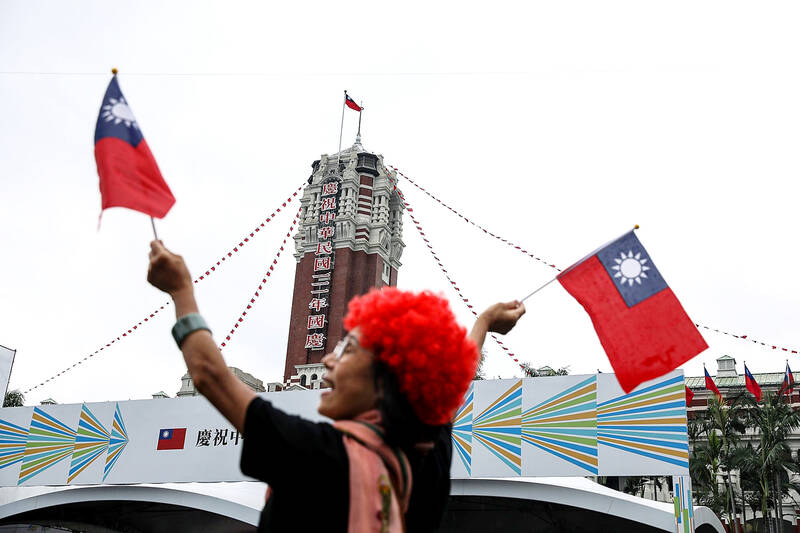 An attendee waves Taiwan flags during the National Day celebration in Taipei on Monday.
Photo: I-Hwa Cheng, Bloomberg
South Korea's GDP per capita is estimated to fall 4 percent this year, while that of Japan is to drop 12.6 percent from last year, the report said.
The report attributed Taiwan's rapid GDP growth to the government's intensive support of the local semiconductor industry.
It said Taiwan Semiconductor Manufacturing Co's (TSMC, 台積電) sales in the third quarter were estimated to have exceeded Samsung Electronics Co's for the first time, citing industry sources.
TSMC, the world's largest contract chipmaker, on Friday reported a record quarterly revenue of NT$613.14 billion (US$19.23 billion) for the third quarter, up 14.79 percent from the previous quarter and an increase of 47.85 percent from a year earlier.
Market researcher IC Insights last month estimated that Samsung's third-quarter revenue would have dropped by 19 percent to US$18.29 billion due to a slump in the memorychip industry.
Comments will be moderated. Keep comments relevant to the article. Remarks containing abusive and obscene language, personal attacks of any kind or promotion will be removed and the user banned. Final decision will be at the discretion of the Taipei Times.