Quarantine mandate to end on Oct. 13
MORE ARRIVALS ALLOWED: Taiwan yesterday increased its cap on arrivals to 60,000 from 50,000 ahead of a full border opening with a weekly cap of 150,000 on Oct. 13
Travelers arriving in Taiwan from Oct. 13 would no longer be required to quarantine on arrival and visitors of all nationalities would be allowed to enter, Premier Su Tseng-chang (蘇貞昌) announced yesterday.
However, the number of arrivals would be capped at 150,000 per week, he added.
Travelers aged two or older would be given four rapid antigen COVID-19 test kits on arrival and be asked to monitor their health for seven days, Cabinet spokesman Lo Ping-cheng (羅秉成) told a news conference.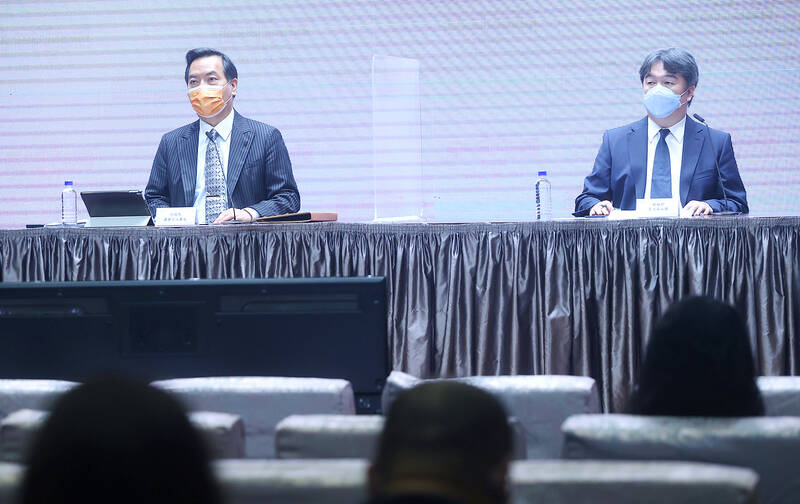 Executive Yuan spokesperson Lo Ping-cheng, left, and Deputy Minister of Health and Welfare Victor Wang hold a news conference in Taipei yesterday.
Photo: CNA
Under the new arrival protocol, travelers would have to take a test on the day of arrival or the day after, followed by tests every two days during the seven-day period, Lo cited Su as telling a Cabinet meeting.
However, they would be allowed to go outside, he said.
If a visitor staying in a hotel tests positive during the seven-day period, they would have to relocate to a government-run quarantine center or a designated quarantine hotel, Lo said.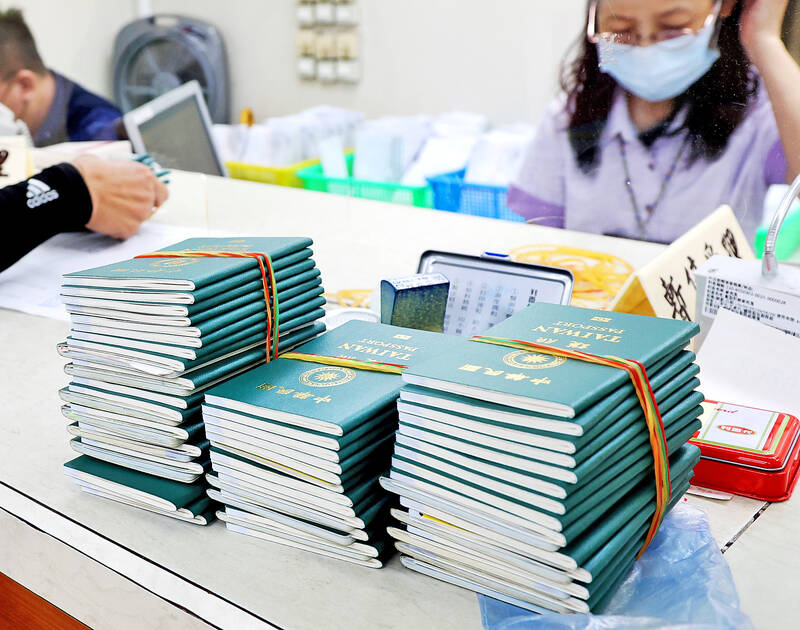 Passports are pictured on a counter at the Bureau of Consular Affairs in Taipei yesterday as a bureau official reviews passport holders' information. Travel agencies say they have seen a large uptick in the number of people commissioning them to retrieve new or renewed passports, ahead of an end to border restrictions on Oct. 13.
Photo: CNA
A ban on incoming and outgoing tour groups organized by travel agencies, which was imposed in March 2020, would also be lifted, the government said.
The decision to end the mandatory three-day quarantine for arrivals was made at yesterday's Cabinet meeting, after Su visited Taiwan Taoyuan International Airport the previous day to inspect its readiness for the border opening, Lo said.
While the borders would reopen to all visitors, the number of arrivals would still be capped, as part of Taiwan's COVID-19 control efforts, Lo said.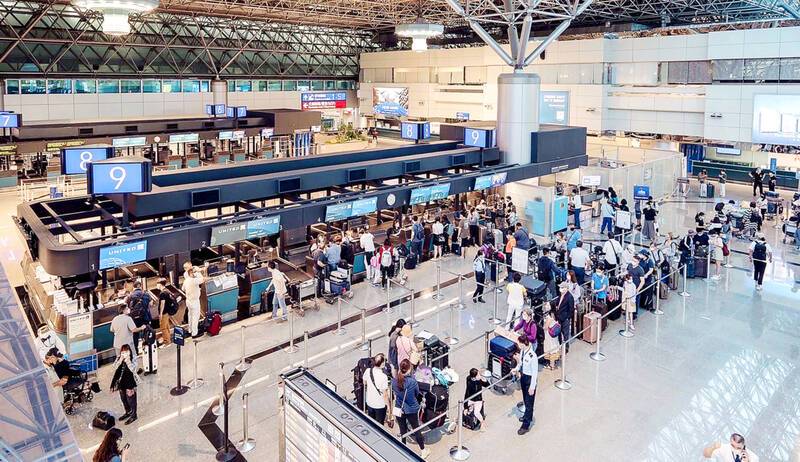 Passengers line up at the United Airlines check-in counter at Taiwan Taoyuan International Airport on Sunday. Travelers to Taiwan will no longer be required to quarantine on arrival starting Oct. 13, but inbound arrivals will be capped at 150,000 per week.
Photo courtesy of Taiwan Taoyuan International Airport via CNA
Ahead of the full opening, Taiwan yesterday raised the cap to 60,000 from 50,000 and eased some entry regulations.
Travelers are no longer required to take a polymerase chain reaction test on arrival, the Central Epidemic Command Center (CECC) said.
Arrivals can now quarantine at home even if they share it with others, as long as they stay in a separate room with an en suite bathroom, the center said.
From yesterday, travelers eligible for visa-free entry are allowed to enter, it said.
However, international arrivals before Oct. 13 would not be allowed to take the MRT from Taoyuan airport, but buses and fixed-price taxi services to destinations across Taiwan would remain available, the center said.
Free COVID-19 prevention buses run from the airport to Taichung, Yunlin County, Chiayi City, Chiayi County, Tainan, Kaohsiung, Pingtung County, New Taipei City and Taipei, as well as seven quarantine hotels in or near Taoyuan, it added.
Travelers may also be picked up by family members or friends at gates 11 through 15 at Terminal 1 and gates 31 through 33 at Terminal 2, the CECC said.
People traveling in groups, including students, business travelers and employees (including migrant workers), may arrange a vehicle to pick them up, it said.
People who parked their vehicle in designated airport lots before traveling abroad may drive to their quarantine location, it added.
Comments will be moderated. Keep comments relevant to the article. Remarks containing abusive and obscene language, personal attacks of any kind or promotion will be removed and the user banned. Final decision will be at the discretion of the Taipei Times.