US to boost Taiwan ties: Kamala Harris
WARSHIP SPEECH: The US vice president said that US forces would operate in the region undaunted even as Washington expects continued aggression by Beijing
US Vice President Kamala Harris on the deck of a US warship in Japan yesterday said that the administration of US President Joe Biden intends to deepen unofficial ties with Taiwan.
"Taiwan is a vibrant democracy that contributes to the global good — from technology to health, and beyond, and the United States will continue to deepen our unofficial ties," Harris said aboard the USS Howard, an Arleigh Burke-class destroyer, excerpts of her speech released by the White House in advance showed.
She said that Beijing "has challenged freedom of the seas" and "has flexed its military and economic might to coerce and intimidate its neighbors."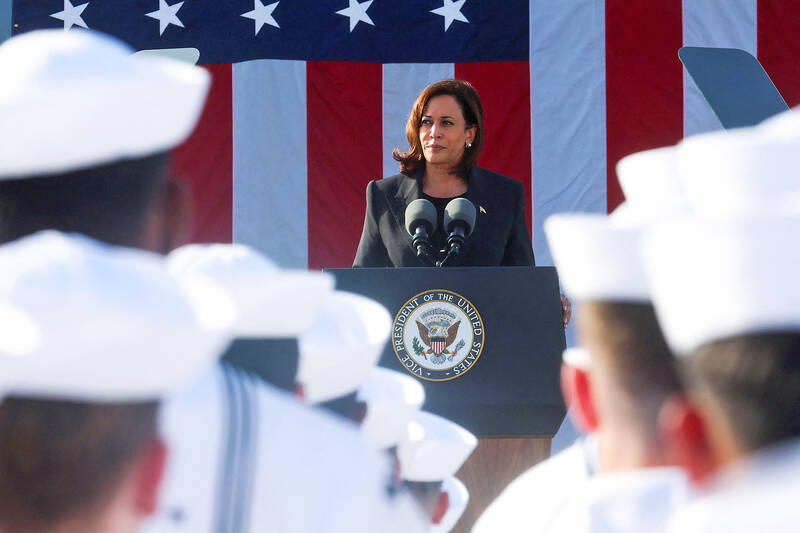 US Vice President Kamala Harris looks on as she delivers remarks while on the USS Howard naval ship, at Yokosuka Naval Base, in Yokosuka, Japan yesterday.
Photo: Reuters
Many have witnessed "disturbing behavior in the East China Sea and in the South China Sea, and most recently, provocations across the Taiwan Strait," she said.
"The United States believes that peace and stability in the Taiwan Strait is an essential feature of a free and open Indo-Pacific," Harris said.
Harris is on a four-day trip to Japan and South Korea intended to demonstrate US commitment to allies in the region.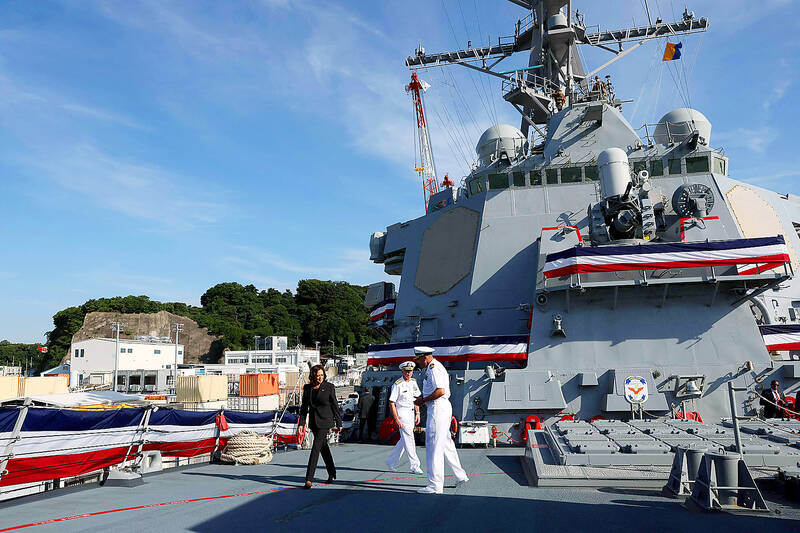 US Vice President Kamala Harris, left, speaks with US Navy officers on the USS Howard at a naval base in Yokosuka, Japan, yesterday.
Photo: AFP
The trip sets the stage for Biden's visit to the region later this year, when he is expected to meet Chinese President Xi Jinping (習近平) and speak with allies about efforts to denuclearize the Korean Peninsula and address rising tensions over Taiwan.
Harris' remarks to US sailors wearing dress whites came after Biden pledged in an interview aired on Sept. 18 to defend Taiwan against a hypothetical "unprecedented attack."
Harris said that US forces would operate in the region "undaunted and unafraid" even as Washington expects "continued aggressive" actions by China.
"We will continue to oppose any unilateral change to the status quo," she said. "And we will continue to support Taiwan's self-defense, consistent with our long-standing policy."
In Beijing, Chinese Ministry of Foreign Affairs spokesman Wang Wenbin (汪文斌) told a media briefing that Washington needed to return to the "one China" policy and "unequivocally make clear that it opposes all Taiwan separatist activities."
Before Harris spoke to the US service members onboard the Howard, she stepped below deck and was given a demonstration of the warship's missile and anti-submarine capabilities.
A commander pointed at a digital map showing a hypothetical enemy, a "hostile country" that he declined to identify.
"It's not Guam," he said.
Comments will be moderated. Keep comments relevant to the article. Remarks containing abusive and obscene language, personal attacks of any kind or promotion will be removed and the user banned. Final decision will be at the discretion of the Taipei Times.