Taiwan-friendly Meloni looks set to be Italian PM
'ESSENTIAL CONCERN': Giorgia Meloni says that she would reverse course on Italy's support for China's Belt and Road Initiative and strengthen ties with Taiwan
Italy yesterday took a sharp turn to the right after Giorgia Meloni's euroskeptic populist party swept to victory in general elections, putting the Taiwan-friendly politician on course to become the first female Italian prime minister.
Meloni's Brothers of Italy party, which has neo-fascist roots, won 26 percent in Sunday's election, according to partial results.
It leads a coalition set to win a majority in parliament and install the most right-wing government since World War II.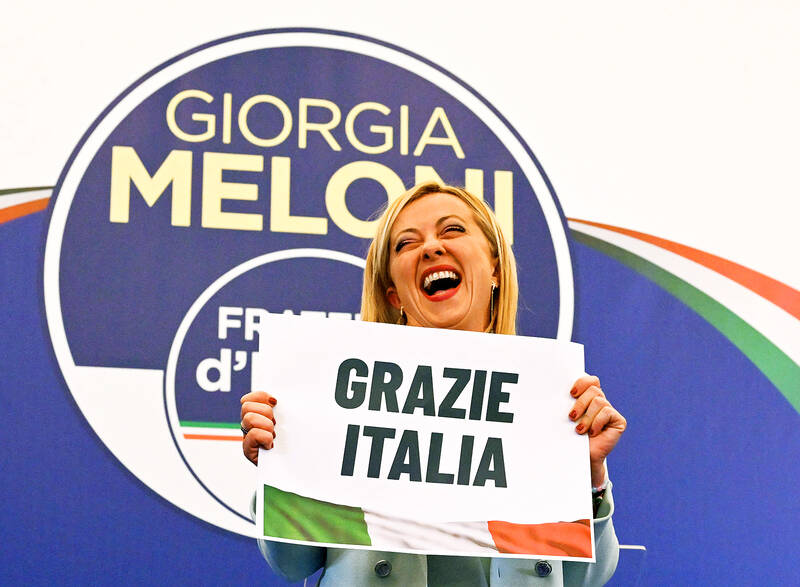 Brothers of Italy leader Giorgia Meloni reacts as she holds a placard reading "Thank You Italy" after she delivered an address at her party's election campaign headquarters in the early hours of yesterday in Rome.
Photo: AFP
Her success represents a seismic change in Italy — a founding member of the EU and the eurozone's third-largest economy — and for the EU.
"Meloni takes Italy," read the headline in Repubblica, while editorialist Stefano Folli said that Italy "awakes this morning very changed."
"It is the first time in decades that the country's political face has transformed so completely. We don't know yet whether its destiny in Europe has changed, too, but that is the first of many questions" now facing Italians, he said.
Meloni, who campaigned on a motto of "God, country and family," is expected to become Italy's first female prime minister, although the process of forming a new government could take weeks.
At a time of soaring inflation, a looming energy crisis and the war in Ukraine, the 45-year-old sought to reassure those worried about her lack of experience and radical past.
Meloni said voters had sent a "clear message" of support for her party to lead their right-wing coalition to power.
"If we are called to govern this nation we will do it for all Italians. We will do it with the aim of uniting people, of enhancing what unites them rather than what divides them," she told reporters.
In a recent interview with Taiwan's Central News Agency, Meloni said that she would reverse course on her nation's support for China's Belt and Road Initiative and strengthen ties with Taiwan.
She voiced support for Taiwan and criticized China's assertive actions across the globe, and their implications for Italy and the EU.
On the prospective relationship between Italy and Taiwan under her watch, Meloni said Taiwan would be "an essential concern for Italy."
"We like to think of a new and more intense season of cooperation: cultural exchanges, tourism, prevention and management of health crises, scientific research and projects in the key sector of microchips, where Taiwan is a world leader," she said.
Meloni's coalition allies, Matteo Salvini's far-right League and former Italian prime minister Silvio Berlusconi's Forza Italia, lagged behind her in the polls, but together they were forecast to win about 44 percent, enough to secure a majority in both houses of parliament.
Full results were not due until later yesterday, but the center-left Democratic Party, the coalition's main rival, conceded, saying it was a "sad" day.
Turnout fell to a historic low of about 64 percent.
Congratulations came in quickly from her nationalist allies across the continent, from Polish Prime Minister Mateusz Morawiecki to Spain's far-right party Vox.
"Meloni has shown the way for a proud, free Europe of sovereign nations," Vox leader Santiago Abascal wrote on Twitter.
However, Spanish Minister of Foreign Affairs, EU and Cooperation Jose Manuel Albares said that "populist movements always grow, but it always ends in the same way — in catastrophe."
Meloni no longer wants Italy to leave the eurozone, but says Rome must assert its interests more, and she has policies that look set to challenge Brussels on everything from public spending rules to mass migration.
Additional reporting by CNA
Comments will be moderated. Keep comments relevant to the article. Remarks containing abusive and obscene language, personal attacks of any kind or promotion will be removed and the user banned. Final decision will be at the discretion of the Taipei Times.