COVID-19: Quarantine to be scrapped next month
BACK TO NORMAL? The move would be part of a gradual easing of curbs monitored by the CECC, which would retain the quarantine mandate if case numbers rise again
The Cabinet yesterday approved a plan to next month reopen Taiwan's borders to all visitors and lift the quarantine mandate for arrivals, provided the nation's COVID-19 situation does not escalate.
The changes are likely to take effect on Oct. 13 as part of a phased easing of border controls that is to start on Thursday next week when a negative polymerase chain reaction test result would no longer be needed, Cabinet spokesman Lo Ping-cheng (羅秉成) told a news conference.
Arriving travelers would instead be given four rapid antigen home test kits, Lo said.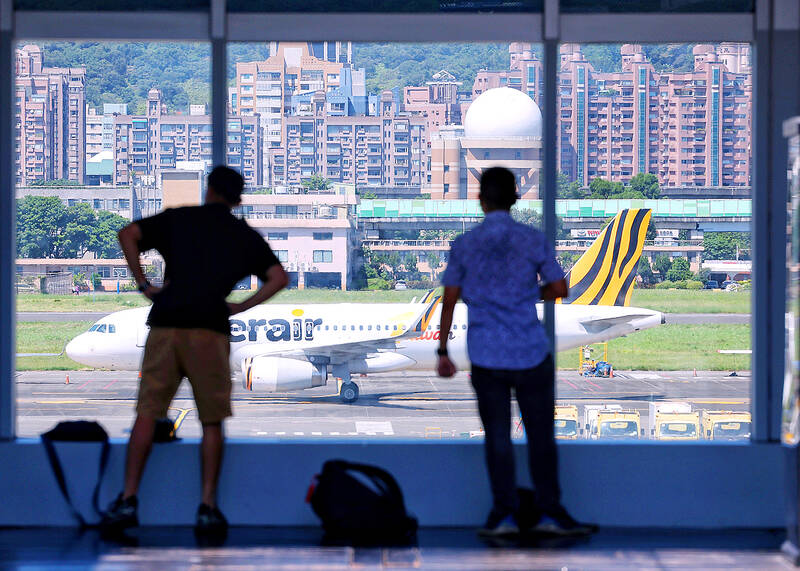 People look out a window at Taipei International Airport (Songshan airport) yesterday.
Photo: CNA
The three-day quarantine requirement followed by four days of mandatory self-health monitoring would be in effect until Oct. 13, he said.
However, the rule would on Thursday next week be relaxed slightly, with arrivals being allowed to quarantine in a residence occupied by others as long as they have a room of their own with a bathroom attached, Lo said.
If the COVID-19 situation does not worsen, mandatory quarantines would be scrapped on Oct. 13, and travelers would instead be asked to monitor their health for seven days after arrival, he said.
The weekly cap on arrivals would be raised to 150,000, Lo said, adding that this would include tour groups.
Tourists from countries with which Taiwan has no mutual visa-waiver program would no longer be excluded, he added.
Deputy Minister of Health and Welfare Victor Wang (王必勝), who heads the Central Epidemic Command Center, said if the number of daily COVID-19 cases starts rising again, the quarantine requirement might be retained.
In a radio interview earlier yesterday, Wang said the mask mandate might gradually be lifted for outdoor spaces and select indoor spaces, but would remain in potentially crowded places such as on public transportation.
Travel Quality Assurance Association spokesman Ringo Lee (李奇嶽) said the tourism industry welcomes the announcements, but the government should implement measures to ensure a smooth transition to the new policy.
"The government should raise the weekly cap on arrivals, allow airlines to raise the number of international flights to Taiwan and lift the ban for travel agencies to organize package tours. These supporting measures would give travel agencies more flexibility when they arrange inbound or outbound tours," Lee said.
The government should also step up tourism marketing targeting foreign travelers, he added.
Taiwan should offer travel insurance similar to that offered in Japan, covering tourists' expenses should they contract COVID-19 during inbound or outbound trips, Lee said.
Phoenix Tours general manager Benjamin Pien (卞傑民) said the inbound and outbound tour markets would probably recover to 50 to 60 percent of pre-pandemic levels in the fourth quarter of this year.
It would take another six months to a year for the markets to fully recover, he added.
Additional reporting by Shelley Shan
Comments will be moderated. Keep comments relevant to the article. Remarks containing abusive and obscene language, personal attacks of any kind or promotion will be removed and the user banned. Final decision will be at the discretion of the Taipei Times.