UN summit returns in a world wracked by multiple crises
The UN's massive annual summit yesterday returned in person to a world divided by multiple crises starting with Ukraine.
After two years of COVID-19 pandemic restrictions and video addresses, the UN General Assembly asked leaders to come in person if they wish to speak — with a sole exception made for Ukrainian President Volodymyr Zelenskiy.
However, the death of Queen Elizabeth II disrupted the summit anew. US President Joe Biden, by tradition the second speaker on the first day, would instead speak today.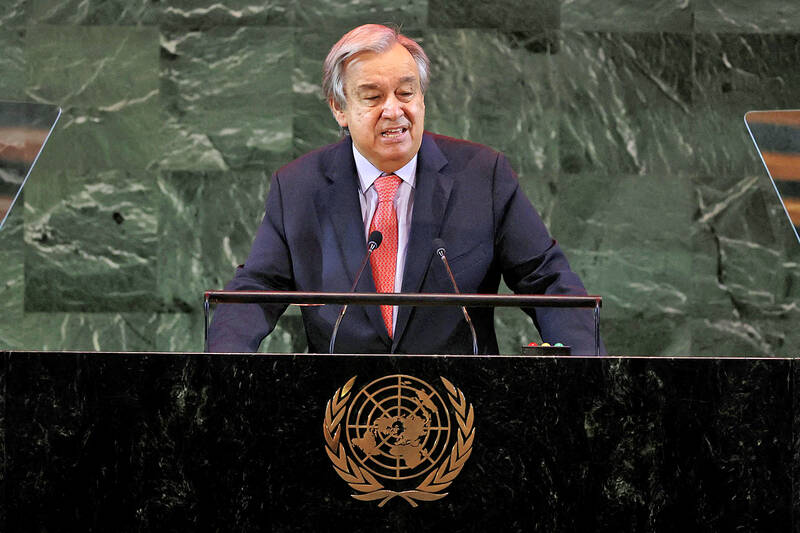 UN Secretary-General Antonio Guterres speaks during the Transforming Education Summit on the sidelines of the UN General Assembly at UN headquarters in Manhattan, New York City, on Monday.
Photo: Reuters
The first day was to feature French President Emmanuel Macron and German Chancellor Olaf Scholz, the leaders of the two largest economies of the EU, which has mobilized to impose tough sanctions over Russia's invasion of Ukraine.
"This year, Ukraine will be very high on the agenda. It will be unavoidable," EU High Representative for Foreign Affairs and Security Policy Josep Borrell told reporters in New York.
"There are many other problems, we know, but the war in Ukraine has been sending shock waves around the world," he said.
German Minister of Foreign Affairs Annalena Baerbock yesterday vowed to support countries hardest hit by the fallout from the war as she headed to the General Assembly.
"The brutality of Russia's war of aggression and its threat to the peace order in Europe have not blinded us to the fact that its dramatic effects are also clearly being felt in many other regions of the world," Baerbock said.
Meanwhile, UN Secretary-General Antonio Guterres has been urging leaders not to forget other priorities, such as education, the topic of a special summit on Monday.
"Education is in a deep crisis. Instead of being the great enabler, education is fast becoming the great divide," Guterres told the summit.
He warned that the COVID-19 pandemic has had a devastating impact on learning, with poor students lacking technology at a particular disadvantage, and conflicts further disrupting schools.
Other leaders scheduled to speak yesterday included Turkish President Recep Tayyip Erdogan, who has staked out ground as a broker between Russia and Ukraine, including through a deal to ship out badly needed grain to the world.
In the type of last-minute diplomacy common at previous UN sessions, US Secretary of State Antony Blinken convened a first meeting of the foreign ministers of Azerbaijan and Armenia since a flare-up in fighting.
"Strong, sustainable diplomatic engagement is the best path for everyone," Blinken told them.
Russian Minister of Foreign Affairs Sergei Lavrov was visiting, despite a hostile reaction from the US.
He met on Monday with his French counterpart, Catherine Colonna, who urged Russia to allow a security zone outside the Zaporizhzhia nuclear plant, whose occupation by Moscow has raised mounting concerns.
Also high on the agenda for the UN week would be Tehran, with Iranian President Ebrahim Raisi joining the General Assembly for the first time and expected to meet yesterday with French President Emmanuel Macron.
Comments will be moderated. Keep comments relevant to the article. Remarks containing abusive and obscene language, personal attacks of any kind or promotion will be removed and the user banned. Final decision will be at the discretion of the Taipei Times.