Cabinet plans 14% defense budget hike
'ENEMY THREAT': The budget increase is vital to enhance national security as China continues to expand its military activities to raid and disturb Taiwan's seas and airspace
The Executive Yuan yesterday proposed NT$415.1 billion (US$13.75 billion) in defense spending for next year, a double-digit increase from this year that includes funds for new fighter jets, weeks after China staged large-scale military exercises around the nation.
China carried out its largest-ever war games around Taiwan after a visit this month by US House of Representatives Speaker Nancy Pelosi.
The overall defense budget proposed by the Cabinet would increase 13.9 percent year-on-year to a record NT$586.3 billion.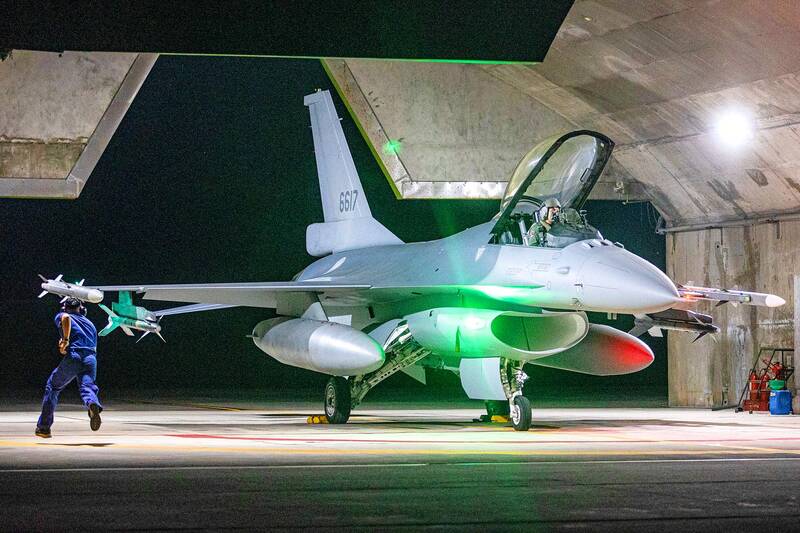 An air force member runs under the wing of an F-16V parked at a base in Hualien during a drill on Wednesday last week.
Photo: CNA
That includes an additional NT$108.3 billion for fighter jets and other equipment, as well as "special funds" for the defense ministry.
The Directorate-General of Budget, Accounting and Statistics (DGBAS) did not provide a specific breakdown of where the money would go.
The planned defense spending, which is a record high and must be approved by the Legislative Yuan, marks the nation's sixth consecutive year of growth in defense spending since 2017.
The double-digit rise this year marks a sharp increase compared with its annual growth rate of below 4 percent since 2017.
DGBAS Minister Chu Tzer-ming (朱澤民) said the increase would mainly go to operational costs.
"We always give safety and national security the top priority ... that's why [the budget for] operational costs has sharply increased," Chu said, pointing to costs such as fuel and maintenance for aircraft and ships dispatched to counter Chinese military activity near Taiwan.
The Ministry of National Defense (MND) said in a statement that the budget gave full consideration to the "enemy threat" and was equivalent to 2.4 percent of Taiwan's projected GDP for next year.
"In the face of the Chinese communists' continuous expansion of targeted military activities in recent years and the normalized use of warships and military aircraft to raid and disturb Taiwan's surrounding seas and airspace, the military adheres to the principle of preparing for war without seeking war and defending national security with strength," it said.
Excluding the extra budget for military equipment and funds, the proposed defense spending represents a 12.9 percent year-on-year increase, compared with a 20.8 percent increase in the overall government budget proposed for next year.
The proposed spending would account for 14.6 percent of the government's total expenditure for next year and is the fourth-largest segment, after social welfare, combined spending on education, science and culture, and economic development.
Taiwan last year announced an extra defense budget of US$8.69 billion by 2026, which comes on top of its yearly military spending, mostly on naval weapons, including missiles and warships.
China has continued its military activities near Taiwan, though on a reduced scale. On Wednesday it announced that live-fire drills would take place in a coastal part of China's Fujian Province today and on Saturday, just north of the tiny Taiwan-controlled Wuchiu Island (烏坵) in the Taiwan Strait.
Institute for National Defense and Security Research analyst Su Tzu-yun (蘇紫雲) yesterday said that the MND had included special funds in its calculations of the country's defense spending in relation to GDP, which is not the typical way such figures are derived.
The government should prioritize defense spending over other considerations in light of the clear and present danger facing the nation, he added.
Countries that face significant external threats to national security — such as Israel and South Korea — typically spend between 2.8 percent and 3.2 percent of their GDP on defense, which shows that Taiwan's military budget has room for growth, he said.
Specifically, the MND should increase military spending to about NT$480 billion per year and set its sights on eventually using 3 percent of GDP for national defense annually, he said.
"The value of time should be factored into discussions about budget costs," he said. "If the military does not receive funding when it is needed, we can end up paying more for the lost time."
Additional reporting by Aaron Tu
Comments will be moderated. Keep comments relevant to the article. Remarks containing abusive and obscene language, personal attacks of any kind or promotion will be removed and the user banned. Final decision will be at the discretion of the Taipei Times.