Military to upgrade destroyers
HIGH-TECH: The upgrade would improve electronic and mechanical countermeasure capabilities, and the vessels would be able to avoid threats more effectively
The military is to upgrade the AN/SLQ-32 electronic warfare system on its four Keelung-class guided missile destroyers from the (V)3 variant to the (V)6 variant.
The upgrade, which is to cost a total of NT$1.99 billion (US$65.24 million), is expected to be completed by 2023, sources said.
It would improve the system's electronic and mechanical countermeasure capabilities, and the vessels would be able to avoid threats more effectively, they said.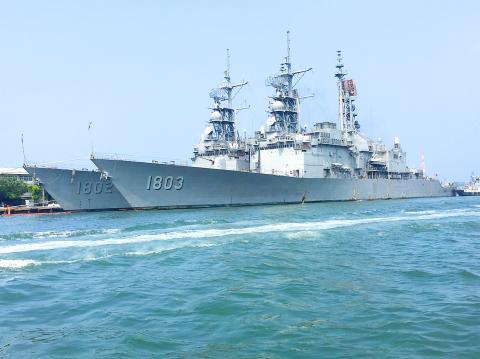 The ROCS Tso Ying (DDG-1803), front, and ROCS Yilan (DDG-1802) Keelung-class guided-missile destroyers lie at anchor off Shipyard no. 4 in Keelung on Oct. 3 last year.
Photo: Huang Hsu-lei, Taipei Times
The upgrade would also improve the vessels' survival rate and benefit defense operations, they added.
The (V)3 systems have been in use for 13 years, they said.
The US military has already upgraded to the (V)6 variant and has suggested that Taiwan do the same, the navy said on Saturday.
This year, the navy created the six-year budget after US President Donald Trump's administration in June last year announced that it would sell AN/SLQ-32 upgrades to Taiwan.
Next year's budget was reported to be about NT$66.19 million.
The upgrades are to be implemented based on a fixed maintenance schedule to accommodate the needs of defending the Taiwan Strait, sources said.
The Keelung-class guided missile destroyers were originally Kidd-class destroyers which served in the US Navy from 1981 to 1998.
The US agreed to sell them to Taiwan in 2001, and they have been part of the Republic of China Navy since 2005.
Unlike the Kang Ding-class and Cheng Kung-class frigates, which use missiles made in Taiwan, the Keelung-class destroyers use US-made Standard and Harpoon missiles.
The military is to also purchase 16 Standard Missile 2 (SM-2) Block IIIA surface-to-air missiles to bolster its air defense capabilities, a navy officer said on condition of anonymity.
Additional reporting by CNA
Comments will be moderated. Keep comments relevant to the article. Remarks containing abusive and obscene language, personal attacks of any kind or promotion will be removed and the user banned. Final decision will be at the discretion of the Taipei Times.