Kaohsiung police investigate body found in freezer
'MORE THAN THREE MONTHS': Police suspect that the motive behind the killing was related to domestic violence experienced by the family and an inheritance dispute
The body of a murdered man had been stored in a freezer for more than three months, Kaohsiung police said yesterday, adding that evidence pointed to domestic violence and an inheritance dispute as motives.
The 47-year-old man, surnamed Ting (丁), was part of a household in Kaohsiung's Cienjhen District (前鎮), and his body was discovered on Monday by police making a house visit after Ting had been reported as a missing person.
The body, wrapped up in a blanket, was found inside a freezer on the first floor of Ting's home, police said.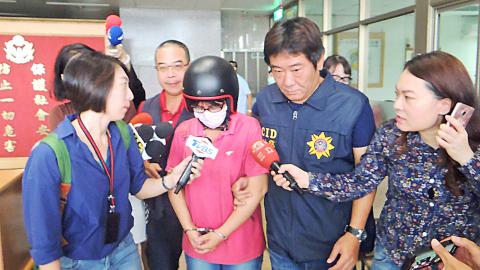 Police in Kaohsiung yesterday escort the manacled wife of a man surnamed Ting whose dead body was found in the freezer of their home in Cienjhen District.
Photo: Huang Hsu-lei, Taipei Times
It had three deep lacerations on the back and neck, and a bruise on the back of the head, they added.
The pattern of the lacerations suggested that Ting had been cut by a machete, said Hsieh Po-wen (謝博文), head of the criminal investigation unit at the Cienjhen Police Precinct.
Police at first thought that Ting had been killed when he tried to beat up his 46-year-old wife, surnamed Hung (洪), and that the eldest son had defended her by fighting him off with a machete, Hsieh said.
However, the case took a turn late yesterday when police were questioning more people related to the case, including two of the eldest son's friends, who were reportedly at the house when the homicide took place.
Hsieh said the murder might have been triggered by a financial dispute within the family, because police found that Ting had received an inheritance of more than NT$40 million (US$1.3 million) from his mother.
The family members were upset after Ting reportedly spent most of the inheritance on a luxury car and outings to nightclubs, where he spent the money on drink and hostess services.
The motive behind the murder was related to domestic violence, family members said, adding that Ting had allegedly beaten his wife and four children for years, and that a complaint had been filed by them with the Kaohsiung Social Affairs Bureau in 2016.
Ting was an alcoholic and had a violent temper, they added.
They said the 2016 complaint detailed how Ting had been drunk and waved a knife at one of his children during an argument, and that the situation was only defused when social workers arrived at the house and counseled the people involved.
Police plan to question more people and the coroner would be conducting a forensic examination of the body, Hsieh said.
Comments will be moderated. Keep comments relevant to the article. Remarks containing abusive and obscene language, personal attacks of any kind or promotion will be removed and the user banned. Final decision will be at the discretion of the Taipei Times.