Lai explains approach to independence
'POLITICAL WORKER': Working for Taiwanese independence involves developing the economy and creating growth so that people can live and work in peace, Lai said
Premier William Lai (賴清德) yesterday told reporters that his approach toward Taiwanese independence was pragmatic and based on three tenets.
Lai held a media roundtable in Hualien County, where reporters asked about his depiction of himself as a "political worker for Taiwanese independence." He had once again used the term at an April 3 seminar on freedom of speech held by the Ministry of the Interior.
He said the first tenet is that Taiwan is a sovereign, independent nation and therefore does not need to declare independence, Lai said.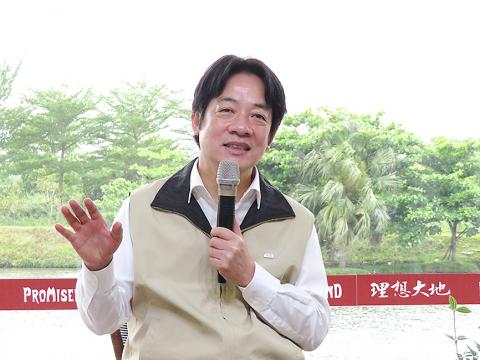 Premier William Lai speaks at a media roundtable in Hualien County yesterday.
Photo: Lee Hsin-fang, Taipei Times
The second is that only the nation's 23 million people have the right to decide Taiwan's future, and the third is that building up Taiwan and making it stronger and more attractive to people so that they support it is a practical approach to Taiwanese independence, Lai said.
Working for Taiwanese independence involves safeguarding the nation's sovereignty, protecting its freedom, democracy and human rights, and safeguarding the public's right to decide Taiwan's future, he added.
It also means developing the economy and creating growth so that people can live and work in peace; maintaining peaceful development and enhancing mutual understanding across the Taiwan Strait; and working with Japan, South Korea and the US to ensure security in the Asia-Pacific region, he said.
While Lai has consistently emphasized his role as a "Taiwanese independence worker," it has taken different tones over the past year.
At the April 3 seminar, Lai recalled saying during his first administrative report to the Legislative Yuan as premier in September last year that he was a "Taiwanese independence worker," but added: "I did not say I advocate Taiwanese independence."
However, in that report on Sept. 26, Lai told lawmakers that when he was Tainan mayor, he had told the city council that he was a "political worker who advocates Taiwanese independence" and that "this will not change, no matter what position I am in."
In June last year, while still mayor, Lai said he felt an "affinity toward China as much as he loves Taiwan," and argued at the legislative hearing in September that this did not contradict his stance on Taiwanese independence.
Chinese media reported that live-fire exercises in the Taiwan Strait scheduled for Wendesday by the People's Liberation Army on Wednesday would serve as a warning after Lai's pro-independence statements.
However, Lai yesterday said that his support for Taiwanese independence started in the 1990s and his political beliefs are well known.
Comments will be moderated. Keep comments relevant to the article. Remarks containing abusive and obscene language, personal attacks of any kind or promotion will be removed and the user banned. Final decision will be at the discretion of the Taipei Times.