First Financial quiet on Ching Fu loan default
State-run First Financial Holding Co (第一金控) yesterday refused to say whether chairman Joseph Tsai (蔡慶年) has offered to resign over a troubled syndicated loan, saying that losses could be minimized if the Ministry of National Defense presses ahead with a project to build minesweepers.
"We do not have authorization to comment on the issue, except to reiterate that losses would fall from NT$12.5 billion to NT$4.5 billion [US$413.5 million to US$148.9 million] if the ministry continues to pursue the project," a First Financial communications official said by telephone.
Democratic Progressive Party Legislator Wang Ding-yu (王定宇) yesterday told reporters that Tsai had offered to step down and that Premier William Lai (賴清德) was mulling the issue.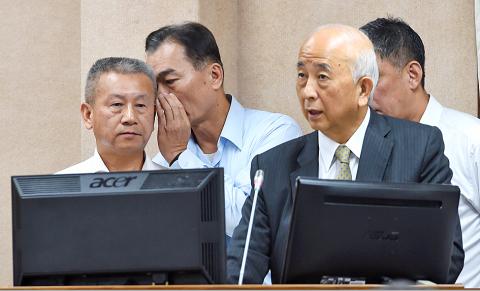 From left, Vice Minister of National Defense Admiral Pu Tze-chun, Navy Command Headquarters Chief of Staff Lee Tsung-hsiao and First Financial Holding Co chairman Joseph Tsai attend a question-and-answer session at the Legislative Yuan in Taipei on Monday.
Photo: Liu Hsin-de, Taipei Times
First Commercial Bank (第一銀行), the holding company's main subsidiary and the lead bank of a NT$15.4 billion syndicated loan to Ching Fu Shipbuilding Co (慶富造船), late on Wednesday said in a statement that the loan had defaulted due to the shipbuilder's failure to honor its terms.
Kaohsiung-based Ching Fu has been unable to procure NT$310 million required to keep debt negotiations alive and contest injunctions, the statement said.
"The creditor banks had no choice, but to declare the loan in default, with maximum total losses of NT$12.5 billion for nine state-run banks," the statement said.
The other creditors are Land Bank of Taiwan (土地銀行), Taiwan Cooperative Bank (合庫銀行), Bank of Taiwan (臺灣銀行), Hua Nan Commercial Bank (華南銀行), Chang Hwa Commercial Bank (彰化銀行), Taiwan Business Bank (台灣企銀), Agricultural Bank of Taiwan (農業金庫) and the Export-Import Bank of the Republic of China (中國輸出入銀行).
The banks' losses range from NT$300 million to NT$5.8 billion, the statement said.
The banks have requested that the Kaohsiung District Court freeze Ching Fu's assets, raising concern that the shipbuilder might go bankrupt.
Ching Fu has a navy contract worth NT$35.8 billion to build six minesweepers, but its solvency has been called into question after the Kaohsiung District Prosecutors' Office named it in a financial fraud investigation.
Kaohsiung District Court Chief Judge Yeh Wen-po (葉文博) yesterday confirmed that the court has received legal documents from First Commercial Bank requesting the sequestration of the shipbuilder's assets, but declined to provide additional information.
Prosecutors yesterday summoned for questioning Ching Fu chairman Chen Ching-nan (陳慶男); his wife, Chen Lu Chao-hsia (陳盧昭霞); and his son Chen Wei-chih (陳偉志), who serve as the shipbuilder's director and vice chairman respectively.
The questioning was focused on whether Ching Fu used one or more offshore subsidiaries to make fraudulent loan applications, head prosecutor Ko Kuang-hui (葛光輝) said.
Prosecutors have asked the three to report to the Kaohsiung Police Department's Cianjhen Precinct daily or risk detainment as flight risks, Ko said.
The office would continue to closely monitor Ching Fu's operations, including the minesweeper project, he added.
The ministry is required to allow Ching Fu to work on the ships until it has reason to believe the shipbuilder is unable to finance its debts, sources said.
At that point, the ministry will likely dissolve its contract with Ching Fu, and it has contingency plans to transfer production to another contractor or reopen bidding, they added.
Comments will be moderated. Keep comments relevant to the article. Remarks containing abusive and obscene language, personal attacks of any kind or promotion will be removed and the user banned. Final decision will be at the discretion of the Taipei Times.