Additional future Cabinet members announced by DPP
RISING STAR: Sources said future Executive Yuan secretary-general Chen Mei-ling is an experienced politician who is behind the success of William Lai
The Democratic Progressive Party (DPP) yesterday announced additional future Cabinet members after introducing the first eight names on Thursday, with Tainan City Government secretary-general Chen Mei-ling (陳美伶) named as future Executive Yuan secretary-general and former Taoyuan deputy mayor Chiu Tai-san (邱太三) named as future minister of justice.
Chiu said the request came from president-elect Tsai Ing-wen (蔡英文).
National Taiwan University professor Chen Tain-jy (陳添枝) has been asked to head the National Development Council, with Kung Ming-hsin (龔明鑫), Tsai's industrial policy convener, asked to serve as Chen Tain-jy's deputy, premier-designate Lin Chuan (林全) announced yesterday afternoon.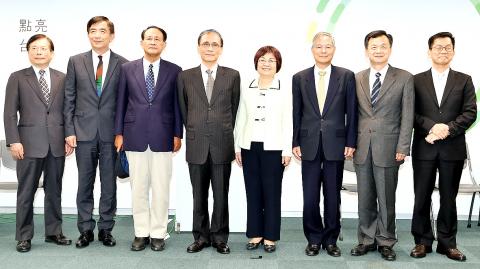 Premier-in-waiting Lin Chuan, fourth left, leads the second wave of recruits for the future Cabinet at a press conference in Taipei yesterday.
Photo: Chu Pei-hsung, Taipei Times
Deputy Minister of Labor Kuo Fan-yu (郭芳煜) has been tapped for the ministry's position and National Chung Hsing University professor Chen Chi-chung (陳吉仲) has been tapped as deputy minister of the Council of Agriculture, while former Pingtung County commissioner Tsao Chi-hung (曹啟鴻) has been asked to serve as minister of agriculture, Lin said.
Lin later said in a radio interview that Tsao accepted the appointment.
DPP Legislator-at-large Lee Ying-yuan (李應元) has been appointed as the Environmental Protection Agency director, while lawyer and environmental activist Thomas Chan (詹順貴) is to serve as his deputy, Lin added.
Lin also tapped DPP Legislator-at-large Cheng Li-chun (鄭麗君) for minister of culture, with Cheng saying that she was considering the offer.
Kaohsiung Deputy Mayor Wu Hong-mo (吳宏謀) has been asked to head the Executive Yuan's public construction commission, Lin said.
Meanwhile, sources said that Chen Mei-ling's appointment as Executive Yuan secretary-general did not come as a surprise due to her capabilities and experience in the administrative branch.
Chen Mei-ling served as the Executive Yuan deputy secretary-general during former president Chen Shui-bian's (陳水扁) administration and shared a cordial relationship with Tsai, the sources said, adding that with such a background, it was no surprise that Chen Mei-ling would be tapped to be a part of the central government.
Chen Mei-ling's influence in Tainan can be seen from her nickname, "Shadow Mayor," the sources said.
They also said that Chen Mei-ling's assistance was notable for the success of Tainan Mayor William Lai (賴清德), who had no prior experience in politics, adding that with Chen Mei-ling's transfer to the central government, her vacancy in the city government would be hard to fill.
Comments will be moderated. Keep comments relevant to the article. Remarks containing abusive and obscene language, personal attacks of any kind or promotion will be removed and the user banned. Final decision will be at the discretion of the Taipei Times.