Train passengers steal 328 Hello Kitty headrest covers
The Taiwan Railways Administration yesterday said that it is monitoring the number of headrest covers on the seats of its Hello Kitty-themed train after more than 300 of them were stolen by passengers during the train's inaugural run between Taipei and Taitung on Monday.
The administration's first Taroko Express train featuring the popular cartoon character became an immediate sensation earlier this week. However, the administration found that a large number of the headrest covers on the seats, which have Hello Kitty designs printed on them, went missing after the train's inaugural journey was completed yesterday evening.
"The covers are available in two different patterns. To replace some of the missing ones, we had also prepared 120 backup covers just in case," Catering Services Department general manager Liu Chien-liang (劉建良) said. "However, by the end of the day only 168 were left, 328 of them went missing."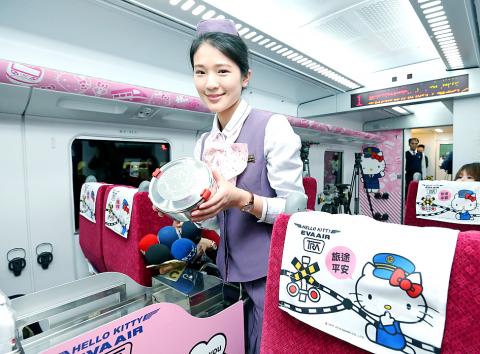 A Taiwan Railways Administration attendant holds up a Hello Kitty container on the maiden voyage of the Hello Kitty Taipei to Taitung service on Monday.
Photo: CNA
Asked why so many of the headrest covers were stolen, Liu said that perhaps the passengers wanted to take one of each design and keep them as souvenirs. The administration did not expect that most of the headrest covers would be taken away, he said.
The estimated loss totaled about NT$16,000, he added.
It was not the first time that Taiwanese travelers were reported to have taken away items on transportation systems or from public places. Passengers on EVA Airways Corp's (長榮航空) Hello Kitty aircraft, for example, were found to have taken napkins, paper cups, dining utensils and pillow cases featuring Hello Kitty designs. Some passengers even tried to tuck pillows into their carry-on luggage before being asked by flight attendants to take them out.
Liu said that the stolen headrest covers are made of a fabric called Tetron, which can be cleaned and reused.
He said that the administration is considering asking Japan's Sanrio Co, which owns the exclusive rights to produce and sell products featuring Hello Kitty, to produce headrest covers using non-woven fabric instead.
As the administration plans to use the special Taroko Express train again to observe the 90th anniversary of the launch of the Hualien-Taitung railway line, Liu said that the administration would monitor the headrest covers in each train carriage.
On-board service personnel are to deliver public broadcast messages reminding passengers to maintain the cleanliness of each carriage, he added.
The administration has an inventory of only 1,600 headrest covers, which might not be sufficient, Liu said.
Comments will be moderated. Keep comments relevant to the article. Remarks containing abusive and obscene language, personal attacks of any kind or promotion will be removed and the user banned. Final decision will be at the discretion of the Taipei Times.