Taiwanese fighter pilot dies training in the US
LIVING HIS DREAM: Against his father's wishes, Kao Ting-cheng entered the air force, and became a good enough pilot to be offered a training program in the US
Air Force Command Headquarters yesterday confirmed that Taiwanese pilot Major Kao Ting-cheng (高鼎程) has been found dead after his F-16 fighter jet crashed at a training base in the US state of Arizona.
The jet fighter crashed during a routine training mission at 9am on Thursday, a statement issued by Air Force Command said last evening.
Kao, 31, was a 2007 graduate of the Air Force Academy and had logged 865 flight hours. He was dispatched to the Luke Air Force Base in Arizona for F-16 fighter jet pilot training.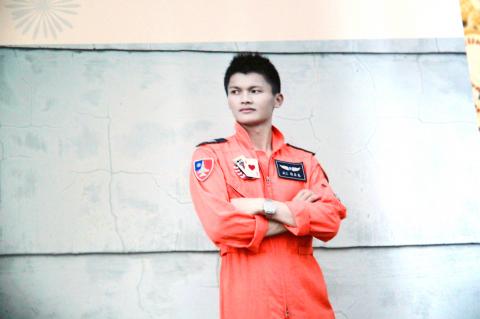 Air Force Major Kao Ting-cheng, found dead after crashing during training in the US, is pictured in uniform in an undated photograph.
Photo: Copy by Cheng Hung-ta, Taipei Times
Kao was assigned to the 455th Tactical Fighter Wing at the Chiayi Air Force Base, where he served with distinction and won accolades from his superior officers, Ministry of National Defense officials said.
The cause of the crash is pending further investigation, the statement said, and the Republic of China (ROC) Air Force is to send officials to Arizona to take part in the investigation.
Kao was not able to eject before the single-seat fighter, which belonged to the ROC Air Force, crashed during the routine training mission, the ROC Defense Mission in the US said.
According to foreign media reports, US military officials said the pilot was conducting air-to-air combat maneuvers over Arizona when the plane went down.
Air Force Command said it was helping Kao's relatives travel to the US.
The US Air Force said it has formed a flight safety committee to look into the incident.
Kao is survived by his wife and two children, including a child born late last year.
Kao Ching-lin (高青淋), Kao Ting-cheng's father, said his only son had dreamed of being a pilot since he was in high school.
Despite Kao Ching-lin's opposition, Kao Ting-cheng joined the Air Force Academy. On graduation, Kao Ting-cheng was given the opportunity to undergo a training program in the US because of his proficiency in English.
US Air Force Brigadier General Scott Pleus, commander of the 56th Fighter Wing at Luke, said Kao Ting-cheng had been in a training program for the past six months at Luke, which is a major pilot-training base for the US Air Force and foreign military services.
The crash occurred in rugged terrain about 16km southwest of Bagdad in Arizona's Yavapai County.
The crash site, in a sparsely populated area, was located by a helicopter crew about four hours after the plane went down.
Bagdad is about 137km northwest of Luke, which is located in the Phoenix suburb of Glendale.
Pleus said an interim safety board has been formed to conduct a preliminary investigation into the crash.
Recent crashes involving F-16s from Luke included one on a training mission in southern New Mexico.
That pilot ejected safely.
An instructor pilot and a student pilot also ejected safely in June 2013 after their two-seat F-16 hit several birds during takeoff from Luke. The jet crashed in a farm field.
A US Air Force investigation report said the instructor pilot was at fault in that crash because he made a rapid climbing turn after the bird strike, robbing the plane of airspeed and the ability to recover and return to the base.
In July 2008, an Ohio Air National Guard pilot died when he blacked out and his F-16 crashed in western Arizona.
A US Air Force investigation board found that the 26-year-old pilot made an improper turn during a dogfighting maneuver in which high gravitational forces came into play.
Comments will be moderated. Keep comments relevant to the article. Remarks containing abusive and obscene language, personal attacks of any kind or promotion will be removed and the user banned. Final decision will be at the discretion of the Taipei Times.