Typhoon-tilted mailboxes go viral
TILTED LOVE: Chunghwa Post Co chairman Philip Ong said the two mailboxes would stay as they were, and that the post office plans to make them into a tourist attraction
Two mailboxes in Taipei have become tourist attractions after a shop sign fell on them during Typhoon Soudelor, with visitors saying they now resemble two people standing next to each other and leaning.
The mailboxes — one red and the other green — are on Longjiang Road (龍江路) in Taipei.
The photos of the two tilted mailboxes quickly went viral, drawing dozens of people to the site yesterday.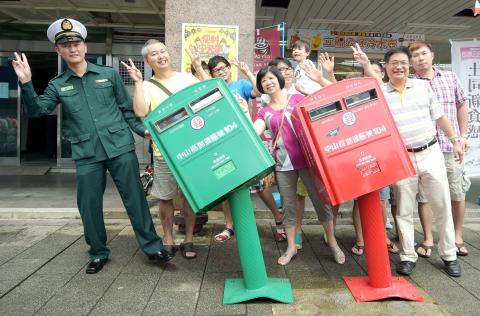 Members of the public yesterday pose with Chunghwa Post officials who were inspecting two mailboxes on Taipei's Longjiang Road after they were knocked into a slanted position by a falling sign during Typhoon Soudelor on Saturday.
Photo: CNA
Many visitors also leaned to the side and posed for photographs next to the mailboxes. Some netizens suggested that the Chunghwa Post Co (中華郵政) keep the two mailboxes as they are, as a reminder of the damage wrought by the typhoon.
Chunghwa Post Co chairman Philip Ong (翁文祺) yesterday said that the two mailboxes would remain at their current location, adding that the post office plans to turn the site into a tourist attraction.
He added that a sign would be set up to the side of the mailboxes informing visitors how they had been damaged by Typhoon Soudelor.
Ong said, however, that the supporting bases of these two mailboxes would need to be reinforced so that they could continue to function as mailboxes. He said that the postal firm could also sell memorabilia related to these tilted mailboxes in the future if visitors continue to show an interest them.
Comments will be moderated. Keep comments relevant to the article. Remarks containing abusive and obscene language, personal attacks of any kind or promotion will be removed and the user banned. Final decision will be at the discretion of the Taipei Times.