Alex Tsai survives Appendectomy Project
Chinese Nationalist Party (KMT) Legislator Alex Tsai (蔡正元) yesterday survived a landmark recall referendum in his constituency — Taipei's Neihu (內湖) and Nangang (南港) districts — because the poll failed to attain the required 50 percent voter turnout.
However, Tsai did not emerge unscathed, as an overwhelming majority of the 79,303 votes cast — marking turnout at 24.98 percent — supported the recall.
The Central Election Commission said that 76,737, or 97.22 percent, of the votes cast were in favor of ousting Tsai, while 2,196 people, or 2.78 percent, voted for him to stay. Just 370 votes were invalid.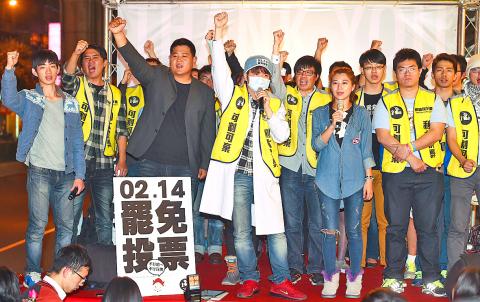 Appendectomy Project spokesperson Lin Tzu-i, center, gestures with volunteers in Taipei's Neihu District yesterday who assisted in the recall campaign against Chinese Nationalist Party (KMT) Legislator Alex Tsai.
Photo: Liao Chen-huei, Taipei Times
Given that there are 317,434 eligible voters in Tsai's constituency, 158,717 voters were required to vote for the results to be valid.
The poll was the first recall in the nation since referendums in 1994 and 1995, when environmental activists failed to dislodge five KMT legislators over their support for a nuclear power plant.
The turnout threshold for referendums was raised from one-third to 50 percent by the legislature just months before the 1994 ballot, in a move widely seen as an attempt to prevent KMT legislators from losing their posts.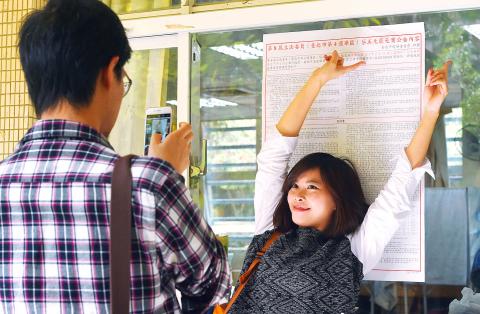 A woman poses outside a voting stations for the recall election targeting Chinese Nationalist Party (KMT) Legislator Alex Tsai in Taipei's Neihu District yesterday.
Photo: Liao Chen-huei, Taipei Times
The Appendectomy Project's campaign was bolstered by scores of volunteers over its 10-month span. It ran two successful petitions last year.
At polling stations yesterday, a wide range of voters expressed their excitement that the recall election had been realized.
"I am very happy and excited because I am witnessing history — this is the first time we have been able to vote in a recall election," said Victor Chen (陳立揚), a student at National Chiao Tung University, who returned from Hsinchu to vote.
"I am here today as a citizen to participate in the exercise of my power to recall," a middle-aged woman surnamed Chiu (邱) said. "I think it is great that young people have been able to demonstrate that we have this power, and I want to encourage their efforts."
Of three campaigns launched by the Appendectomy Project, the one targeting Tsai was the only one to reach its final phase, as petitions to recall KMT legislators Wu Yu-sheng (吳育昇) and Lin Hung-chih (林鴻池) both failed to draw support from at least 13 percent of voters from their respective constituencies.
Several hundred people trickled into the Appendectomy Project's headquarters in Neihu yesterday evening to offer their support.
They said the campaign's failure highlighted the need for a major overhaul of recall regulations, adding that the "largely unattainable" thresholds for voter turnout and the 30-day limit for petitions blocked voters from exercising their rights.
Appendectomy Project spokesman Lin Tzu-i (林祖儀) said the results indicated the failure of regulations, not the failure of the campaign and its more than 3,000 volunteers.
Lin said the group would continue campaigning for reform of the Civil Servants Election and Recall Act (公務人員選舉罷免法), and announced the group's commitment to long-term efforts to promote direct democracy.
"Alex Tsai might be the archvillain now, but there are countless Alex Tsais out there," Lin said.
Tsai called the results of the recall referendum "a great victory of democracy and rule of law."
He added that the recall was initiated by a "political scam gang and professional students" and was "utterly despised by the public."
"The number of votes cast was not even on par with those received by my opponents in the past election, which is a total embarrassment [to campaigners]," he added.
When asked by reporters about the recall threshold, Tsai said people might have different views.
He added that the number of votes to recall an official should have to top the number cast to elect them.
"That would require at least 120,000 votes to recall me," he said.
Additional reporting by Alison Hsiao and Abraham Gerber
Comments will be moderated. Keep comments relevant to the article. Remarks containing abusive and obscene language, personal attacks of any kind or promotion will be removed and the user banned. Final decision will be at the discretion of the Taipei Times.