CPC pricing misled public: study
CPC Corp, Taiwan (CPC, 台灣中油) has deceived the public with its claim that the nation enjoys the lowest fuel prices among its neighbors, because there are several "untold secrets" in its pricing calculations, a think tank said yesterday.
A Taiwan Thinktank study conducted by several academics says that fuel prices had been underestimated because the state-run oil refiner has left out the fuel tax in its pricing calculation and its floating pricing mechanism is not adjusted based on global oil prices.
In contrast to other countries, fuel prices in Taiwan do not include the fuel tax, which is collected separately and is calculated on a per vehicle rather than a fuel consumption basis, making prices seem lower, National Taipei University professor Wang To-far (王塗發) told a press conference.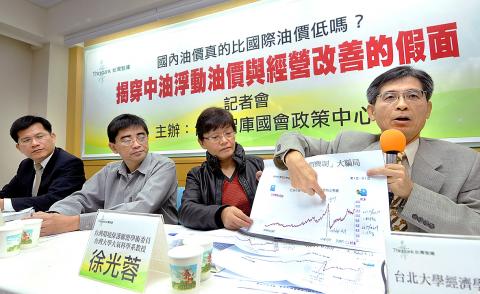 National Taipei University professor Wang To-far, right, and other academics hold a press conference to allege that CPC Corp, Taiwan has misled the public.
Photo: Fang Pin-chao, Taipei Times
CPC's operations have drawn public attention since President Ma Ying-jeou (馬英九) announced increases in fuel and electricity prices in April to make up for the huge losses at the state-run oil company and electricity provider Taiwan Power Co (Taipower, 台電).
CPC published a 300-page report in June stating that its huge losses in the past were a direct result of its price subsidy under the government's policy of freezing fuel costs.
Wang dismissed this claim, saying that freezing prices did not contribute to CPC's losses, which reached a historic high of NT$138.7 billion (US$4.76 billion) in 2008.
Taking into account global oil prices in 2008 reaching their highest point ever at more than US$140 per barrel in July and then dropping to about US$30 per barrel by the end of the year, along with the first fuel price increase under Ma announced in May, it was not possible for CPC to suffer the NT$138.7 billion loss, Wang said.
"Quite the opposite, CPC has made huge profits from the weekly floating pricing mechanism because the price was not adjusted in accordance with the global market. It is CPC's poor operational efficiency that is likely the biggest cause of its losses," Wang said.
Additionally, CPC, which exports between 20 percent and 30 percent of its products overseas at low prices, has used its profits from the domestic market to make up for its export losses, he said, adding that if the refiner did not keep export prices artificially low, it could not compete in the global market.
According to data compiled by National Taiwan University professor Hsu Kuang-jung (徐光蓉), the prices of CPC's exports were between 10 percent and 60 percent lower than their domestic counterparts.
CPC was not the only one to blame for making people suffer from the fuel price increase and the ensuing general commodity price hike, National Central University professor Chiu Chun-jung (邱俊榮) said.
Ma had chosen to announce the fuel price hike at the worst possible time: in May 2008 and April of this year, Chiu said.
Both times coincided with global economic downturns and the price hikes had demonstrably worsened the nation's stagflation, Chiu said.
Comments will be moderated. Keep comments relevant to the article. Remarks containing abusive and obscene language, personal attacks of any kind or promotion will be removed and the user banned. Final decision will be at the discretion of the Taipei Times.