Jeremy Lin sees no disadvantage in being Asian
UNDERESTIMATED: Lin said people take Asians lightly until they show their skills and said young players should work hard, believe in themselves and have fun
Jeremy Lin (林書豪), the first NBA player of Taiwanese descent, sees some advantages in being an Asian playing basketball in the US.
"I think the advantage of being an Asian basketball player in America is that no one expects anything from you, and no one thinks you are going to be good," Lin told a press conference in Taipei yesterday. "The reason why I said it was an advantage is because everyone takes you lightly, and the minute you step out on the court, you give it to them and you immediately earn their respect, but no one is going to give it to you right away, not in America at least."
Lin's success in the NBA has been an inspiration for many young basketball players in Taiwan.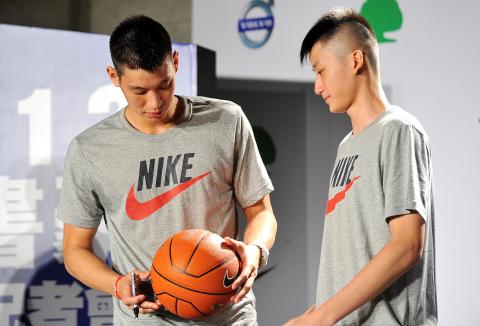 NBA player Jeremy Lin yesterday in Taipei signs a basketball for Jinhua Junior High School's Wu Yung-sheng, who recently captured the Most Valuable Player honor at the National Junior High School Basketball Championships. Wu will go to the US at the end of this month for studies.
Photo: Chien Jung-fong, Taipei Times
Fifteen-year-old Wu Yung-sheng (吳永盛), who was the National Junior High Basketball Championships' Most Valuable Player this year, is slated to go to the US at the end of the month, to study and play basketball there. He has enrolled in Union High School in Washington State.
"I want to play in the NBA," Wu said, when asked about his biggest wish at the press conference.
As a word of advice, Lin said Wu needed to remember who he was and have confidence in himself.
"To be successful, you just need to work hard and believe in yourself. The most important thing is you have fun. If you have success and don't have fun along the way, I am not sure if it is really worth it. Our lives are so short, and we should enjoy the time we spend playing basketball. The more we enjoy it, the more we want to work harder and the better we get at it," Lin said.
Lin's return to Taiwan this year has attracted numerous fans and the media, who have dogged him since the minute he stepped onto Taiwanese soil early on Saturday morning.
It is Lin's first visit to Taiwan since his meteoric rise with the New York Knicks earlier this year and his recent signing of a three-year, US$25 million contract to play for the Houston Rockets.
During the question-and-answer session yesterday, Lin attributed his success this year to his Christian faith. He said the New York Knicks' game against the Toronto Raptors was one in which he truly felt the presence of God.
"We were down 17 and we were playing really bad," Lin said. "In the last six minutes, we made every right play, we have a lot of things go our way, we ended up with the ball, offense in rebound. There were five seconds left on the clock. I did not want to shoot the shot that I took because that was one of my worst shots that I was practicing during the summer, but it went down, and that was my only three-pointer that I made from the top of the key in the whole season. During that game, I felt like I was doing things [and] making plays that sometimes I don't feel like I was in control of myself."
Lin said he had learned to deal with the mounting pressure that came with his fame in his first year in the NBA.
"My rookie year helped me with this [handling pressure]," he said. "Just to play for God. That's important to me, because when I feel like I have to play to please everybody else, I put too much pressure on myself and I don't play the way I am supposed to."
Lin said he did not compare himself to Yao Ming (姚明), the Chinese basketball player star who was also with Houston Rockets.
"What I have done is nothing compared to what Yao has done," the basketball star said. "I have always looked up to Yao, but I don't see myself as having to fill his shoes. My goal was very simple, and it is to get as close as I can to reach my personal potential. I am not sure what that is, but my goal is to find out."
On the debate about his nationality, Lin said he grew up in the US and that he has grandparents who were born and raised in China. His parents, on the other hand, are from Taiwan. There was a lot of history, he said.
Lin was also asked about his personal life, asking whether he has a girlfriend. Lin did not seem to get offended and answered the questions with humor: "Let's make a deal: When I get a girlfriend, I will e-mail all you guys."
Lin has repeatedly expressed the hope of visiting a night market, but he said that is also unlikely to happen on this trip. "I want to eat night market food," said Lin when asked what Taiwanese food he most wanted to have.
"But I am okay with not going this year," he said.
Additional reporting by CNA
Comments will be moderated. Keep comments relevant to the article. Remarks containing abusive and obscene language, personal attacks of any kind or promotion will be removed and the user banned. Final decision will be at the discretion of the Taipei Times.