Wu Den-yih announces Cabinet line-up
WHO IS GOING WHERE At least 13 Cabinet members are keeping their jobs, while other portfolios are being filled by new faces — and some who are not so new
Premier-designate Wu Den-yih (吳敦義) named his new Cabinet last night and will formally take over the post today after Premier Liu Chao-shiuan (劉兆玄) leads his Cabinet in resigning this morning.
The new Cabinet line-up includes outgoing Veterans Affairs Commission Director Kao Hua-chu (高華柱), who will become minister of national defense, and representative to Indonesia Timothy Yang (楊進添), who will become foreign minister, Wu said.
Minister of the Interior Liao Liou-yi (廖了以) will become secretary-general of the Presidential Office, while Research, Development and Evaluation Commission Chairman Jiang Yi-huah (江宜樺) receives the interior ministry and Taipei City Deputy Mayor Wu Ching-ji (吳清基) replaces Cheng Jei-cheng (鄭瑞城) as minister of education.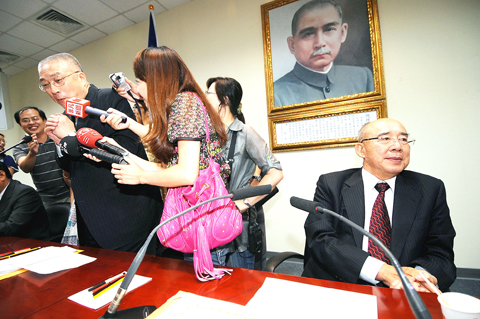 Premier-designate Wu Den-yih, left, is surrounded by reporters asking about the new Cabinet as Chinese Nationalist Party (KMT) Chairman Wu Poh-hsiung sits at the table following a meeting of the KMT Central Standing Committee yesterday.
PHOTO: FANG PIN-CHAO, TAIPEI TIMES
Shih Yen-shiang (施顏祥), chairman of CPC Corp, Taiwan, will take the economic affairs portfolio, while Central Election Commission (CEC) member Rai Hau-min (賴浩敏) will now head that organization.Minister without Portfolio Tsai Hsun-hsiung (蔡勳雄) will become head of the Council for Economic Planning and Development.
Sun Ta-chuan (孫大川), a Puyuma academic, will be chairman of the Council for Indigenous Peoples. Wu Tai-cheng (吳泰成), a member of the Examination Yuan, will head the Central Personnel Administration.
Wu announced on Tuesday that Vice Minister of the Interior Lin Join-sane (林中森) would become secretary-general of the Executive Yuan.
He also said that Mainland Affairs Council Chairwoman Lai Shin-yuan (賴幸媛), Council of Labor Affairs Minister Jennifer Wang (王如玄), Department of Health Minister Yaung Chih-liang (楊志良), Minister of Transportation and Communications Mao Chi-kuo (毛治國) and Executive Yuan Spokesman Su Jun-pin (蘇俊賓) would keep their posts.
Yesterday, several more Cabinet members learned that hey would be retained: Minister of Justice Wang Ching-feng (王清峰), Minister of Finance Lee Sush-der (李述德), National Youth Commission Minister Wang Yu-ting (王昱婷), Minister of Council for Cultural Affairs Chairwoman Huang Pi-twan (黃碧端), Council for Hakka Affairs Chairman Huang Yu-cheng (黃玉振), Minister of the Mongolian and Tibetan Affairs Commission Kao Su-po (高思博), Minister of the Overseas Compatriot Affairs Commission Wu Ying-yih (吳英毅) and central bank Governor Peng Fei-nan (彭淮南).
Meanwhile, Liu showed up at the Chinese Nationalist Party's (KMT) Central Standing Committee yesterday and thanked party Chairman Wu Poh-hsiung (吳伯雄) and other members for their support.
The premier led Vice Premier Paul Chiu (邱正雄) and Executive Yuan Secretary-General Hsueh Hsiang-chuan (薛香川) in shaking hands with committee members.
Wu Poh-hsiung praised Liu's hard work over the past year and said history should "reflect the foundation he had laid [for the nation] and give him the credit he deserves."
Wu Poh-hsiung later presided over a ceremony to pass the job of KMT secretary-general from Wu Den-yih to Chan Chun-po (詹春柏), former Presidential Office secretary-general.
The KMT chairman brushed aside rumors that KMT legislators would be reluctant to cooperate with Wu Den-yih.
"Secretary-General Wu and I have cooperated very well within the party and it didn't feel like he was a 'lonely bird [maverick],'" Wu Poh-hsiung said. "I urge all party legislators to give our new premier their full support and seek close cooperation with the Cabinet so that he will not feel isolated."
President Ma Ying-jeou (馬英九) is scheduled to hold a press conference at 5pm today to formally introduce the new premier, vice premier and Presidential Office secretary-general, Presidential Office Spokesman Wang Yu-chi (王郁琦) said.
Meanwhile, the KMT caucus said it hoped Wu Den-yih and vice premier-designate Eric Chu (朱立倫) would detail their administrative plans during a series of luncheons scheduled with KMT legislators.
Ma, Wu and Chu will have four gatherings with KMT legislators between tomorrow and next Wednesday ahead of the start of the fall legislative session next Friday.
KMT caucus secretary-general Lu Hsueh-chang (呂學樟) said Wu Den-yih should explain his goals during the gatherings.
KMT Legislator Chiu Yi (邱毅) said the Executive Yuan should enhance communications with caucus members but it should not use the meetings to demand full support from KMT lawmakers, while fellow lawmaker Huang Chao-shun (黃昭順) said there would be no "honeymoon period" for the new Cabinet.
ADDITIONAL REPORTING BY KO SHU-LING
Also See: PROFILE: Wu Den-yih's extensive experience comes to the fore
Comments will be moderated. Keep comments relevant to the article. Remarks containing abusive and obscene language, personal attacks of any kind or promotion will be removed and the user banned. Final decision will be at the discretion of the Taipei Times.