'Let's end this circus': Chen Shui-bian
'ILLEGAL TRIAL' The former president's office issued a statement yesterday in which Chen requested that Judge Tsai Shou-hsun hand him a life prison sentence
Former president Chen Shui-bian (陳水扁), who has been detained at the Taipei Detention Center since Dec. 30 on charges of money laundering and corruption, yesterday released a statement requesting that Presiding Judge Tsai Shou-hsun (蔡守訓) give him a life sentence.
"I will not appeal and my sentence can begin immediately," Chen's statement said. "Let's end this circus."
Chen's office issued the statement late yesterday afternoon, which said the former president "rejected the illegal detention, illegal indictment and the illegal trial," adding that he would immediately dismiss his defense lawyers and revoke the summons of all defense witnesses.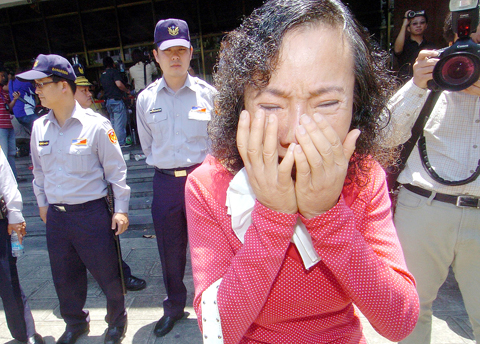 A supporter of former president Chen Shui-bian cries outside the Taipei District Court after the judge sent Chen back to the Taipei Detention Center in Tucheng, Taipei County, yesterday.
PHOTO: CHANG CHIA-MING, TAIPEI TIMES
The statement also said he would go on a hunger strike until May 17 to show his support for a demonstration planned by the Democratic Progressive Party (DPP).
The statement said he would refuse food until he saw his fellow Taiwanese come together in front of the Presidential Office on May 17 to protest against President Ma Ying-jeou (馬英九) and demand that he protect the nation.
He said as a former president, he stands for Taiwan independence and believes Taiwan and China are separate countries.
"I vow on my life I will never be a slave of China," he said. "Taiwanese must maintain their dignity and backbone."
The statement said that Chen did not embezzle any money or commit any crime. He vowed he would never submit to judicial persecution and the political vendetta being waged by the Chinese Nationalist Party (KMT) and "administrator Ma."
Earlier yesterday morning, Chen showed shortness of breath and shook when he appeared in court for his detention hearing.
The hearing yesterday was to decide whether to keep Chen incarcerated. The prosecution requested the court keep the former president detained and cited fears that Chen might collude with witnesses or try to abscond, adding that the charges against him were serious crimes for which a defendant may be sentenced to five or more years in prison.
"As a former president, the defendant [Chen] may have more contacts and a higher ability to abscond than the average person," prosecutor Lin Yi-chun (林怡君) said.
Because the former first family has wired large amounts of money to offshore accounts, they may try to flee the country and "live luxuriously" overseas, prosecutors said.
"[Chen] being invited back into the Democratic Progressive Party despite his indictment shows that he is a very influential figure," Lin said.
Prosecutors reasoned that Chen may use his influence to attempt to destroy or tamper with evidence related to the case.
In response, Chen spoke in short breaths and occasionally heaved and coughed.
Chen quoted Special Investigation Panel prosecutors who had said at previous detention hearings that he may be released once they have finished calling all witnesses.
"Although the court has not finished calling the witnesses, the other defendants and key witnesses have all been questioned," Chen said.
Chou Chan-chun (周占春), the judge who previously presided over Chen's case, had said that if Chen was to be detained until the court has finished questioning all witnesses, it would infringe on the defendant's litigation and defense rights, Chen said.
Chen said if he was released, he would not harass or collude with other defendants and witnesses because he knows if he did, he would be detained again.
Chen also cited his deteriorating physical condition, which included heartburn, asthma and arthritis.
"I have a heart condition. My heart aches at night and I have cold sweats, but I dare not talk about it," he said hoarsely.
He said his lawyer told him that electrocardiography data showed he had problems in four places in his heart, but the detention center hadn't informed him. At this point, he paused in silence, then sniffled and took out a tissue to wipe his nose.
Tsai gave Chen 30 minutes to speak. When his time was up, he put his head down on the table. Upon seeing this, Tsai asked Chen whether he was feeling unwell, then allowed him to rest in another room.
After Chen left the courtroom, his lawyers continued to speak in his defense and said the court should release him on bail so he could be hospitalized.
After about half an hour, Chen came back into the courtroom with his body shaking and his face pale. He had difficulty walking and had to be escorted by two bailiffs, one on each side. Seeing this, some of Chen's supporters who had been watching the trial began to cry.
Chen continued to shake until Tsai said he would ask the detention center to keep an eye on his physical condition and adjourned the hearing, ordering that Chen be sent back to the detention center until further notice.
Outside the courthouse, Chen's office secretary Chiang Chih-ming (江志銘) told reporters that Chen had been suffering from a heart condition, asthma, arthritis, deteriorating eyesight and other illnesses. He said the shaking was probably because of his heart problems and that they had not seen this happen before.
In response, Taipei Detention Center Deputy Director Lee Ta-chu (李大竹) said that the scan that Chen had referred to was performed when he refused to eat last November. Lee said they informed Chen of his results and Chen's most recent scan last month showed no signs of illness.
After visiting Chen at the detention center later yesterday, Chen's lawyer Cheng Wen-lung (鄭文龍) expressed regret over the decision not to grant his request to have Chen hospitalized.
At a separate setting yesterday, the Democratic Progressive Party (DPP) urged the judiciary to treat Chen in a humane manner and respect his rights.
DPP Legislator Kao Jyh-peng (高志鵬) said the DPP respected the law and understood the law should not be bent for anyone's sake, including Chen, "but everyone, even Chen, is entitled to proper judicial rights."
Chinese Nationalist Party (KMT) Legislator Lee Ching-hua (李慶華), however, said the court should continue to detain Chen because he might try to steal the thunder of DPP Chairperson Tsai Ing-wen (蔡英文) during the party's planned rally on May 17 if he were released.
ADDITIONAL REPORTING by JENNY W. HSU AND FLORA WANG
Also See: Supporters of former president scuffle with police after his detention hearing
Comments will be moderated. Keep comments relevant to the article. Remarks containing abusive and obscene language, personal attacks of any kind or promotion will be removed and the user banned. Final decision will be at the discretion of the Taipei Times.