Gay Games delight Hong Kong amid China's growing hostility to LGBTQ+ community
Taiwan did not send a delegation to the event, citing concerns about athletes' safety in the context of the national security law
After months of pandemic-related delays, Asia's first Gay Games was held in Hong Kong last week, with nearly 2,400 athletes competing. At the opening ceremony, Regina Ip (葉劉淑儀), the convener of Hong Kong's executive council, said the competition represented the city's commitment to "equal opportunity and non-discrimination," and praised Hong Kong's courts for the "numerous judgments" handed down in favor of the LGBTQ+ community in the past decade.
This was met with bemusement by activists and lawyers, who pointed out that Ip's government has opposed each of those judgments, losing in nearly every single case. Since 2018, there have been at least seven cases relating to LGBTQ+ rights heard by Hong Kong's courts, with many reaching the Court of Final Appeal, the city's highest bench.
"Why are they still wasting taxpayers' money fighting these tooth-and-nail litigations when they're recycling the same arguments and losing?" said Mark Daly, a human rights lawyer who has worked on a number of the cases.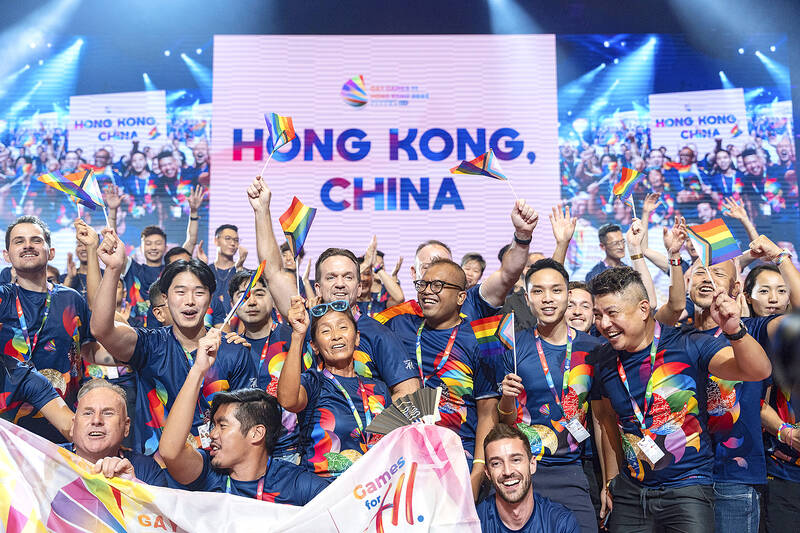 The delegation of Hong Kong arrives at the stadium on Nov. 4 during the opening ceremony of the Gay Games in Hong Kong, China.
Photo: AP
Ip said that "the government had complied with the Court of Final Appeal's rulings" in all of the cases that made it to the top court.
The Gay Games were hosted in the wake of a string of legal victories for the LGBTQ+ community, whose success in the courts stands in stark contrast to the increasingly hostile environment for gay and transgender people in mainland China.
In February, Hong Kong's top court ruled that the policy of requiring trans people to undergo sex reassignment surgery to change their legal gender — which is also required by law in mainland China — was unconstitutional. Then in September, the court ruled that the government was obliged to establish an "alternative framework" for the legal recognition of same-sex unions, while stopping short of endorsing gay marriage.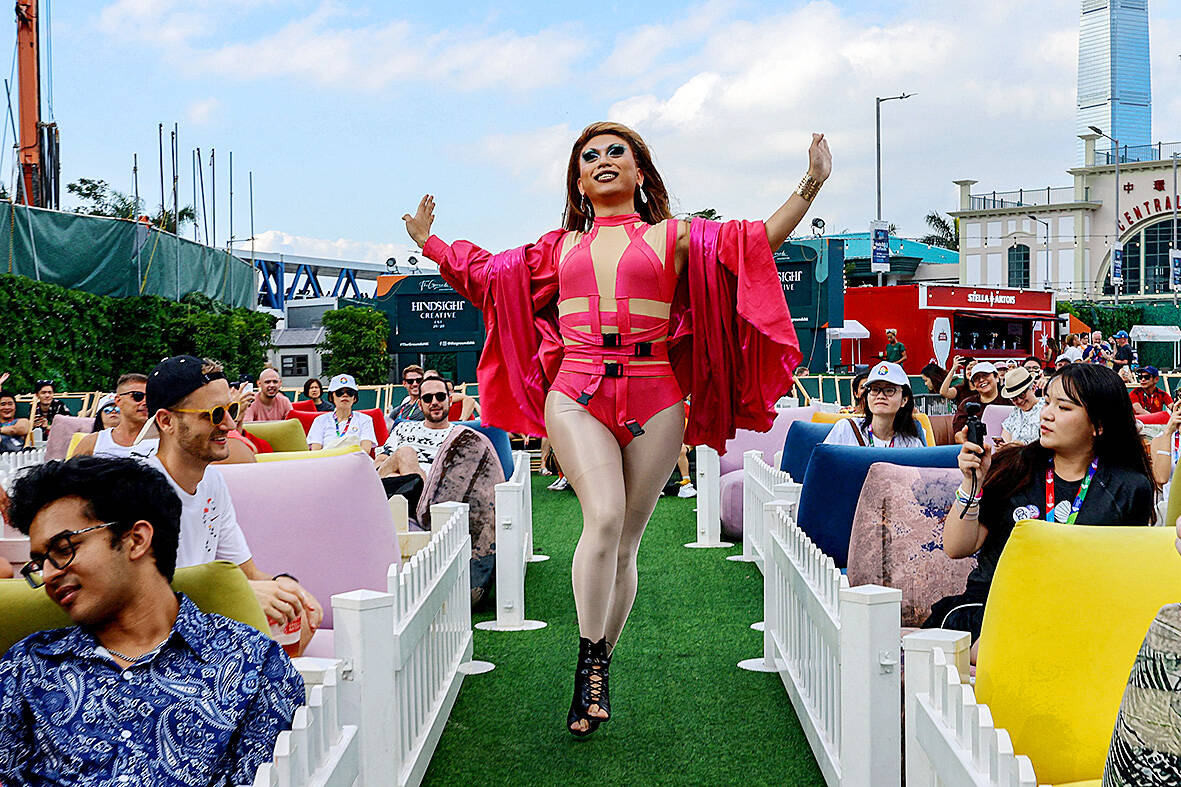 A drag queen performs on Nov. 5 at the Gay Games in Hong Kong, China.
Photo: Reuters
Several recent cases have involved Henry Li (李亦豪), a 37-year-old solicitor who became a reluctant activist in 2019 after he and his late husband, Edgar Ng (吳翰林), realized that they would not be able to legally live together in the government-subsidized flat bought by Ng because Li could not register as a "spouse" or a "family member." Ng and Li had married in the UK in 2017 but their union was not legally recognized in Hong Kong.
The legal action was "not really to fight for equality, it was a fight to stay together lawfully in our own home," said Li, who credits Ng with initiating the judicial review to "protect" him. Last month, the Court of Appeal ruled in Li's favor, although the housing authority is appealing.
Ng also launched a legal bid to demand equal treatment for same-sex couples with regards to inheritance rights. Last month, the Court of Appeal upheld a lower bench's ruling in Ng's favor. But Ng died in 2020, having taken his own life, and his assets remain frozen as the government is expected to appeal.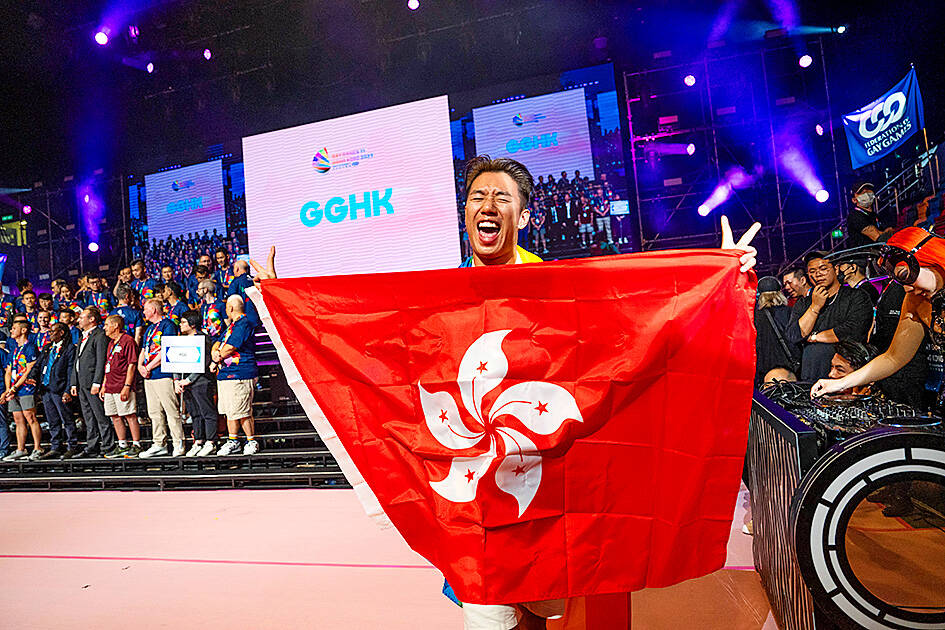 An athlete on Nov. 4 holds a Hong Kong SAR flag during the Gay Games Hong Kong 2023 opening ceremony in Hong Kong, China.
Photo: EPA-EFE
Ng's death led to yet more litigation after the morgue refused to let Li identify Ng's body.
"It was cruel, inhumane and demeaning. Edgar's body was literally in the next room when I was told he's not my husband," Li recalled.
He filed a judicial review but dropped it in October 2021 after the government clarified that same-sex partners should be treated equally by the coroner's office.
The government's resistance to granting LGBTQ+ people equal rights is in line with Beijing but increasingly at odds with public opinion in Hong Kong. A survey published in May found that 60 percent of people supported the idea of same-sex marriage, up from 38 percent a decade ago. More than 70 percent said that Hong Kong should have a law to protect against discrimination on the basis of sexual orientation.
It is not just in the courts that LGBTQ+ people have clashed with the authorities. In July, Hong Kong's public broadcaster suspended the city's only LGBTQ+-related radio show, We Are Family, which had run for 17 years. No official reason was given for the show's cancellation, but since the passing of a controversial national security law in 2020, imposed by Beijing to quell the months of pro-democracy protests, anything that could be perceived as being critical of the Chinese authorities has become sensitive. The annual Pride march was cancelled in 2020 because of COVID-19 restrictions but shows no signs of returning — although a pop-up Pride exhibition is planned.
Evelyn Tsao, a human rights lawyer who focuses on LGBTQ+ issues, says that "more and more" nonprofit organizations are "restricting the scope of their advocacy work to do only public education … and we see less and less of the LGBT rights groups speaking out against public policy or doing any lobbying work in the political sense."
Daly noted that while the political atmosphere has not directly affected civil rights litigation, there is "probably a little bit more of a chill" for anyone challenging the government in the courts.
There are some in the pro-democracy camp who balk at the idea that gay rights can be separated from the wider crackdown on freedoms in Hong Kong.
In June, a group of activists called for the Gay Games to be cancelled and accused the organizers of aligning themselves with "figures responsible for widespread persecution against the people of Hong Kong." On the other end of the political spectrum, Junius Ho (何君堯), a firebrand pro-Beijing legislator, has explicitly said that the games could contravene the national security law.
David Ko, the communications director for the games, said that the event was not aligned "with any political ideologies or figures … Our primary goal is to create a platform where individuals from all walks of life can come together to celebrate diversity, inclusivity and the human spirit."
But the games have struggled to stay out of politics. Taiwan, the only place in Asia to have legalized gay marriage, did not send a delegation to the event in Hong Kong, citing concerns about athletes' safety in the context of the national security law.
Comments will be moderated. Keep comments relevant to the article. Remarks containing abusive and obscene language, personal attacks of any kind or promotion will be removed and the user banned. Final decision will be at the discretion of the Taipei Times.