Taiwan in Time: Mama Ko fights the system (and wins)
After losing her son in an traffic accident, housewife Ko-Tsai Yu-chiung pushed the government for seven years to pass the Compulsory Automobile Liability Insurance Act, which it did in 1996
Nov. 13 to Nov. 19
Nov 13, 1996 was the 33rd consecutive Wednesday that Ko-Tsai Yu-chiung (柯蔡玉瓊) appeared in front of the Chinese Nationalist Party (KMT) headquarters. The ruling party's central committee meeting was about to start, and Ko-Tsai, better known as Mama Ko (柯媽媽), displayed photos of various car accident victims, lit some incense and began her usual ceremony to "induce the birth of the 'Compulsory Automobile Liability Insurance Act.'
Mama Ko had been pushing for this law since her son was killed by a truck driver seven years earlier. She would never forget what the trucking company owner told her without a hint of remorse: "We've been in this business for 20 years and fatal accidents happen all the time. We compensate the families NT$200,000 or NT$300,000. If you don't like that, you can sue us!"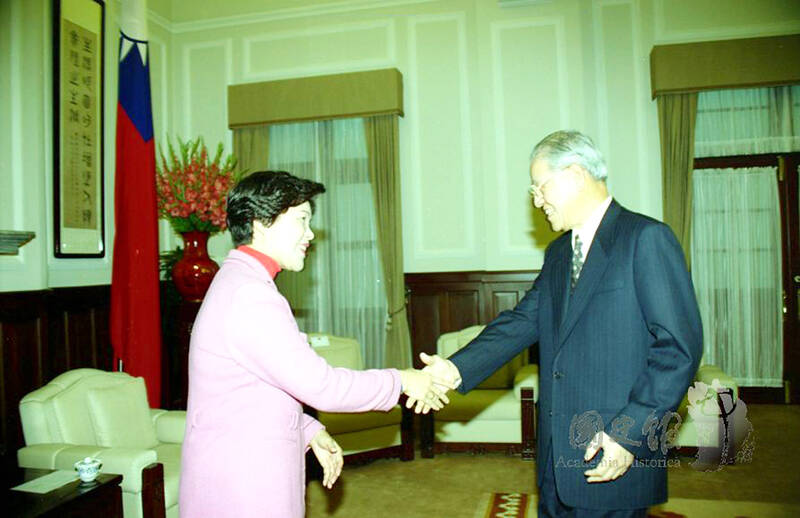 Mama Ko meets then-president Lee Teng-hui in February 1998.
Photo courtesy of Academia Historica
The payout was often much lower, and most people couldn't afford to sue, so they could only suffer in silence. Mama Ko's first thought was to set the trucking company on fire and then commit suicide, but her son appeared to her in a dream and urged her to change the system instead, despite her having no legal knowledge and being unable to even read or write properly.
The draft act had been stuck in the Legislative Yuan for four years. After being ignored for months, a staff member appeared that morning and invited her into the building. She was shocked to meet then-president Lee Teng-hui (李登輝), who had been watching her for a while. After hearing her pleas, Lee, whose only son also died young, was moved and promised to support Ko's quest.
A month later, the landmark law was passed, often called the Mama Ko Provisions.
Liberty Times reports on Nov. 14, 1996 Mama Ko's meeting with then-president Lee Teng-hui.
Photo: File
GRIEF TO ANGER
Mama Ko and her husband both came from humble backgrounds, finishing just elementary school before starting work to support their families. Their son Ko Chung-yu (柯重宇) was the first in the family to attend university, and he was pursuing his master's degree in business management at Tunghai University when he was struck by a truck on June 28, 1989. He died instantly.
Not only did the police drag their feet with the investigation, the driver and truck company boss were defiant and threatening. Accident investigations often took a long time and favored the drivers, and if the family wanted to press charges they had to pay a hefty deposit that few could afford — especially if the deceased was the family's main breadwinner. Even worse, society often stigmatized the victims' families, saying that they must have done something wrong to suffer such a fate.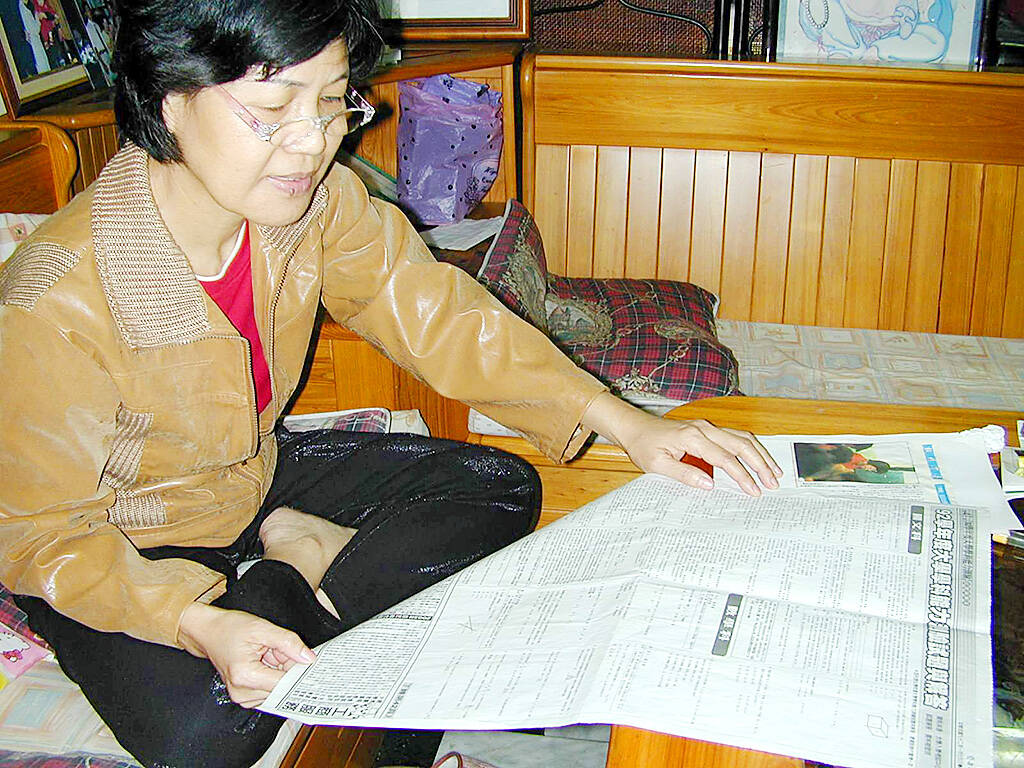 Mama Ko checks her answers at home the day after taking the university entrance exam in 2004.
Photo: Hung Jui-chin, Taipei Times
According to The Story of Mama Ko (柯媽媽的故事) by Yang Ming (楊明), transportation companies knew the law well and were adept at destroying evidence before police arrived. Most even preferred that the victim died so that they couldn't testify. The perpetrators even alleged that her son caused the accident by speeding to overtake the truck.
"If they showed any remorse and apologized sincerely, maybe I would not have sued them because no amount of money could bring back my son," she said.
Her grief soon turned to anger, and was about to take a violent turn when her son appeared to her in several dreams and told her to do some to do something for the greater good.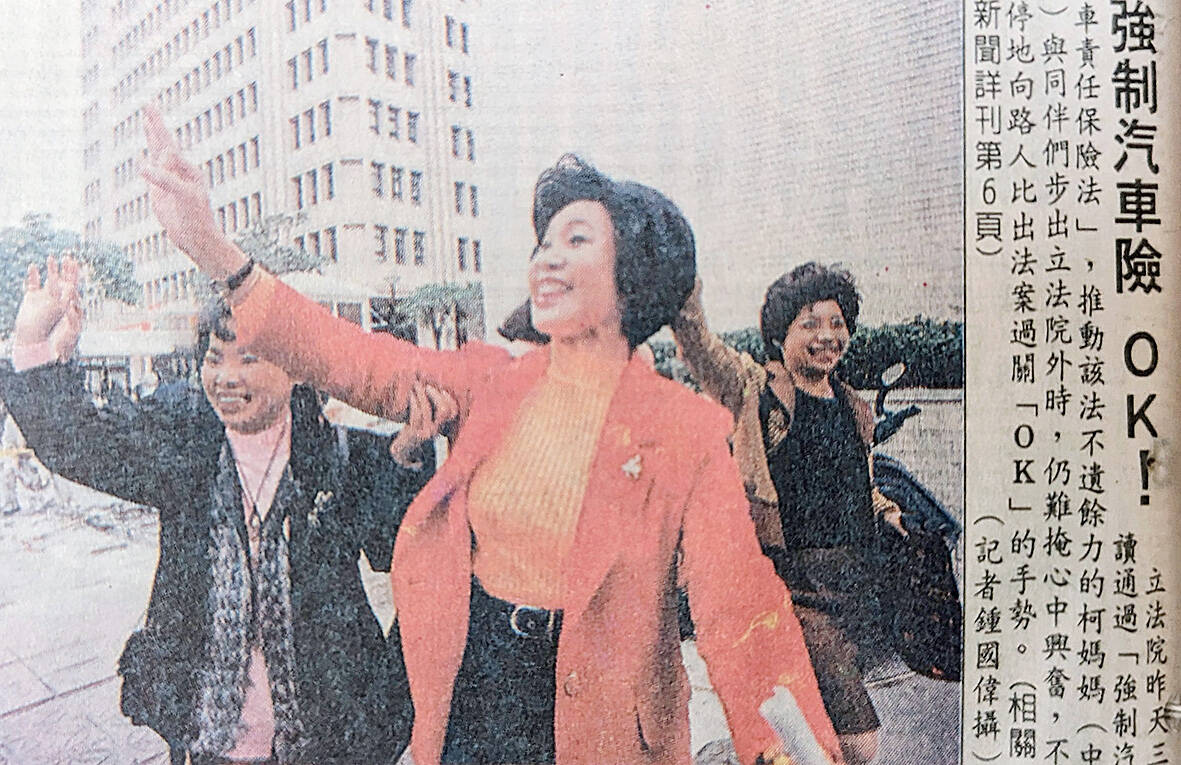 Mama Ko, center, celebrates on Dec. 13, 1996 after the passing of the Compulsory Automobile Liability Insurance Act.
Photo: Chung Kuo-wei, Taipei Times
After failing to find a lawyer willing to take on the challenge, she turned to her son's university. With the help of the students and staff, Ko staged a two-day sit-down in front of the school's post office. This garnered much attention, and some even borrowed a school car to protest in front of the truck company.
After the media reported on Ko's actions, she began receiving letters from families of other traffic victims. She personally met them and heard their tragic stories, which strengthened her resolve.
FROZEN LAW
Around that time, a bus driver in Taichung fatally hit two young people within three months but was allowed to keep driving. The company offered each of the parents a meager sum, leading her to wonder, "Is human life this cheap?"
Mama Ko eventually helped them negotiate for a much better payout, but the parents were mentally exhausted by the long ordeal and fell ill. This was when she realized that the only route was to push for compulsory automobile liability insurance so families did not have to suffer such a toll after their loss.
Within six months, she had contacted more than 450 families and launched the Auto Accident Victims Rescue Association (車禍受難者救援協會), which had the support of legal experts. Mama Ko, who had rarely left Tainan before the accident, now spent most of her time on the road, pleading and petitioning with different government departments in Taipei and visiting families across the nation. She suffered from severe car sickness and often vomited while driving, but soon got used to it.
In 1987, the Executive Yuan had already commissioned a draft act for compulsory automobile liability insurance, but it was frozen in a dispute between the Ministry of Finance and Ministry of Transportation. By 1991, the Ministry of Finance had taken over the task, but due to strong resistance from the transportation industry, it was in danger of being shelved again. To put pressure on the ministry, Mama Ko and other association members camped in front of the ministry building all summer.
It worked. The group received a guarantee from then-finance minister Wang Chien-shien (王建?) that they would deliver the bill to the Executive Yuan within a week. She did not go away, though, stationing herself in front of different government offices every week to further plead her case.
In June 1992, the draft bill was publicized and entered its final hurdle in the Legislative Yuan. But two years later, it was still stuck in first reading as lawmakers could not agree whether the insurance should be public or private. The legislators were mostly rude and cold to Mama Ko, she recalls, and finally she lugged three coffins to the Legislative Yuan, criticized them for disregarding the lives of their constituents and went on a hunger strike until she was hospitalized three days later. Former KMT legislator Ting Shou-chung (丁守中) was one of the few who supported her, she recalls.
FINAL READING
The bill stalled once more in 1995 after passing the first reading as it involved simply too many parties of interest. At this point her group began holding ceremonies with victim photos outside the legislature and KMT headquarters, while writing to organizations worldwide.
Mama Ko did not expect to ever earn a meeting with the president. After their conversation, Lee said he had a souvenir for her — a thick intelligence file the secret police had compiled on her as a potential troublemaker. She laughed, finding it ironic that an uneducated woman could become a government target.
The meeting was plastered over the news. The papers also reported on two fatal accidents in Taipei that killed four people.
On Dec. 13, 1996, she showed up to the Legislative Yuan in a bright red shirt while association members prepared cake and champagne. After hearing the gavel strike three times, they could finally breathe and celebrate.
She told reporters that this win not only protects the victims' families, it signified that the quest for justice and fairness in society would slowly come to fruition and that special privileges and corporate influence on lawmakers would slowly fade away.
Afterward, Mama Ko received numerous invitations to help other groups with their charities and social work, but all she did was use the remaining funds the association had raised (along with some cash she set aside for her son's studies and marriage) to purchase two ambulances for the Taipei Fire Department.
She then enrolled in junior high school, as her next goal was to earn the master's degree that was denied to her son.
Taiwan in Time, a column about Taiwan's history that is published every Sunday, spotlights important or interesting events around the nation that either have anniversaries this week or are tied to current events.
Comments will be moderated. Keep comments relevant to the article. Remarks containing abusive and obscene language, personal attacks of any kind or promotion will be removed and the user banned. Final decision will be at the discretion of the Taipei Times.