Store offers a slice of Czechia in Tainan's old city
Czech national Michal Dattel talks to the 'Taipei Times' about his import business, Czech ties with Taiwan and Tainan's (somewhat) improved traffic situation
Nestled between shops offering traditional Taiwanese snacks and handicrafts on a busy street in Anping's old city in Tainan lies an unexpected find that stops passers-by in their tracks: A storefront decked with toys, souvenirs and wooden puppets from the Czech Republic.
The shop's Czech proprietor, Michal Dattel, hails from Prague and first came to Taiwan in 2007, after meeting his now-wife during a visit to New Zealand. He briefly returned to the Czech Republic before coming back to Taiwan in 2010 and starting to import goods from the central European country.
IMPORTS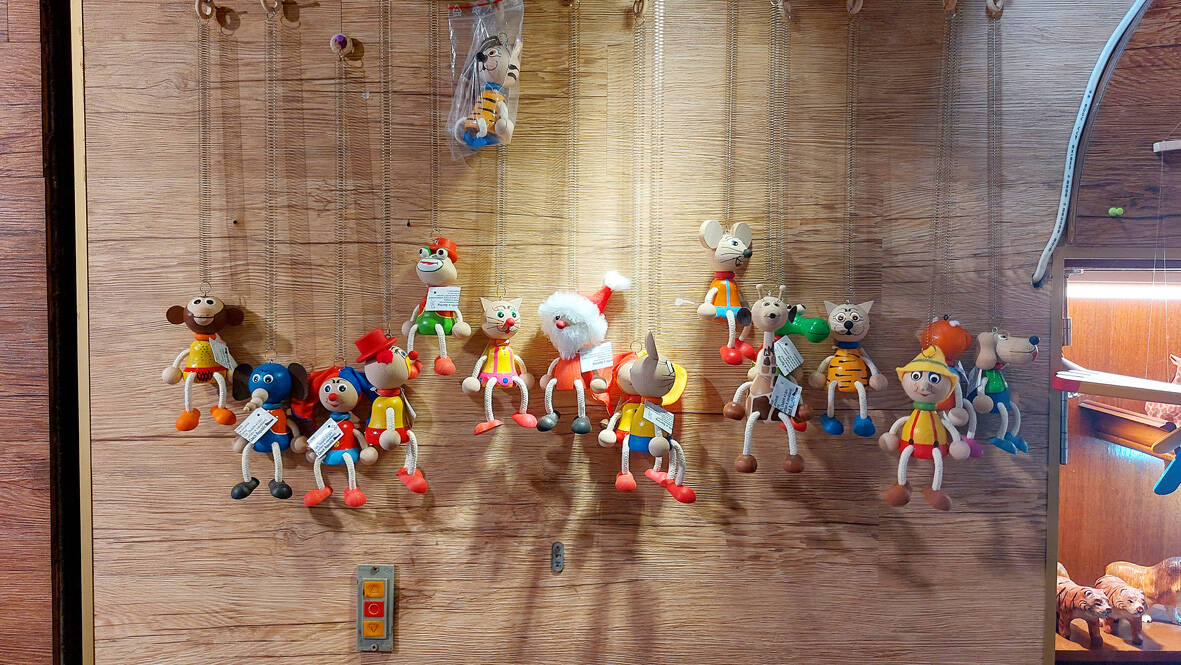 Wooden puppets imported from the Czech Republic are pictured at Michal Dattel's store in Tainan's Anping District on Sept. 1.
Photo: Doruk Sargin
Dattel said on a recent Friday that he sells the most popular souvenir items his country has to offer, pointing to a colorful array of wooden building blocks, puppets and toys as rain pounded on the tarp covering the storefront. The narrow street, which is usually crowded with shoppers at this time of the day, was deserted save for a few intrepid tourists huddled under umbrellas.
Dattel said after the couple started their import business, they started selling their products at an Eslite outlet. He struggled, at first, as he spoke little Mandarin at the time.
So, he listened carefully to his wife, "trying to figure out what people [were] asking... I slowly picked up more Chinese," said the 41-year-old, who now speaks the language fluently.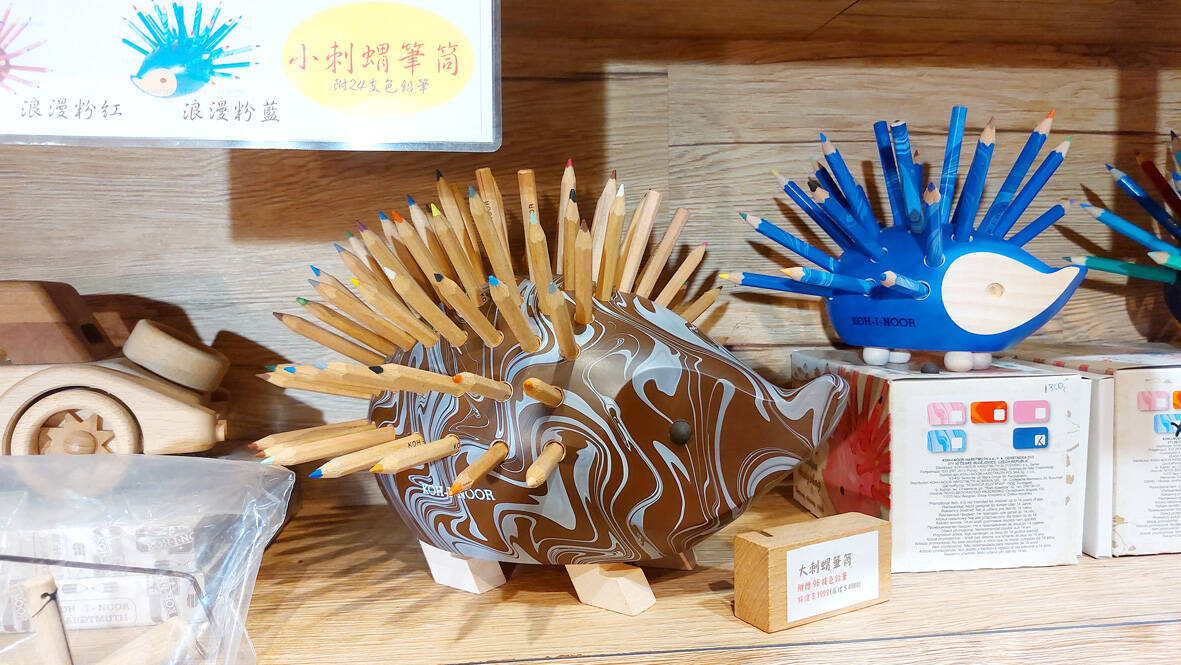 Products are displayed at Michal Dattel's store in Tainan's Anping District on Sept. 1.
Photo: Doruk Sargin
"It's funny when you first come to Taiwan, you're like a kid, you start from scratch," he said about the challenges of learning a new language.
He has also operated stands near the Matsu temple and Confucius temple, where he said the local Taiwanese vendors were most helpful and welcoming.
"I met so many nice people who helped me," he said.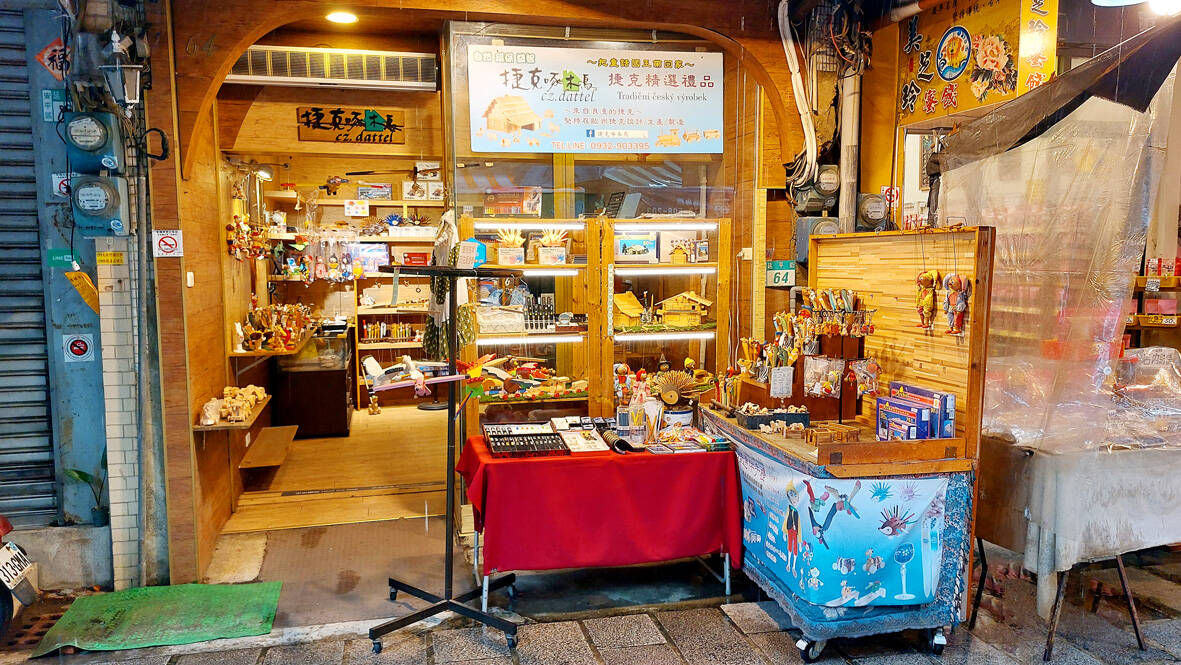 Products are displayed at Michal Dattel's store in Tainan's Anping District on Sept. 1.
Photo: Doruk Sargin
Dattel said he found the Anping location purely by chance, after an Egyptian friend who also runs a store nearby let him know about it. He opened about three and a half years ago, right before the COVID pandemic hit.
"I had to struggle. This is business; sometimes you make money, sometimes you lose," he said, before gesturing at his store and adding: "I'm still here," with a hint of pride.
He has friendly relations with the Taiwanese shopkeepers along the street, Dattel said, alluding to an almost guild-like camaraderie.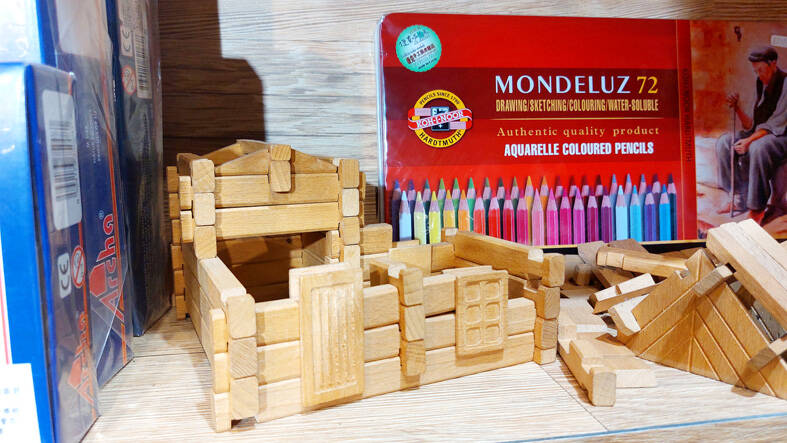 Wooden toy blocks imported from the Czech Republic are pictured at Michal Dattel's store in Tainan's Anping District on Sept. 1.
Photo: Doruk Sargin
"Sometimes when I close [and] a customer shows up, they [the other shopkeepers] call me and I come back," he said. "That's how it works... People are helping each other."
"We encourage each other. We are happy to see someone make money," he said.
CZECH-TAIWAN TIES
The improvement of ties between Taiwan and the Czech Republic has also been good for business, Dattel said.
Czech Senate President Milos Vystrcil visited Taiwan in a landmark trip in 2020, when he addressed the Legislative Yuan and declared "I am Taiwanese." More high-level visits have followed since, with several Czech and Taiwanese officials visiting each other's country.
"It's very interesting that the president of a small country in Europe chose to support Taiwan ... instead of flattering China," he said, referring to Czech President Petr Pavel, who accepted a congratulatory telephone call from President Tsai Ing-wen (蔡英文) following his election in January.
"I've got a lot of customers coming here: 'Oh we have very good relations now, so I will buy something,'" Dattel said.
It also helps that the Czech Republic is a popular honeymoon destination among Taiwanese newlyweds.
Dattel said he plans to live in Taiwan for the foreseeable future with his wife and two children. However, despite having continuously lived in the country for years, he has no intention of applying for naturalization, because that would mean he would have to forgo his Czech citizenship.
"I would have to give up my passport. And when I go back to my county I would have to apply for a visa," he said. "I'll just keep it this way... I will probably stay here as long as I can."
Regarding the tensions between Taiwan and China, Dattel said he does not follow the news, as he feels the media are exaggerating the issue.
"You just feel hopeless and threatened by something I cannot change or influence," he said. "I try not to think about it. I don't know what's going to happen."
Dattel said his friends back in the Czech Republic are more concerned.
"They read some BBC article [that] China is going to attack Taiwan in March 2023, [but] nothing happens. Everyone panics in Europe" and send text messages, he added.
"I was making fun of this. [I said] we have military exercises... We get up at 4am and do drills and CPR and we live in the barracks," Dattel said.
CRAZY TRAFFIC
He is more concerned about issues that matter to him and his family on a day-to-day basis, such as Taiwan's notorious drivers.
Crossing the street used to be a hazard in Tainan until "that mother and kid got hit at the traffic lights," Dattel said.
A three-year-old girl was killed and her mother was injured when a car hit them as they were crossing at an intersection in Tainan in early May.
"Everyone started to be aware of green lights. Before, they were waiting on the green light — pedestrians — here in Tainan, and the trucks were going through. That was crazy," Dattel said.
His hope is that his children will grow up to learn to obey the traffic rules, he added.
Another, smaller, issue he has faced is the closure of nearby beaches in Tainan due to strong rip currents.
"I hope they're going to allow people to swim in the beach here... You plunge yourself into the water and some guy comes and says you can't swim here," he said.
The rain has become even heavier, driving the last of the shoppers away. Dattel started collecting the racks in front of his store as a man with a beaming smile rode in on a scooter. It was the Egyptian friend who helped Dattel find his store.
"Man, are you still here?" he asked. He had already closed his shop due to the heavy rain.
"No, I'm going home," Dattel said. "Let's get out of here."
Comments will be moderated. Keep comments relevant to the article. Remarks containing abusive and obscene language, personal attacks of any kind or promotion will be removed and the user banned. Final decision will be at the discretion of the Taipei Times.