Thousands of Freddie Mercury's personal items to go on sale
Thousands of items belonging to the charismatic Queen frontman Freddie Mercury, from manuscripts of his band's biggest hits to furniture, paintings and knick-knacks are currently on auction in London.
Among the highlights of the Sotheby's "evening sale," which will be followed by two other live auctions and three online sales, is Mercury's piano.
The Yamaha quarter-tail piano was bought by Mercury in 1975 and was used to create almost all of his greatest songs.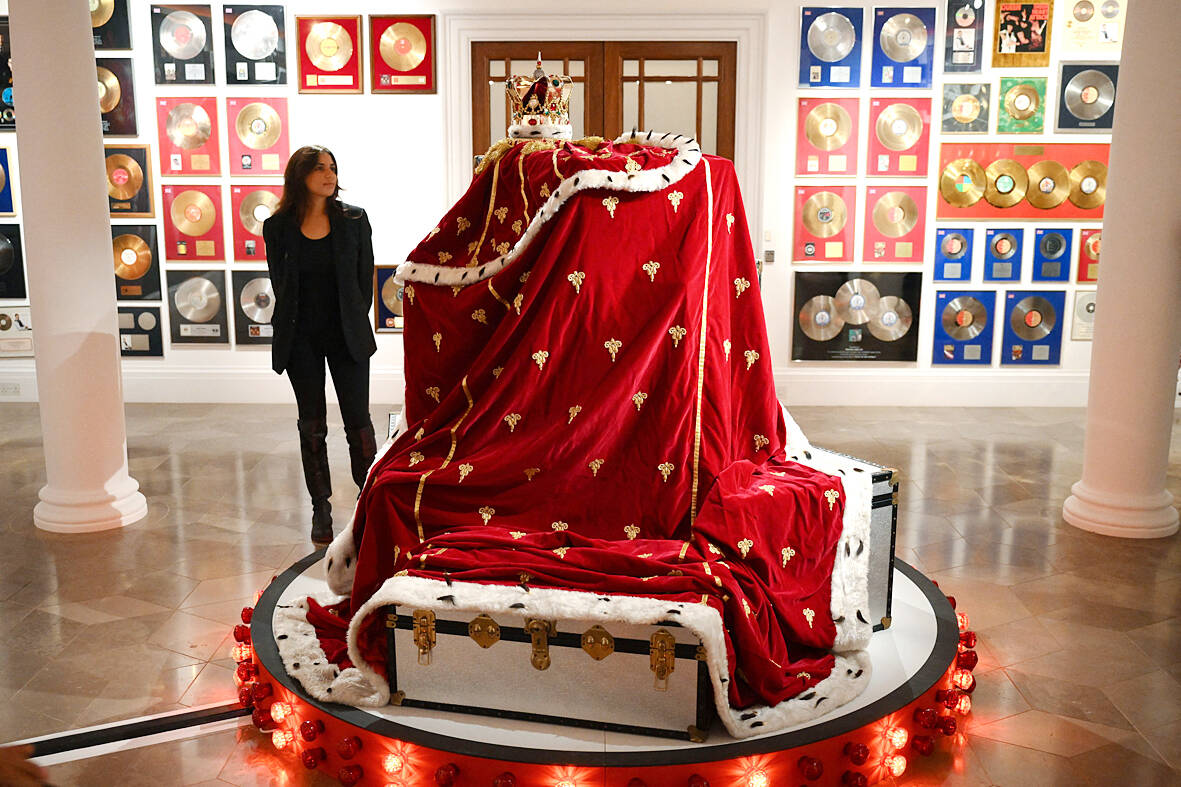 Freddie Mercury's signature crown and cloak ensemble, worn throughout Queen's 1986 'Magic' Tour, is pictured on Sunday during a press preview ahead of the "Freddie Mercury: A World of His Own" auctions, at Sotheby's auctioneers in London.
Photo: AFP
It is expected to sell for between £2 million and £3 million (US$2.5 million and US$3.75 million).
Also on sale is the original manuscript for epic hit Bohemian Rhapsody, whose 15 pages of pencil and ballpoint pen remarks reveal the different directions Mercury envisaged for the track.
It also reveals that it was originally going to be called Mongolian Rhapsody.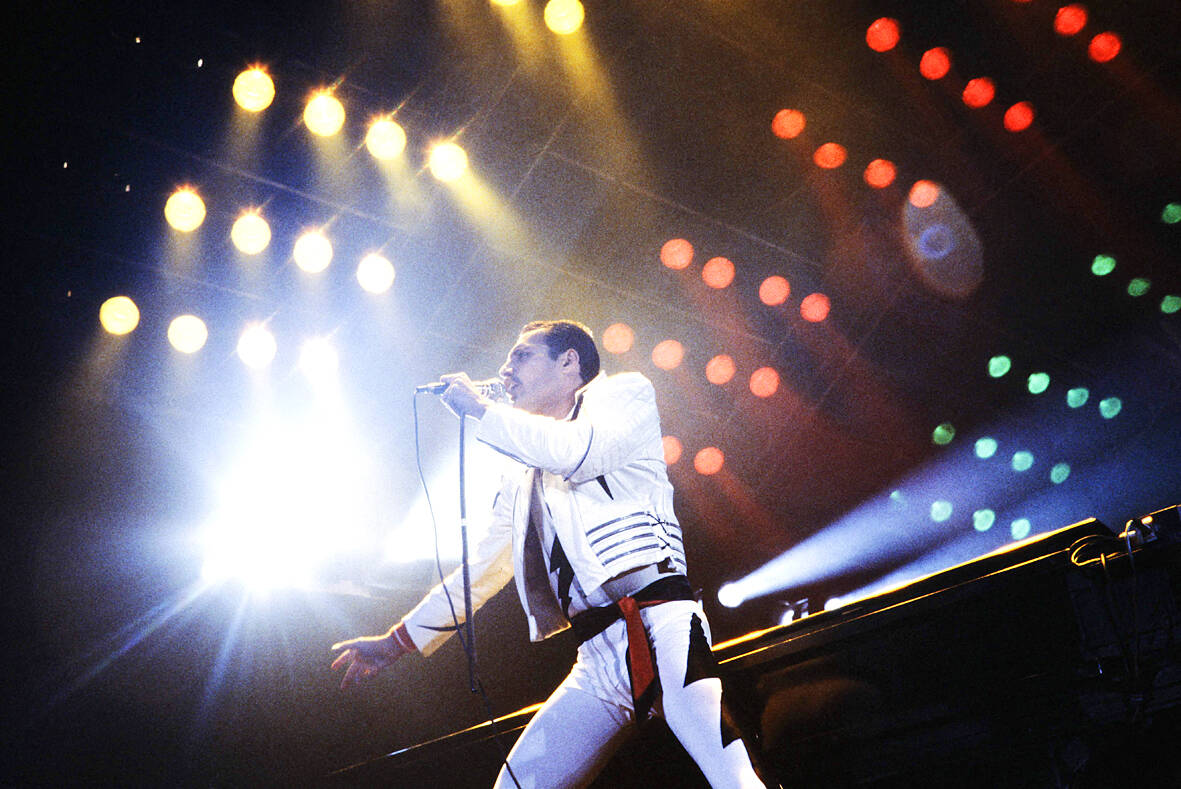 A file picture taken on Sept. 18, 1984 showing Rock star Freddie Mercury, lead singer of the rock group Queen, during a concert at the Palais Omnisports de Paris Bercy (POPB).
Photo: AFP
Paintings by Chagall, Dali and Picasso that adorned Mercury's home, as well as the last painting he bought a month before his death from AIDS in 1991 — an oil on canvas by James Jacques Joseph Tissot — will also go under the hammer.
AUCTION FAN
All the items for sale are from Mercury's home, Garden Lodge, in west London. The property's green door, covered in fan graffiti, is one of the lots.
The entire collection is being offered for sale by Mary Austin, a close friend and one-time fiancee of Mercury's.
"Mary Austin has lived with the collection and has cared for the collection for more than three decades," said Gabriel Heaton, a books and manuscripts specialist at Sotheby's.
Mercury "was not interested in having a museum of his life but he loved auctions," to the point of being a regular at Sotheby's sales, said Heaton.
Austin believes the artist — who was 45 when he died — would have "loved" this sale, he added.
Some 1,469 lots will go under the hammer at the famous London auction house, whose facade has been decorated with a huge moustache for the occasion. Many reveal another side of Mercury, including his passion for cats and for Japan — as evidenced by his collection of kimonos and prints.
MOUSTACHE COMB
Mercury's most flamboyant stage costumes, Hawaiian shirt and Superman tank top will also find new homes along with his personal polaroids and legendary snapper Mick Rock's shots.
The finest bottles from his cellar, such as Dom Perignon champagne, will be up for grabs alongside more intimate items, such as a book of personally annotated poetry and a moustache comb.
Among the more playful items are a set of games including travel Scrabble, at which Mercury excelled.
Before the sale, the auction house hosted the collection at a month-long exhibition, open to the public free of charge. Sotheby's estimated when the auction was announced in April that the lots would fetch at least £6 million. Part of the proceeds will be donated to the Mercury Phoenix Trust and the Elton John Aids Foundation, two organizations involved in the fight against AIDS. Sotheby's says it is the largest collection, by volume, of a cultural icon to go to auction since the Elton John sale in 1988, when 2,000 lots sold for a total of £4.8 million.
Comments will be moderated. Keep comments relevant to the article. Remarks containing abusive and obscene language, personal attacks of any kind or promotion will be removed and the user banned. Final decision will be at the discretion of the Taipei Times.